The citizens of Kauai are taking back their power, and it is spectacular to witness. Since my first article on Kauai's battle to protect public health and the environment against covert and excessive pesticide use, a revolution on the Garden Island has started. Unlike the well-publicized revolutions happening around the world today, Kauai's revolution is absent of violence, and rich with the spirit of Aloha.
But don't let the spirit of Aloha mislead you. As Kauai resident and HuffPost blogger Andrea Brower so eloquently conveys in this piece, Aloha is a bond that will not compromise when it comes to public health, and the health of the environment.
"We stand united in Aloha and our love for Kauai. But unity in Aloha never means compromising all of our health and our common air, water and soil. To those corporations who would seek to threaten our entire community simply because we have requested you to be better neighbors, let our voice be heard loud and clear that our aloha on Kauai runs deeper than all the lobbyists and lawyers you can buy." ~ Andrea Brower
What has happened on Kauai after Bill #2491 was introduced on June 30 has been dramatic. It has opened my eyes to the practices of the biotech industry, and it has angered and saddened me. So yes, with this third article, you will notice a definite change in tone. I have learned that anyone who questions the practices of this industry is labeled as anti-science and mocked, many times in a public forum on social media. Smear campaigns are launched against anyone who dare question. The blatantly presumptuous and un-aloha conduct of the agrochemical campaign against bill # 2491 has been astounding. I have watched live, three marathon public hearings (each lasting approximately 12 hours in length) and receive updates almost daily from island friends and social media. If you monitored this situation as closely as I have, you would be angry too.
On Sunday, Sept 8, 2013, the largest protest event in Kauai's history took place in the capital of Lihue. Over 4000 people marched in support of the passing of bill #2491, an ordinance introduced in June that would require the GMO industry on Kauai to fully disclose what pesticides are being used, and it would require that 500 foot pesticide free buffer zones be implemented around schools, hospitals, waterways and other sensitive areas. The bill also requires an environmental impact statement be completed, before the industry can expand any further. As mentioned in my previous articles, the GMO industry is fighting any oversight or regulation of their industrial cultivation practices which includes the use of 18 tons of restricted use pesticides annually on the tiny island of Kauai.
The Mana March was broadcast live via a streaming feed online, and covered by AP and other news sources from around the world.
Public Hearing #3 on Sept 9th brought the Silent Treatment. At the Aug 5th hearing, it was threats of a lawsuit from the GMO industry
On Monday, Sept 9, the third 12 hour public meeting on bill #2491 was held. Like the previous hearings I watched online, I was glued to my computer. This public hearing heard continued expert and public testimony, in addition to hearing from representatives from the GMO companies on Kauai fighting against bill #2491.
The drama climaxed on September 9, and hit an unbelievable point, when representatives from Syngenta, Dupont Pioneer, BASF and Dow Agrosciences collectively refused to answer questions from Councilmember Gary Hooser. As you can see in the video clip below, Kauai County Councilmember Gary Hooser is asking the GMO companies about possible compromise on each of the provisions of the bill.
The refusal of each of the company representatives to answer questions of an elected government official during a public hearing (especially when inviting the opportunity to negotiate) speaks volumes about the intentions of the industry and the lack of respect for the people of Kauai. This is what Corporate Colonialism looks like, and the Trojan horse that has snuck onto Kauai after the sugar cane industry collapsed contains 18 tons (used annually) of restricted use pesticides, and an unknown amount of general use and experimental pesticides. This Trojan horse rolled into paradise with stealth precision and now proudly proclaims, "We are feeding the world!"
As freelance journalist and author Adam Skolnick states in his recent Salon article "If the seed can't be grown safely, what does it matter if the corn is safe to eat?"
During the previous public hearing on Aug 5th, the GMO industry displayed their defiance of local government and the legislative process in a different way; with the direct threat of a lawsuit. The video below shows Kauai County Councilmember Ross Kagawa asking lawyers for the GMO companies, "if this bill is passed, will you sue us?" The response from lawyers representing DuPont Pioneer and Syngenta was, "Take that as a given."

If You Follow the Money, there is over $500K of GMO Campaign Donations.
I learned early in life that if something doesn't make sense, you need to follow the money. That is just what Hawaii-based nonprofit "Babes against Biotech" has done. Founder, Nomi Carmona has been conducting an audit of the biotech campaign money that saturates the offices of elected officials in Hawaii. The research shows how much money is flowing into the State of Hawaii from the biotech industry. What is interesting is that the research has been made more challenging by the fact that all sorts of silly games are played by the GMO lobbyists including the changing of lobbyist names by one letter, using nicknames, or having the donation come from a spouse or other family member. This is all an attempt to make electronic searches of public information more difficult. All information was obtained from the State of Hawaii
Nomi Carmona summarized the results so far of her audit and you can find that below. So far, $515,775 of GMO money has come from registered lobbyists and this includes money from unregistered lobbyists as well. It is unknown how much soft money has flowed into the state of Hawaii, as these types of gifts are often impossible to track.
"The 2013 Babes Against Biotech analysis assesses the GMO related campaign funds of the Hawaii State House, Senate, Governor, Mayors and County Councils from 2007 to the current filing period, the extent of publicly available records online. We identified a grand total of $515,775 coming directly from GMO companies and registered GMO company lobbyists. A secondary assessment shows money coming in from just three unregistered lobbyist immediate family members, to contribute an additional $31,800. Third degree figures include unregistered GMO company employees, national trade organizations which represent GMO companies and lobbyists employed by Monsanto lobbyists totaling $6,950. The grand totals include only first degree funds filed directly from GMO companies and their documented lobbyists.

Due to dozens of varieties of lobbyist filing names, nicknames, repeated failure to spell their own names and company names correctly, constant swaps of addresses, titles and companies, this has to be performed visually. The neglect to consistently identify themselves means electronic searches will miss many entries. They might omit one letter that removes them from a search under their name but synchronizes them with known addresses on file and versions of their names. For example, numerous 'Monsato' donations from the Monsanto headquarters address.

Our Speaker of the House, Joe Souki tops the representative totals at $16,800, while Senator Michelle Kidani takes the title of Most GMO Funded Senator at $24,550 with Senator Rosalyn Baker, Chair of Consumer Protection close behind. Senate President Donna Kim took $10,650 while Senator Clarence Nishihara, Chair of Agriculture lends $14,412 to the Senate grand total of $198,969.

Only three state senators have taken no 'GMO money,' Russell Ruderman, Laura Thielen and Les Ihara Jr., with only ten of fifty-one State Representatives clear of direct GMO funding. The other forty-one Representatives took $212,081. The Mayoral assessment total shows $18,900 with Honolulu Mayor Kirk Caldwell absorbing the bulk at $11,200. The Council assessments rank Honolulu again, as Most GMO Funded Council to no surprise, receiving $50,725 of $51,425 in all Councils statewide.

Governor Neil Abercrombie received $34,400 of GMO funding directly and an additional $23,800 from three women unregistered as lobbyists, the wives and daughter of the two most giving Monsanto lobbyists, John Radcliffe and George "Red" Morris."

Babes Against Biotech 2013 GMO Campaign Fund Analysis:

Hawaii State Senate & House, $411,050


State of Hawaii County Councils, $51,425
With this amount of GMO lobby money influencing the State of Hawaii, the conflict of interest is undeniable. The State of Hawaii has not, and will not, take any actions to curtail an industry that is funding them. Protection for the people, environment and wildlife must come at the local level.

And where is the EPA in all of this?
This has been one of my biggest disappointments. When I first shared the unbelievable story about what is happening on Kauai with colleagues and friends, the most common response I got from people was, "Where is the EPA?" "How can they allow this to happen?" Having those very same questions, I reached out to the Office of Pesticide Programs at the EPA, and inquired as to their role in all of this. I shared my two previous articles, highlighting my second article documenting the discovery of pesticides at Waimea Canyon Middle School. I asked the simple question; "How can this be allowed to happen?"
I shared with the EPA this disturbing video testimony and this. The Department of Pesticide Programs didn't respond to my requests for answers but instead referred me to the EPA's press office. After a few pleasant email exchanges over a two-week period I was hopeful that the EPA would express concern over what is happening on Kauai and launch an investigation. I held up publishing this article until I heard their response. After all, the EPA is chartered with protecting human health and the environment. My illusion was quickly shattered when I received an email that felt as if it had been written by their legal team. My questions about children being exposed to Chlorypifos (which is a violation of the label which is federal law) were not addressed.
With respect to pesticide violations the EPA said this:
In general, the State of Hawaii is responsible for inspection and enforcement when there is a possible violation of federal law related to unlawful use of a pesticide."
However, with $515,575 in GMO campaign donations to elected officials in the State of Hawaii, the integrity of the State of Hawaii has been severely compromised.
Why an Environmental Impact Statement is critical.
On Friday, September 27 the fourth Kauai County Council meeting will take place. Either the bill will be passed or deferred once again. Since the bill's introduction on June 30th of this year, there has been a bright light shining on Kauai; the only island in Hawaii that was never conquered by King Kamehameha. In my heart I know that same unconquerable spirit, combined with the energy of Aloha will prevail and support the people of Kauai in their battle against Goliath.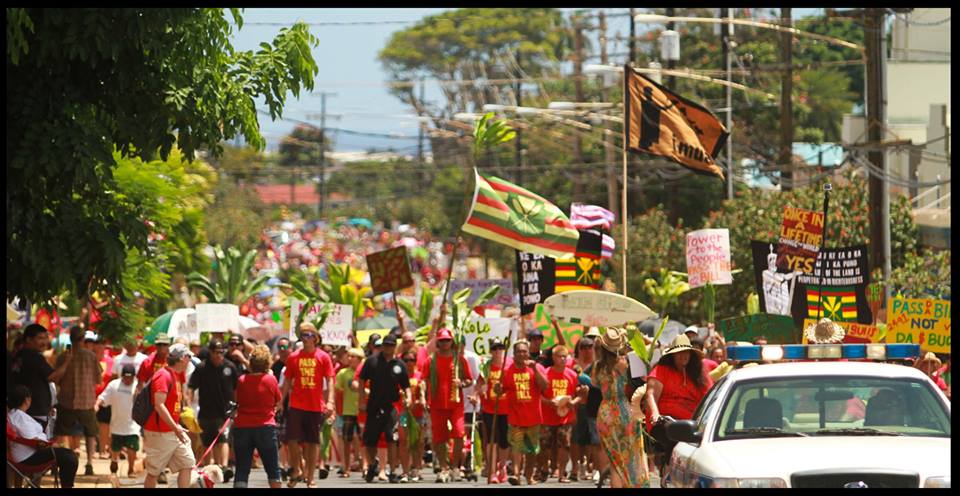 Mana March photo by www.StopPoisoningParadise.org -'Pass Kauai Bill 2491'"
Related
Popular in the Community