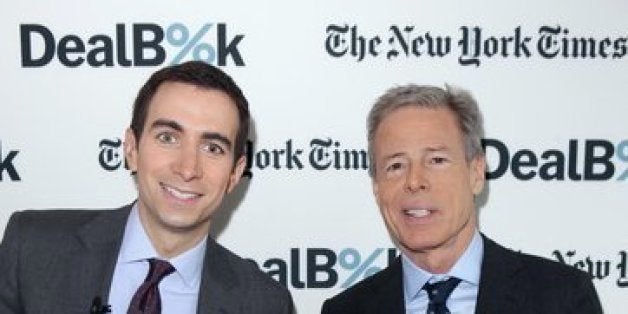 It's no secret that the leadership of corporate America, and Wall Street in particular, has a serious diversity problem. The lack of women and people of color in senior positions at the country's largest businesses was on clear display at the New York Times DealBook conference on Thursday.
The theme of the conference, hosted by the paper's finance and deal reporting site, was "Taking Stock of the Future: Rebuilding the Economy, Growth and Trust."
Despite focusing on the future, the cast on stage looked a lot like the distant past.
Just three of the 20 people appearing on stage were women: Securities and Exchange Commission Chairwoman Mary Jo White, General Motors CEO Mary Barra, and Jessica Alba, the actress and co-founder of eco-friendly family products company The Honest Company. During her interview with DealBook founder Andrew Ross Sorkin, Alba was joined by Honest Company co-founder Brian Lee. Alba was the only executive who shared the stage with a colleague the entire day.
Only four of the 20 participants in the conference were people of color: Alba, who is Hispanic; American Express CEO Ken Chenault, who is African American; Lee, who is Korean American; and Jawbone co-founder and CEO Hosain Rahman, who is Pakistani American.
In a statement emailed to The Huffington Post, New York Times spokeswoman Stephanie Yera wrote: "Our DealBook conference is inclusive of innovators in business, finance, investment, retail, sports, media and tech, among other industries. We aimed to provide our audience with a diverse group of leaders, which included the first female C.E.O. of a major automaker, the first woman to be U.S. Attorney for the Southern District of New York and our current chair of the S.E.C., and an entrepreneur who has found success as both an actress and a founder of a billion-dollar company."
The conference did manage to improve on corporate America's standards of inclusion. Reuters reports that women account for 4 percent of CEOs at Fortune 500 companies, and a 2012 McKinsey study found that women make up only 14 percent of executive committees on corporate boards in the Fortune 500. The Center for American Progress found that a similarly tiny fraction of Fortune 500 CEOs, 4.2 percent, was made up of people of color.
McKinsey came to the numerically incontrovertible conclusion that in corporate America, "the top circles of leadership remain male bastions." It is also incontrovertible that executive America remains a white male bastion. Unfortunately, the stage at the DealBook conference was like a refrigeration unit at a weisswurst factory: full of white sausage.
Support HuffPost
The Stakes Have Never Been Higher
Related
Popular in the Community