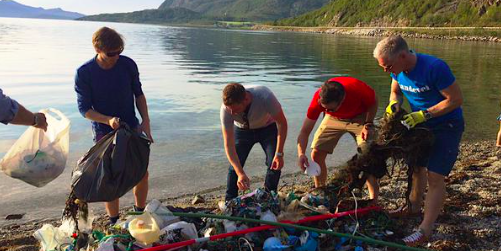 Everyone in Norway knows the word "dugnad," and most of us are accustomed to the term 'dugnadsånd' (the spirit of dugnad). The dugnad tradition has been around for a long time. It means that a community or small group of people come together to perform volunteer work in order to accomplish something that benefits the whole group.

So, while dugnad may be a Norwegian word, the action itself is not unique to us. In many places this use of collective and collaborative efforts have not only been used to accomplish goals, but are also necessary to survive.
During this time as the earth becomes more polluted by the minute and where we also experience employee engagement at an all-time low, it might be a good idea to spread the message of dugnad to the business world - The Corporate Dugnad.
This isn't a radical new initiative. It has been 10 years since Patagonia founder Yves Chounard initiated the One Percent for the Planet, which connects businesses, consumers, and nonprofits, empowering everyone to drive big, positive change for the environment. So far more than 1,200 corporations donate 1% of their annual sales to the foundation.
But recently we have seen more of it - and in different ways. In Norway we experienced something quite unexpected when Anita Krohn Traaseth, newly appointed CEO of Innovation Norway (IN), used the concept of dugnad to fuel new energy into the somewhat sedate government owned organization.
Together, employees at IN and everyone who wanted an invitation, worked on projects related to how Norway as a nation should be prepared for a time "after oil." This was a good example of the power of "dugnadsånd." with smart people building a collaborative genius, creating wonders when it comes to establishing new ideas, and igniting entrepreneurial spirits. All the while, boosting a more optimistic view of the future.
Another more recent initiative has emerged from the Hurtigruta Foundation, launched this very month. Their aim is to raise funds, enhance awareness about and contribute to the protection of the vulnerable nature and unique culture in the regions Hurtigruten visits. These areas include the Arctic, Antarctica, and the Norwegian coast. They have launched a number of protective initiatives worldwide. The plan is to motivate, inform and ultimately convert guests to Norway's sensitive nature areas into environmental ambassadors. "Now the guests, employees, and owners of Hurtigruten join forces in starting a global dugnad for the environment," said Hurtigruten CEO Daniel Skjeldam.
UN Patron of the Oceans, National Geographic "Adventurers of the Year" and ambassador for the Hurtigruta foundation is Lewis Pugh.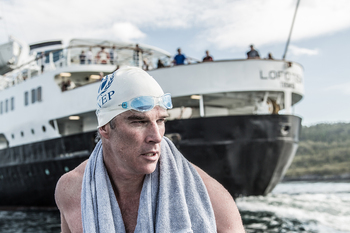 He has completed spectacular long-distance swims, also in freezing cold water on the North Pole and in Antarctica. He works relentlessly to create awareness for the importance of safeguarding and protecting the arctic oceans. He says that this is also about fighting injustice. "We live our lives in a way that does not preserve the nature for future generations. And that is just not fair."
It is hard to disagree with that. Corporations of today have a unique opportunity to take care of the environment they operate in, their employees, and their customers. All at the same time.
Initiatives like this are commonly defined as CSR, which stands for Corporate Social Responsibility. CSR initiatives are a perfect way for the corporate world to show that they take their responsibility for a more sustainable world serious.
In addition to doing good for the environment, there are many other positive side effects that are in line with what we think is extremely important - to create a culture where the employees are engaged and mobilized to make a difference.
The most obvious ones are these:
Purpose - In an era where many struggle to find meaning, it is increasingly important to work for a company that not only attracts the brains of employees, but also their hearts. Aaron Hurst, author of the Purpose Economy, says, "The future is purpose. It is what is driving innovation and radically reshaping careers and organizations."
Belonging - Human beings want to belong. We want to be part of something bigger than ourselves. Working together with purposeful tasks is one way of experiencing this. We need to choose if we want to live our lives as takers or givers. All of us can make a difference. And together we can do a lot.
Involvement - This is a key word for organizations that want to succeed in the future. Tapping into the "collective genius" of a group of people to unleash their potential should be the ultimate dream for any leader with a vision. CSR initiatives are an excellent way to start experiencing involvement. Even for organizations that experience difficulties in their cultural base, involvement offers a solution. By gaining a common focus on something positive outside their own environment, people can see the positive effects of collaboration and a supportive culture.
So - if you are a leader - this is what to do.
1) Maybe your heart is already focused on something that matters. If not, ask your team members and get their input. You can even join a cause that is already running.
2) Then make a plan and launch your initiative. Involve the entire organization: the board, the employees, and the clients, preferably as early as possible. Anyone might have valuable ideas on how you can do this.
3) Start enjoying doing things that will change the world. One bit at a time. You and your employees will start telling interesting stories, not because you have to, but because you have important things to tell.
This blog post is written by Kristine Maudal and Even Fossen, founders of Brainwells. Their passion is 'The Human Side of Strategy' and they work relentlessly and passionately with leaders all over the world. With love and care they share parts of the magic here or over at their own blog LeadershipCourageFun.
Calling all HuffPost superfans!
Sign up for membership to become a founding member and help shape HuffPost's next chapter