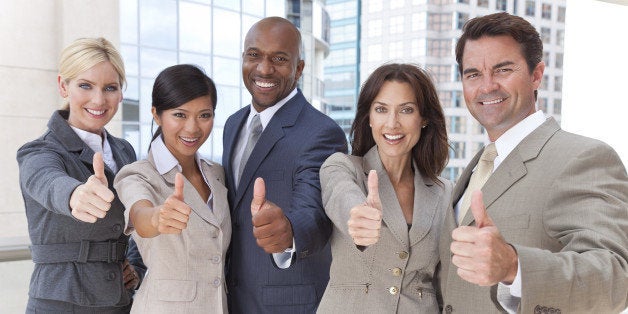 Although many of you know me as a writer and founder of The Did Ya Notice? Project, in my spare time I run a non-profit. Well, this so called "spare time" is actually my full time job.
Among the donors to our non-profit are corporations and small businesses. Our donors are truly excellent corporate citizens who see giving back as part of their corporate mission. They also know it is smart business because being a good corporate citizen greatly enhances recruitment and retention of employees.
But there is a problem within the "giving" arena that seems to be growing. Companies: in your efforts to reach out to the non-profit community, you may not realize that there are some problems abrewin'.
So although I am aware that you should not bite the hand that feeds you, I hope you will accept some frisky little nips applied with love. Let me mention my bona fides. I am an entrepreneur and have founded and led both non-profit and for profit organizations. I have worked with and for large corporations, and with foundations. I understand due diligence and the need for return on investment.
I see some troublesome trends that, although intended to help non-profits, may instead harm us.
1. Asking us to do somersaults and backflips when a simple hop, skip, and jump will do. What I mean is, If you are going to give me a relatively small grant (less than $10,000), please don't make me expend more than that in manpower to provide you a proposal. I have had to do almost as much work for $5,000 as for $100,000 grants.
Funders, I know you must do due diligence. I know you don't want to be caught funding a shady organization. But it doesn't have to be this hard. For funding under $10,000, here are my suggestions:
a. Ask for a one-pager describing history, mission, and special project to be funded (if any).
b. Ask for a list of Board members, and talk to some. Do some online research on them.
c. Ask for the latest financial statements.
d. Get the organization's 990 and audited financial report.
e. Visit, and speak to the executive, some board members, and rank and file employees.
In fact, one of our fabulous corporate funders pretty much does just that. It is a pleasure to have them visit, and for us to meet them and vice versa. And we are happy to spend time explaining exactly how we accomplish our mission. They do their due diligence while respecting our time and our mission.
2. Then there are small businesses that provide a "part of their profits" to a non-profit for a short time period. Their definition of "part of their profits" is not clearly defined. When we recently agreed to be the non-profit of the month, we sent out several email blasts that month asking our supporters to buy from this business. We later received only a few hundred dollars for the month! What a boon in PR that was for the business and what a waste of, what I call, our "outreach capital". This term will be discussed further below.
My suggestion for small businesses is to just choose a few local non-profits and give them a percentage of your profits on an on-going basis. A local restaurant chain did that for us and we received a quarterly check that added up to a substantial annual donation. It was most appreciated, and we were happy to thank them regularly through our normal communications.
3. My final gripe is that there is a trend now for organizations to provide fundraising "opportunities" like competing with other non-profits to see how much you can raise in a day. And by the way, you must be sure to co-brand with the sponsor.
The first problem here is the amount of free publicity that the sponsor is getting is way out of whack with the amount of money a small non-profit can raise in a short time period. When participating in this type of fundraising, I really do feel like we small non-profits are tiny little marionettes with our strings pulled by the giants.
The second problem with this trend is that I don't think putting thousands of small non-profits into a fishbowl and having them compete for a dollar is the way to solve community problems. I work in child health care. I believe solving homelessness and improving education are equally worthy missions. I don't want to get into a fight with my hard-working colleagues for your monetary love.
Further, non-profits must be cognizant of, what I coined, our "outreach capital." How many times can we send email blasts to our group of supporters asking for money before they unsubscribe? To cooperate with all these fundraising contests put on by third parties (Pepsi, regional United Way, Razoo are examples), we are expending lots of outreach capital, as well as providing lots of PR for them. But we need to reserve our outreach capital for our own fundraising agenda. We need to keep our own strategy top of mind and not be swayed by giants pulling our strings.
Here is my suggestion relating to this problem:
Third parties should raise their own money for local non-profits. You raise the money yourselves, and then grant it to the non-profits. You could raise money by offering a special product for sale or by undertaking a short-term special fundraising drive yourself. Non-profits can propose to you for how we would use a grant (utilizing my suggestions in #1 above, of course), and then you choose the grantees. This would be similar to how foundation funding gets disbursed.
So, I am asking funders to think again about the proverbial win/win. We non-profits are delighted to publicly thank corporate funders in every way we can. We want you to get a return on your investment in positive PR, in enhanced recruitment and retention, and in just knowing that you are a great corporate citizen. In return, please don't make us use up our "outreach capital" on your goals rather than ours, and please don't stretch us even thinner than we are through overly burdensome requirements for grant writing.
My dear corporate funders: Know that I nip your hand in only the friendliest manner of a frisky puppy. Please don't stop feeding me.
REAL LIFE. REAL NEWS. REAL VOICES.
Help us tell more of the stories that matter from voices that too often remain unheard.