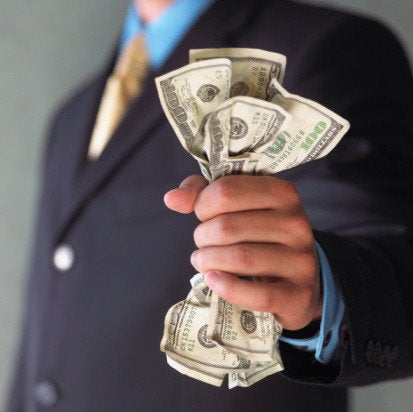 December, 2011 arrived bearing gifts for those opposed to the concept of "corporate personhood" as set forth in the U.S. Supreme Court Decision "Citizens United." On December 6th, after 45 minutes of public testimony from a crowd that swelled past capacity into an overflow chamber of LA's City Hall, the Los Angeles City Council voted unanimously to support a resolution calling on The United States Congress to amend the Constitution to clearly establish that only living persons -- not corporations -- are endowed with constitutional rights and that money is not the same as free speech. The vote makes Los Angeles the first major city in the U.S. to call for an end to all corporate constitutional rights. Albany, New York made a similar resolution also by a unanimous vote.
In January 2010, in the case of Citizens United v. Federal Election Commission
a bitterly divided Supreme Court ruled that the government may not ban political spending by corporations in candidate elections.
The majority in the 5-to-4 decision claimed the ruling upholds the First Amendment's most important free speech principle, the protection of political speech. The dissenters said that allowing corporate money to flow unchecked into the political marketplace would corrupt democracy.

"If the First Amendment has any force," Justice Anthony M. Kennedy wrote for the majority "it prohibits Congress from fining or jailing citizens, or associations of citizens, for simply engaging in political speech."
The LA City resolution came on the same day as the U.S. Attorney's Office announced the largest settlement ever in a government investigation of a mine disaster, as Alpha Natural Resources agreed to pay $209 million in restitution and civil and criminal penalties for the role of its subsidiary, Massey Energy, in a mine explosion last year that killed 29 men in West Virginia.
Defending the settlement in response to anger on the part of family members of the deceased who wanted to see jail time, U.S. Attorney Booth Goodwin said "there are limited ways to punish a corporation. It is not a life. It is not a being. It can't go to jail. The only thing that it can do is help make sure something like this doesn't happen again."
Corporate personhood has been espoused by prominent Republicans, not just the conservatives on the Supreme Court. On the campaign trail in August, Republican Presidential candidate Mitt Romney issued a defense of corporate personhood stating
"Corporations are people too." Romney elaborated after the crowd expressed shock: "Everything corporations earn goes to people. Where do you think it goes? Whose pockets? People's pockets. Human beings, my friend."
But U.S. Attorney Goodwin's comments regarding the mining disaster settlement point out that as it stands, although corporations may be made up of real people, they aren't burdened with same exposure to penalties for illegal behavior as real people. The status of corporate personhood is fictional and fictional entities don't go to jail.
A corporation is a business structure for individuals to run a business and to share in profits and losses. The rights and responsibilities of a corporation are independent and distinct from the people who own or invest in them. Corporations are established in part to shield shareholders from personal liability for the actions of the corporation.
In a press conference after the Los Angeles City Council vote to support amendment of the U.S. Constitution to restrict personhood to people, Council President Eric Garcetti stated:
"I want to thank Move to Amend and this entire coalition that has come together... Every struggle to amend 
the constitution began as just a group of regular Americans who wanted to end slavery, who thought women 
should vote, who believed that if you're old enough to be drafted, you should be old enough to vote. These 
are how American amendments move forward from the grassroots when Americans say enough is enough."
Following on the heals of the LA City Resolution, on December 8th, U.S. Sen. Bernie Sanders (I-VT) introduced the "Saving American Democracy Amendment" to the U.S. Constitution to overturn the holding of Citizens United regarding corporate personhood. Rep. Ted Deutch (D-FL) has introduced a companion measure in the U.S. House.
"There comes a time when an issue is so important that the only way to address it is by a constitutional amendment," Senator Sanders said. He had previously described the Citizen United ruling as "basically insane. Nobody that I know thinks that Exxon Mobil is a person."
Calling all HuffPost superfans!
Sign up for membership to become a founding member and help shape HuffPost's next chapter