 WASHINGTON -- The Securities and Exchange Commission announced last month that it will consider a proposed rule to require publicly traded corporations to disclose their political spending to their shareholders. The SEC said a proposed rule-making will be released by April 2013.
The move is a big victory for members of the Corporate Reform Coalition, a group of good-government watchdogs, labor unions and institutional investors that has been pushing for greater disclosure in the wake of the Supreme Court's 2010 Citizens United ruling that corporations may spend freely from their treasuries on political activities. The 2012 election saw at least $400 million in "dark money" -- that is, political spending funded by undisclosed donors -- at just the federal level.
"We congratulate the SEC for listening to investors and the public, in moving forward on a rule that would require publicly traded companies to disclose their political spending," said Lisa Gilbert, director of Public Citizen's Congress Watch, which is part of the Corporate Reform Coalition.
Some 320,000 people have written to the SEC in support of a petition for a corporate political transparency rule -- nearly double the previous record of comments submitted to the agency, on a measure related to the trade in "blood diamonds."
At the same time, corporate political disclosure is already becoming an industry norm thanks to the efforts of groups like the Center for Political Accountability, according to Adam Kanzer, managing director and general counsel for Domini Social Investments LLC.
"Today, 100 large companies, including more than half of the S&P 100, disclose their political spending," Kanzer said. "The time is right for a clear rule requiring all public companies to disclose."
Supporters of corporate political disclosure argue that undisclosed political spending is corrosive to both democracy and investment decision-making.
"Undisclosed political spending distorts the workings of the marketplace," Kanzer said. "We're looking to invest in companies who can compete and win through superior products and services, not through superior access to lawmakers. Transparency would allow us to get a better understanding of the true drivers of corporate value."
Pennsylvania state Treasurer Rob McCord, one of five state treasurers in the Corporate Reform Coalition, said that political candidates are going to "reverse-engineer their entire campaigns to please a handful of players who can put them in play." He added, "It's the kind of thing shareholders should worry about."
The biggest potential target of any new rule on corporate political transparency would be the U.S. Chamber of Commerce, the nation's largest business trade association and a major political player. The chamber vigorously opposes disclosure rules for corporations and nonprofits that spend money in elections. In 2012, it spent $36 million on political campaigns at the federal level without disclosing its donors.
The proposed SEC rule, however, would not cover privately held companies, a category that includes many businesses known for political activity. One key example: Koch Industries, the giant multinational that is privately held by the billionaire conservative activist Koch brothers.
It is possible that the SEC, despite listing the proposed rule as one that it plans to take up in 2013, will not do so. But Public Citizen's Gilbert said the SEC's declaration that a proposed rule-making will be released by April is meaningful and likely a sign that the agency intends to move forward. "That's something that they don't have to do," Gilbert said.
Also notable is that SEC Commissioner Luis Aguilar has gone out of his way to voice support for mandatory political disclosures by corporations. In a 2012 speech, Aguilar said, "Requiring transparency for corporate political expenditures cannot wait a decade. It is the Commission's responsibility to rectify this gap and ensure that investors are not left in the dark while their money is used without their knowledge or consent. The Commission should provide for disclosure of corporate political expenditures that results in uniform and consistent disclosure."
Support HuffPost
The Stakes Have Never Been Higher
Before You Go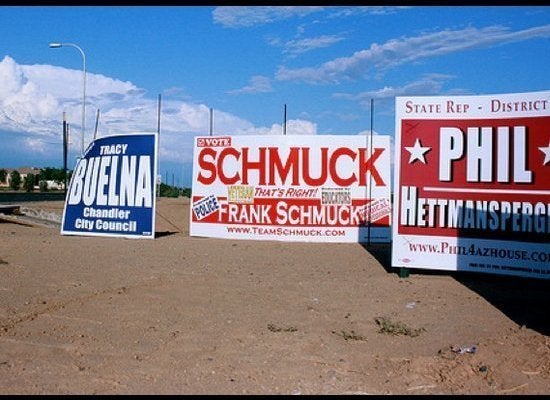 Unfortunate Politician Names
Popular in the Community