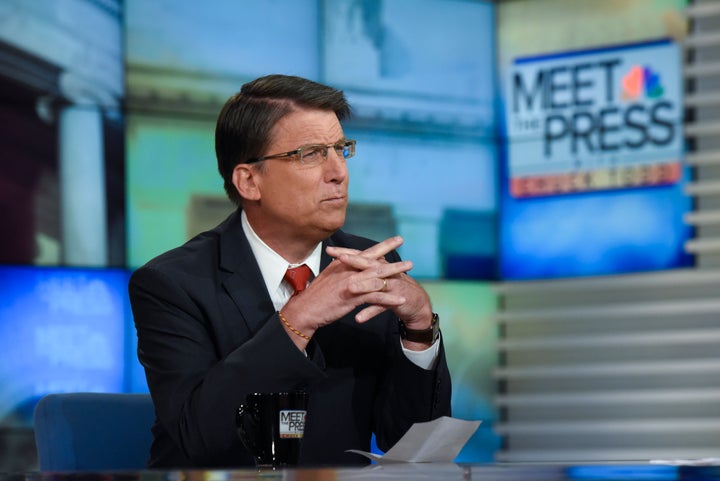 At least 45 corporations denouncing North Carolina's anti-LGBT law have contributed to a group called the Republican State Leadership Committee. The group, which can receive direct corporate contributions, works to elect Republican state legislatures across the country. It played a big part in helping to elect North Carolina's legislative majority in 2010 and has pumped at least $1.6 million into the state's legislative elections from 2010 through 2015.
Dozens more corporations contributed indirectly to these electoral efforts through their contributions to trade associations -- like the U.S. Chamber of Commerce or the Pharmaceutical Research and Manufacturers of America -- that donated to the RSLC.
The RSLC, formed in 2002 to elect Republicans at the state level, was invigorated in 2010 by the leadership of former Republican National Committee Chairman Ed Gillespie. He nationalized the group's fundraising base with a goal of flipping state legislatures so that his party could control the congressional redistricting process. Gillespie's strategy took advantage of the new campaign finance rules created by the Supreme Court's Citizens United decision earlier that year allowing the group to funnel corporate funds into state races.
The effort was a massive success. Republicans flipped 21 chambers and won complete control of 25 state legislatures in 2010. The party's dominance at the state level continues today. In 2014, the RSLC helped to flip another nine chambers to Republican control.
In North Carolina, the RSLC sent $1.25 million to a group called Real Jobs NC in 2010. This spending was instrumental in electing the state's current Republican majority.
"Companies make a great deal today about corporate citizenship, about being good citizens, about following their values and the thing is, they don't in their spending," said Bruce Freed, president of the Center for Political Accountability, a nonprofit advocating for greater corporate transparency.
The 45 corporations that sent money to the RSLC and also voiced opposition to the laws the legislators that money helped elect include some of the biggest names in corporate America. They include Citigroup, General Electric, Monsanto, Hewlett-Packard, Google, Wells Fargo, Yahoo, Microsoft, Bank of America and Cisco Systems. Many more fund trade associations that give money to the RSLC.
Over 30 of the companies that contributed to the RSLC also signed on to a letter sent to North Carolina Gov. Pat McCrory (R) opposing the anti-LGBT law. The letter was organized by the LGBT rights groups Human Rights Campaign and Equality NC.
"Discrimination is wrong, and we believe it has no place in North Carolina or anywhere in our country," the letter reads. "As companies that pride ourselves on being inclusive and welcoming to all, we strongly urge you and the leadership of North Carolina's legislature to repeal this law in the upcoming legislative session."
Companies with executives who signed the letter and also contributed to the RSLC include Google, Yahoo, Uber, Lyft, Pandora, Citigroup, Microsoft, eBay, General Electric, Oracle, Time Warner Cable, American Express and Twitter.
In addition to speaking out on North Carolina's anti-LGBT law, many of these companies have also vocally opposed similar legislation in Georgia, Missouri, South Dakota and Tennessee.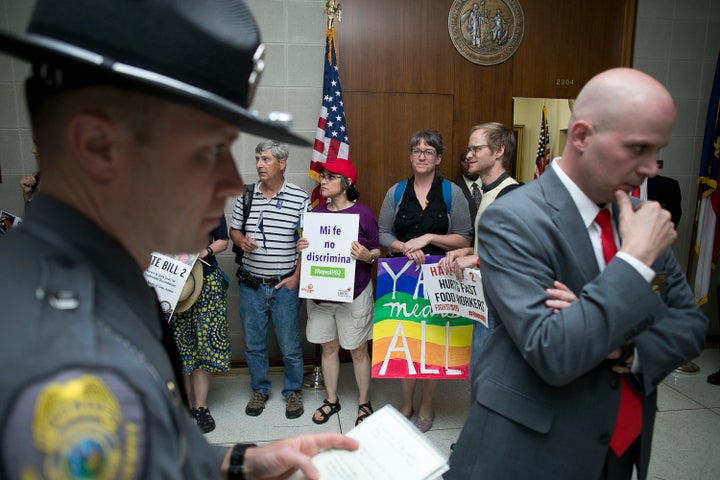 Those companies that oppose the legislation and also made past or recent contributions to the RSLC gave a variety of responses when asked about the apparent conflict. Some explained they needed to donate to political groups to protect their own interests while others fairly noted that their contributions to the RSLC were actually directed to non-legislative elections.
A statement from Time Warner Cable, which contributed $310,175 to the RSLC since 2009, said, "As a highly regulated business, we support a variety of political candidates that we believe will promote a level playing field and protect TWC from burdensome, unnecessary regulation. As for North Carolina's HB2 law and legislation similar to it, we find that they are not only bad for business but also run counter to our core values of diversity and inclusion. That is why we have added our voice to the many others who agree it should be repealed."
"As a global company, it's imperative that we have strong relationships with elected officials that span party-lines, as they work with us to create positive business outcomes around the world," said a statement from Hewlett-Packard, which has donated $428,365 to the RSLC since 2009. "We stand firmly by our opposition to HB2 and by our non-discrimination policy."
Cisco Systems, which gave $50,000 to the RSLC in September, says that the company "has maintained memberships in associations for many years. Our involvement has never been about any specific party or candidate. We use our memberships to educate members on issues of importance to the tech industry and we request our funds be directed towards non-political purposes."
Some of the companies explained that their contributions were earmarked to be spent on attorney general races and not on legislative elections. Until 2014, the RSLC contained within it the Republican Attorneys General Association. The two groups split in 2014 and many of the companies that had been contributing to RAGA through the RSLC ceased their contributions to the latter.
Lowe's Companies stated that their contributions went to RAGA and not RSLC. The company also added in a statement that it takes "a holistic look rather than at single issues" when determining which candidates and organizations to support.
Facebook, Capital One and Yelp all also said that their contributions to RSLC were actually to RAGA. Their contributions to RSLC ceased once RAGA split off to be its own entity.
And then some companies stated that their contributions were not meant to be converted into political expenditures. Instead, they offered in-kind donations or contributed to the RSLC's administrative account.
The $3,514 donated to the RSLC by Uber was in the form of an in-kind contribution of travel for conferences. "While we will not always agree with every policymaker on every issue, Uber will continue to engage with leaders on both sides of the aisle about how to best to connect riders and drivers and move the on-demand economy forward," a corporate statement read.
Citigroup states that its approximately $940,000 in contributions to the RSLC went to the group's administrative account and were not to be used for electoral purposes.
"We are proud of our track record, which includes standing with groups like the Human Rights Campaign to oppose House Bill 2," Citigroup spokesman Kamran Mumtaz said in a statement. "The Citi PAC has not made any contributions this cycle to members of the North Carolina state legislature."
For at least one company, North Carolina's anti-LGBT legislation is a cause to re-examine which groups it should be funding.
According to a Microsoft spokesman, "We weigh a number of factors in making political contribution decisions, and will consider this and other issues in making future contribution decisions."
Before You Go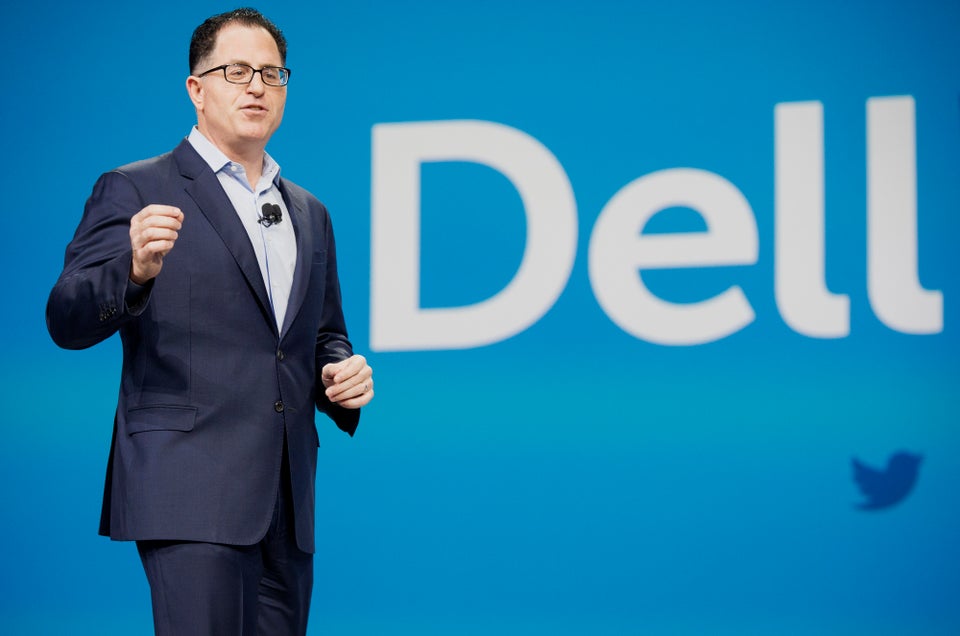 Companies Against Georgia's Anti-LGBT Bill
Popular in the Community