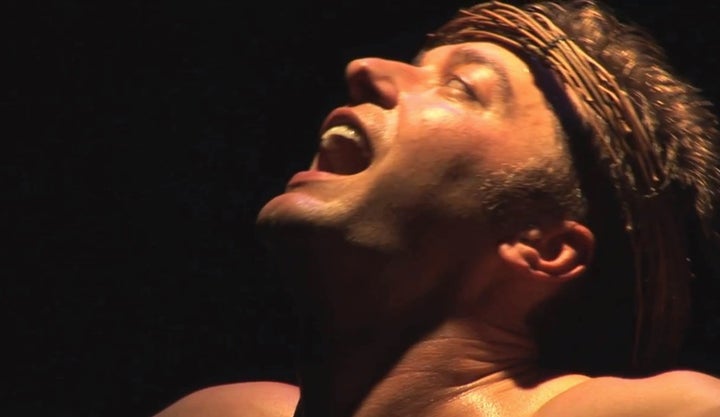 By Nic Arnzen
Religion News Service
(RNS) As a Catholic boy growing up in Iowa, I was always drawn to Communion. There was something deeply powerful about the act of rising from our seats together and all taking part in the same ritual. I guess it made me feel safe to be bound, to these other people -- that I wasn't alone in the world.
But by the time I was in my teens, those warm feelings began to sour.
The idea that Jesus was reserved for those who were found worthy enough to receive him was such a contradictory notion to me and felt elitist. I became confused, angry and judgmental -- seemingly a perfect Catholic! But I could never be a perfect Catholic. I was hiding that I was gay, and it was made abundantly clear there was no way I was going to heaven.
I was embarrassed for who I was and ashamed that I had failed. Mostly, though, I was sad. I was sad that I let my parents down, and that I learned so many wonderful things about being good, but no matter how hard I tried I could not rid myself of the flaw that would damn me to hell.
I was devastated that I would no longer be allowed to walk down that aisle as a welcomed member of the parish, that I would never walk down that aisle to marry the person I loved.
My relationship with the church was over, for it would not love me as I loved it, or as God made me. I left, feeling that I was no longer a part of this community, and sincerely believed I would never find true love. I would miss both communion and Communion.
I spent my 30s struggling to figure out who I was and why I was so destructive in my relationships. I was lucky enough to find a patient partner and start a family. That was about the time that the play "Corpus Christi" came into my life.
In "Corpus Christi," playwright Terrence McNally reimagines Jesus as a gay man growing up in 1950s Texas. It opened off-Broadway in 1998 to angry letters, bomb threats, and massive protests. The spectacle drowned out the play's central message: that the church should be a place where all are welcomed, including gays and lesbians.
In 2006, I launched a new production of the play. The play was scheduled for only nine performances. Amazingly, our production went on to tour the world for six years and counting, performing everywhere from Ireland to Texas.

Whatever resistance we faced wasn't enough to impede our performance. Our troupe was taking the kind and powerful words of Scripture to audiences around the world through the very same "gay Jesus play" that so many had rushed to denounce as blasphemy.
The production inspired a documentary, "Corpus Christi: Playing With Redemption," which chronicles the journey of the 108 Productions cast and crew. Yet it also asks two central questions: Where do gay men and women belong at the table of spirituality? And why would they want to come back to religions that so often pushed them away and made them feel unworthy?
What I didn't expect, and what turned out to be the greatest gift of all, were the audiences we were privileged to interact with along the way. Every location provided new stories and new healing. As they healed, we healed. This was where we learned the true lesson of the play: It is by our communion with others that we find ourselves.
When we open to them, and they open to us, and we feel connected to more than just a play. We feel connected to the world, and realize we will never be alone. That's where Jesus still lives, and why "Corpus Christi" can culminate in a crucifixion but end with hope.
We learned to listen to these strangers and quickly found they were not strangers at all. We returned from every trip with a feeling of connection, a sense of being a part of something bigger than we could imagine or describe. You might even call it communion.
"Corpus Christi" has become much bigger than us. We're just a part of it, and the people we've met along the way are the ones who are truly taking the lead. And that, to me, is the ultimate communion with the Spirit.
(Nic Arnzen's has directed the international tour of "Corpus Christi" for 108 Productions for six years. He lives in Los Angeles with his husband and two children.)
REAL LIFE. REAL NEWS. REAL VOICES.
Help us tell more of the stories that matter from voices that too often remain unheard.
BEFORE YOU GO