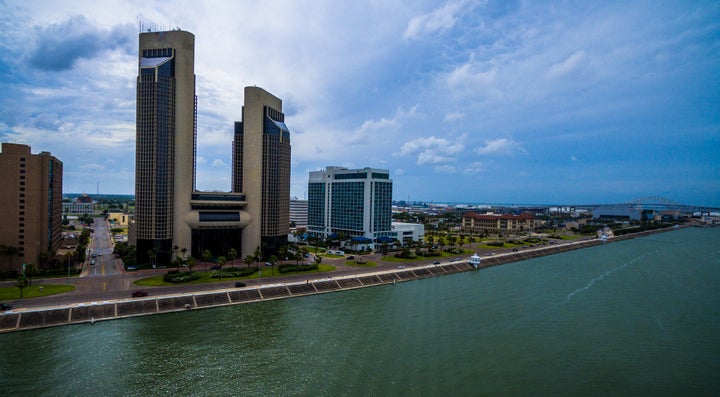 Corpus Christi, Texas — known as the Sparkling City by the Sea — is not living up to its nickname. Again.
The city announced on Wednesday night that a back-flow incident in its industrial district had possibly contaminated drinking water with an "unknown chemical substance." (Update: On Sunday, city officials announced the lifting of the water ban.)
Officials said Thursday during a news conference that the chemical had been identified as Indulin AA86, an asphalt emulsifier, the Corpus Christi Caller-Times reported.
As a result, the city is telling its more than 320,000 residents to not use its tap water at all — to avoid using it to prepare food, shower or wash dishes or clothes — until advised otherwise. The city called on residents to use bottled water instead, which has caused many stores to sell out of water.
Classes at area schools were also canceled Thursday as a result of the water ban.
Officials expect results from a water test to come back on Thursday afternoon, according to the city's website, and they are currently considering water distribution options.
On Friday, the city issued an update indicating that some outlying areas of the city, as indicated on a map the city had posted to its website, can resume drinking and using tap water. The city's water was cleared for limited use — including bathing, showering and washing clothes — in a second area identified on the map, while the water ban remains in effect for a third area closest to the coast.
The city tweeted that, as of Friday, it is still awaiting state regulators' water sample test results to determine next steps.
Residents took to Twitter to document long lines of customers who rushed to buy water.
Water issues have plagued the city over the last couple of years.
In May, residents were advised to boil their tap water before drinking it for a 13-day period. Similar advisories had been issued in July and September 2015.
The water problems prompted then-City Manager Ron Olson to resign. The scandal was also cited as a major contributing factor in the defeat of former Mayor Nelda Martinez in November, as hundreds of residents had previously sought to recall her due to the water issues.
The current issue is a bit different because it involves a local company and less blame falls on the city itself.
Environmental activist Erin Brockovich was in close contact with city officials during the previous water problems, and told The Huffington Post on Thursday that the city is "doing everything they can to isolate the contamination."
The city has been cooperative in addressing both its prior issues with their water system and the current incident, she said.
"People are beyond frustrated and they have every right to be," Brockovich said. "It's a scary scenario, a sad scenario."
The most important takeaway, she added, is for residents heed the city's advice to not drink their water.
City officials ― including Dan Grimsbo, Corpus Christi's interim director of water and utilities ― did not immediately respond to requests for comment.
Joseph Erbentraut covers promising innovations and challenges in the areas of food and water. In addition, Erbentraut explores the evolving ways Americans are identifying and defining themselves. Follow Erbentraut on Twitter at @robojojo. Tips? Email joseph.erbentraut@huffingtonpost.com.
Popular in the Community