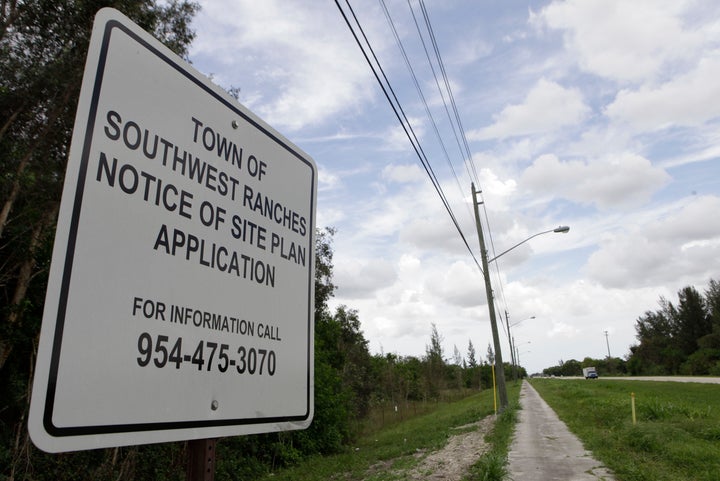 The nation's largest private prison corporation sued a South Florida town this week, arguing that city officials are trying to "disrupt and derail" plans to build one of nation's largest immigrant-detention centers northwest of Miami.
Corrections Corporation of America's federal lawsuit claims that city officials in Pembroke Pines, Fla., are interfering with the company's "advantageous business relationship" with federal immigration authorities. Corrections Corp. reached a tentative deal with U.S. Immigration and Customs Enforcement last summer to build a 1,500-bed detention facility in Southwest Ranches, a quiet suburban enclave near the Everglades.
But residents and immigrant-rights groups have waged a battle against the company and elected officials who support construction of the jail. Money is on the line for both Corrections Corp. and the town of Southwest Ranches, which has an agreement to receive up to 4 percent of the compensation from the company's potential deal with the federal government.
Over the past decade, the federal government has embarked on an unprecedented campaign to round up and detain undocumented immigrants, leading to a major development of detention centers. Between 2005 and 2010, the amount of money appropriated for immigrant detention and removal more than doubled, from $1.2 billion to more than $2.5 billion.
Though the politics have been fierce in Southwest Ranches, the lawsuit hinges on a technical matter: how to get water and sewer services to the site of the proposed detention center. While the site is in the town of Southwest Ranches, Corrections Corp. was relying on an agreement with nearby Pembroke Pines to provide the hookup to water systems.
After public opposition swelled in both communities over the past year, commissioners in Pembroke Pines began looking at ways to pull out of the agreement to provide services for the jail site. The City Commission nixed the deal earlier this week, which led Corrections Corp. to file lawsuit in federal court seeking damages and a reversal of the city's decision.
"It is not legal for a municipality to selectively provide ... services ... based on political considerations," wrote Steve Owen, a spokesman for Corrections Corp., in an e-mail response.
Residents near the site of the proposed detention center have been vocal opponents of the deal, which has brought unprecedented tension to the wealthy corner of South Florida known for expansive ranch homes and residents who ride horses.
Homeowners in both towns have been flooded with robocalls from both Corrections Corp. and activists seeking to sway public opinion on the detention center.
"They're suing my city with the federal tax dollars they've gotten from my pocket," said Ryann Greenberg, who lives less than a half mile from the proposed site and has organized hundreds of residents in opposition. "They're trying to bully their way into this contract."
The city attorney for Pembroke Pines, Sam Goren, wrote in an e-mail that the city is reviewing the lawsuit and will be meeting with outside counsel to "prepare appropriate strategies in the future defense."
Although Immigration and Customs Enforcement reached a tentative deal with Corrections Corp. last summer on the Southwest Ranches site, a spokesman for the agency said there is "no set timeline" for a final decision.
Popular in the Community