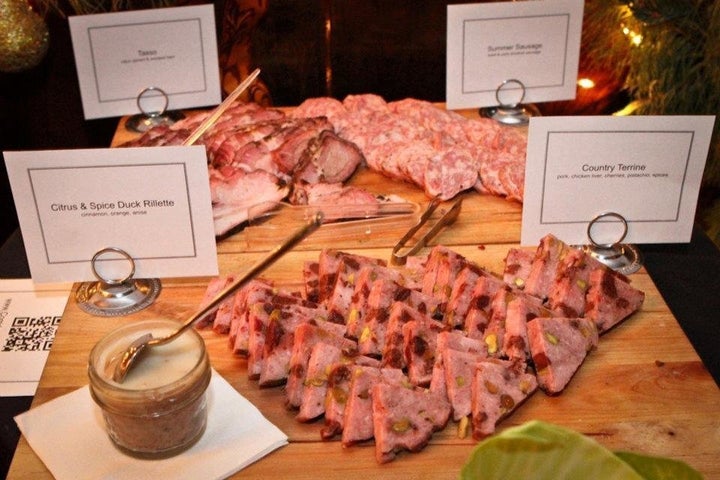 This story originally appeared in Model D.

The Corridor Sausage Co. has a new home in Eastern Market, signing a lease for its first production facility that is expected to accommodate exponential growth for the company.
The 3-year-old gourmet sausage-making firm plans to move into 1801 Division St. next month. The 2-story building's 8,500 square feet of commercial will provide plenty of space for new equipment that will allow the company to quintuple its production within the next year.
"This is the nicest building we have seen," says Will Branch, co-owner of the Corridor Sausage Co. "It's been owned by one family since the 1970s, when they ran Greenbriar Foods."
Branch started the Corridor Sausage Co. with Zach Klein while the two were working as chefs at a restaurant in Midtown. Sausage making started as a passion project for them. They made small batches at home for family and friends at first, working on recipes. That grew to selling them at local farmer's markets in recent years and to fellow chefs.
The growing popularity of the Corridor Sausage Co. brand led to Branch and Klein's search for a home for their burgeoning business. The pair searched every available commercial space in the greater downtown area for months but came up empty. The Detroit Institute of Bagels co-founders tipped Branch and Klein to the Eastern Market space after the owner pitched it as the first home for the bagel shop.
"It was pretty apparent it is what we're looking for," Branch says. "It didn't need any major repairs."
The Corridor Sausage Co. is currently made up of a core team of three people that includes Klein, Branch and his wife. There are another half dozen people who have helped grow the company on an informal basis. Branch plans to move the business into its new home and then begin production so it can begin making enough gourmet sausages to sell in grocery stores in Michigan and Ohio.
"Everything is going to come in phases," Branch says. "We're going to have to first move into this building."
Source: Will Branch, co-owner of the Corridor Sausage Co.
Popular in the Community