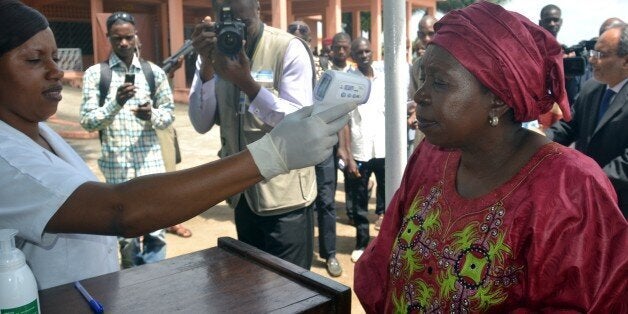 Something African leaders have deftly avoided discussing in the wake of the Ebola outbreak is the impact their corrupt and incompetent governance has had on how they (mis)manage such crises. It is no surprise that countries in the "hot zone" of the disease -- Guinea, Liberia and Sierra Leone -- were demonstrably ill-prepared to deal with its occurrence or contain its progression.
Ironically, the "big men" of the African Union (AU) took to blaming the organization's bogeyman and favorite whipping boy -- the West -- for failing to do enough to fight the global epidemic.
To be perfectly clear, infectious diseases such as Ebola, MERs and SARs, in this era of jet-travel and the global village, are global crises that require cooperation among all nations. However, the saying "charity begins at home" comes to mind and effective crisis management requires good governance and adequate infrastructure -- at home. At a minimum, good governance and adequate infrastructure includes provision of hospitals, transportation to the hospitals (including roads), trained hospital personnel and administrators guided by the Hippocratic Oath, functioning equipment, timeliness and consistency of pay commensurate with the important role they play in society etc.
Back in late October 2014, the World Health Organization (WHO) announced that Nigeria was "Ebola-free." Africa's most populous nation averted disaster because the two medical personnel -- Benjamin Ohiaeri and Ameyo Stella Adadevoh -- who were involved in the diagnosis and treatment of Patrick Sawyer, an American of Liberian descent insisted on keeping him isolated despite threats of legal action by Liberian officials demanding his release. Dr. Ohiaeri and Dr. Adadevoh adhered to the strict protocol of handling suspected cases of Ebola without succumbing to political pressure or the corruption Africa is notorious for.
In a sequence of events rich in irony, Kenya, one of Africa's most corrupt countries, took note of the success of another corrupt African country -- Nigeria -- in how it handled the disease. The country's cabinet secretary of Health and former banker James Wainaina Macharia penned an article that catalogued the reasons for Nigeria's success in her fight against Ebola.
On the cabinet secretary's list were: (a) early identification of the disease, (b) good governance, (c) lab facilities, (d) detective work, (e) awareness and some other basic factors that combined to enable Nigeria to stem spread of the disease.
Mr. Macharia went on to write that "Kenya Medical Research Institute's (KEMRI) laboratories are recognized as regional centers of diagnostic excellence."
While that may be true, Nigeria's handling of Mr. Sawyer's case underscored the importance of effective and efficient use of available diagnostic tools and the results (of the diagnosis) to respond accordingly. In a sharp contrast, the recent floods in Nairobi point to ineffective construction and maintenance of infrastructure. The African Union's incompetent handling of the continent's many human crisis also point to the body's ineffective diagnosis and mitigation of events that have too often morphed into full-blown crisis, the worst, in recent memories, being the genocide in Rwanda.
The genocide in Rwanda, Darfur, Ebola, the many civil wars in Africa, the terrorism and flooding in Kenya are stark reminders of (African) leadership that is absolutely incompetent and not accountable to anyone!
Kenya's Cabinet Secretary of Health points to Nigeria's "generous" allocation of money to deal with the (Ebola) situation as an example of "good governance". I will forgo the enticing analysis (and humor) that has "Kenya," "good governance" and "money" in the same sentence. Instead, I will use the (mis)handling of the first case of Ebola diagnosed in the U.S. (by officials at America's Texas Health Presbyterian Hospital) and resultant death of Liberian Thomas Duncan to illustrate what incompetent crisis management looks like!
Mr. Duncan's case was poorly handled from the get-go. His medical condition was misdiagnosed and politicized. The foregoing resulted in dissemination of inaccurate information to an American public already predisposed to believing anything negative about Africa and Africans. There were also changing storylines and accusations of racism. Together, the comedy of error by officials in Texas and at the Center for Disease Control (CDC) threatened mass panic among jittery Americans as individuals who had come into contact with America's Patient Zero traveled across the country, potentially exposing others!
Let's hope that the AU's current handling of the recent crisis in Burundi or Kenya's handling of the terrorist attacks is neither an indication of the organization's newly found Pan-Africanist chops nor affirmation of an "Africa/n (country) Rising". If it is, the crisis management abilities of the continent and of Kenya are eons away from "rising"!
Popular in the Community