"Your outfit is making me uncomfortable."
I was attempting to have a serious conversation with a friend and co-worker when he verbalized what I'd been physically feeling for the past two days. Why the discomfort? I had a corset wrapped around my mid-section, over my clothes.
My editor and I deemed my first pick of corsets ― a white, theatrical-looking lace-up number with hardware ― too ridiculous to actually wear in the real world. In an attempt to make this look "wearable" for a non-celeb's everyday activities, I opted for this stretchy Aritzia top, which can be worn as a tube top or in the style of a corset.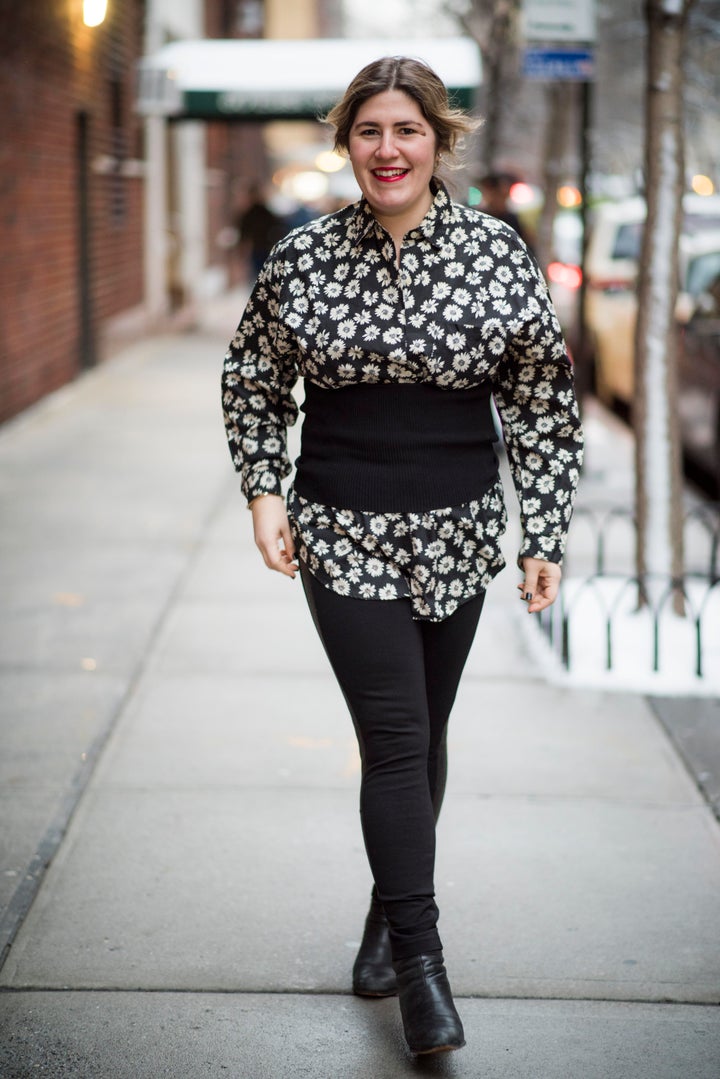 I actually felt pretty good on day one, wearing the corset with a vintage Gap button down and skinny black pants. I almost understood the appeal of a piece of clothing that cinches an oversized, boxy top at the waist. That feeling was short-lived, however, lasting only until the first of many times I had to adjust the dang thing as I went about my life.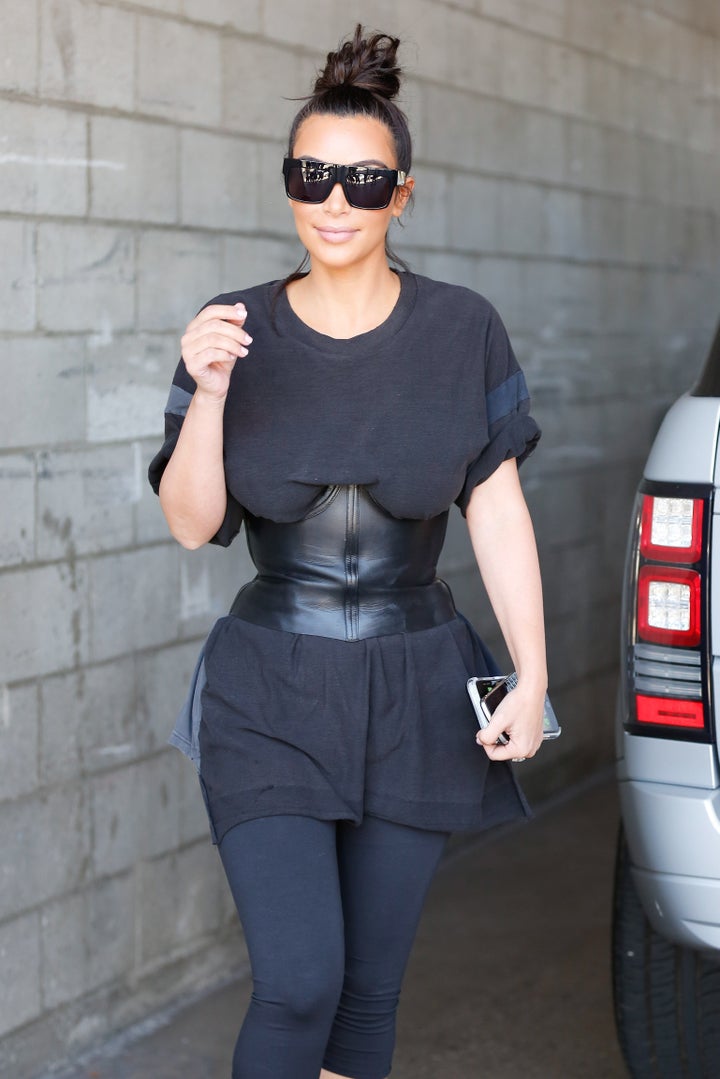 Yeah, this was not the same.
For starters, it's winter in New York City, and my commitment to T-shirts as dresses has limits ― there was no way I was going bare-legged in a T, as Kardashian did in August. She also seems to have a vast range of giant shirts at her disposal, but my most oversized T-shirt (that can be seen in public, anyway) is a slightly loose sleep shirt I bought while waiting in line at Franklin Barbecue in Austin, Texas.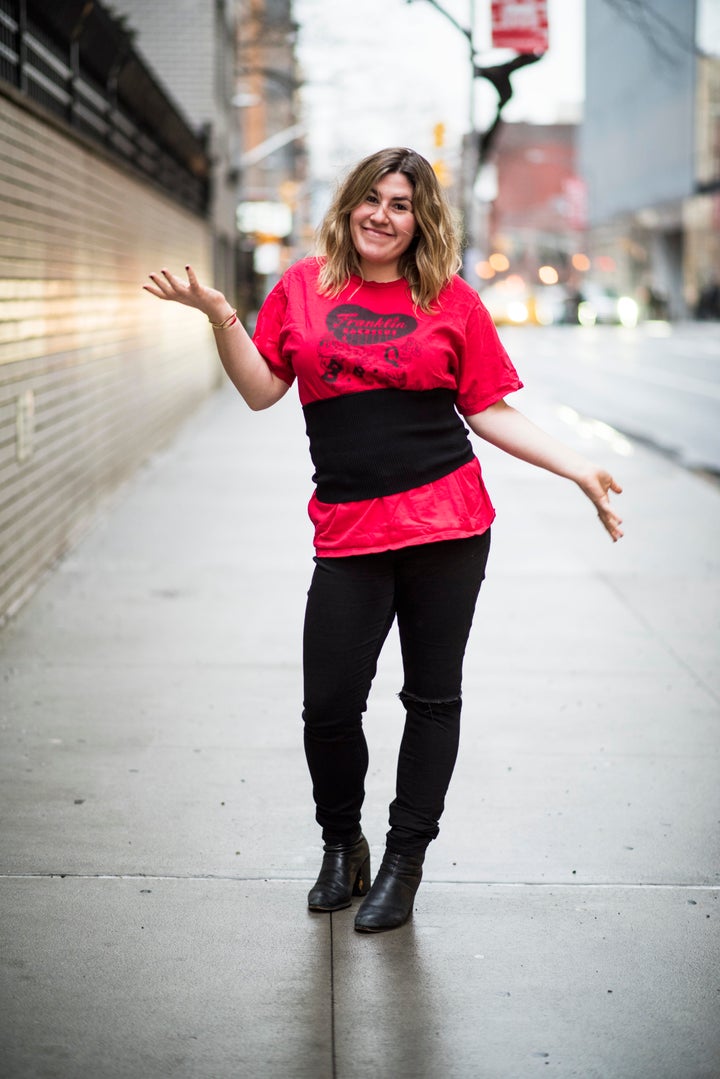 No one, and I repeat no one, liked this iteration of the look. My "uncomfortable" friend at work asked if this was for a comedy bit. Another asked "Is that a waist trainer?" One nice colleague said I looked "family reunion chic." It was also at this time that another colleague started trolling me on chat by sending me Google search pages filled with people wearing cummerbunds.
That night, at dinner, the stares were rampant. "It's cute!" a friend reassured me, her voice shaking. "Sure," I replied, as I drowned my sorrows in overpriced hot sake and adjusted my constricting waistband for a millionth time.
On day three, in an effort to turn things around, I went full blown Gigi Hadid ― a sentence I've said more times than I care to admit. I tried to copy a look I recalled seeing the 21-year-old wear to an event back in October.
Just try and tell the difference between this supermodel...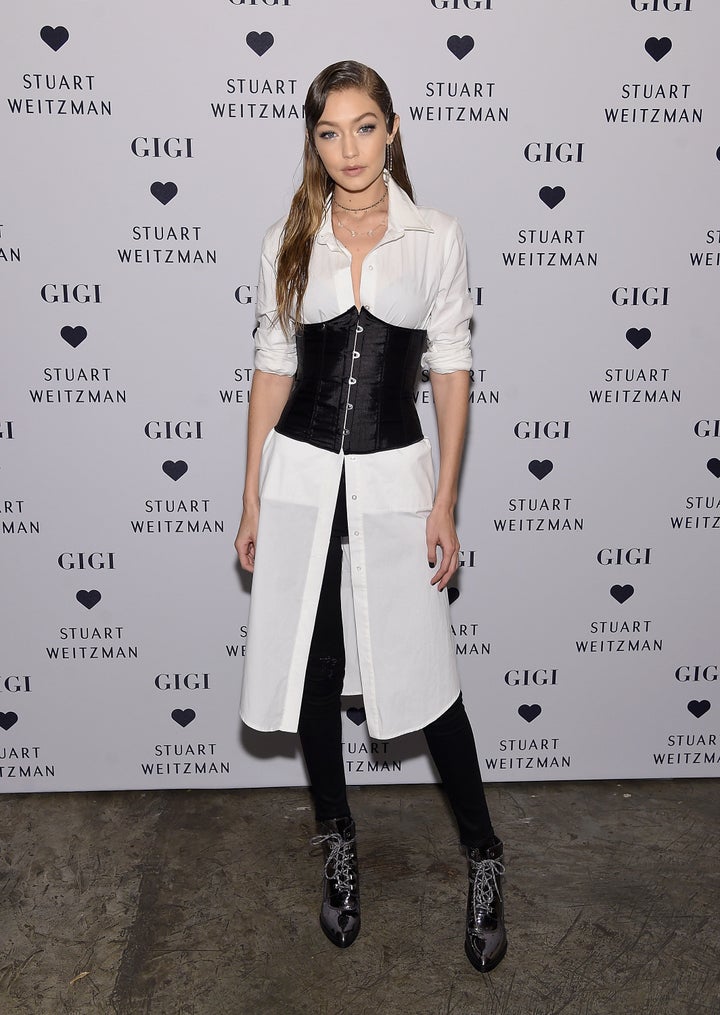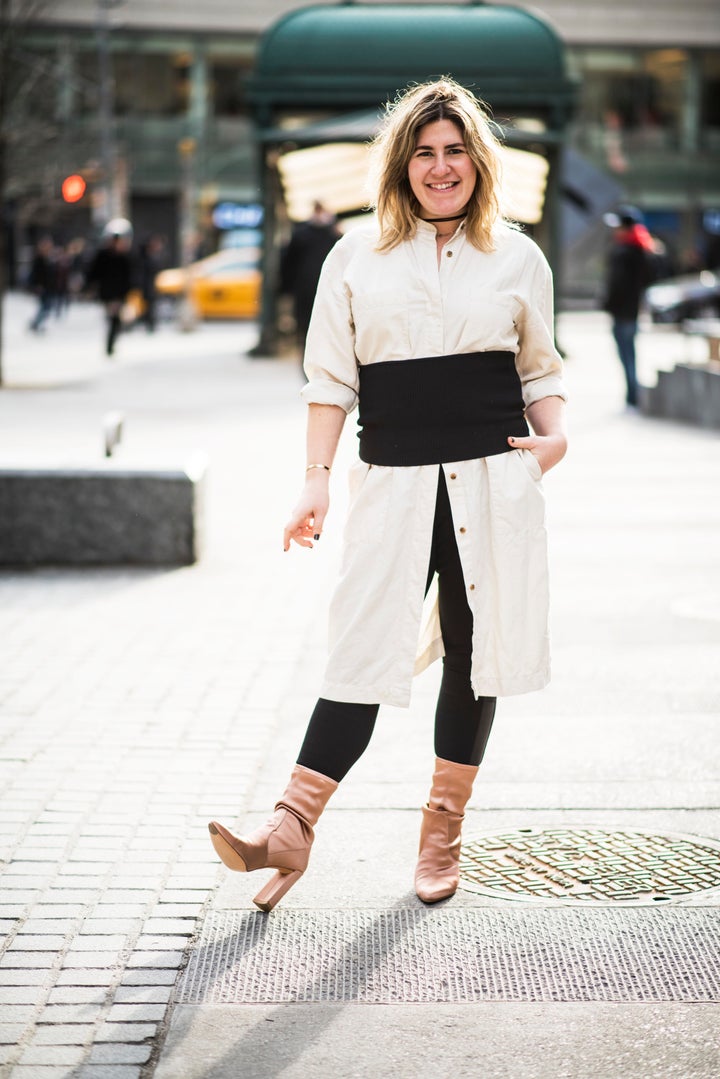 This outfit of black leggings and an Aritzia shirtdress got the most positive reviews from friends and colleagues and stares on the street. It seemed a little more "Is that Gigi Hadid?" and a little less "WTF?" Thanks, Gig!
You may be able to tell by my utterly unamused face below, but by day four I was so sick of the corset that I actually hid it at one point. I was interviewing "Project Runway: All Stars" mentor Joanna Coles in front of a studio audience, and I panicked so hard at the last minute that I zipped this godsend Zara bomber jacket right over it as I made my way to the stage.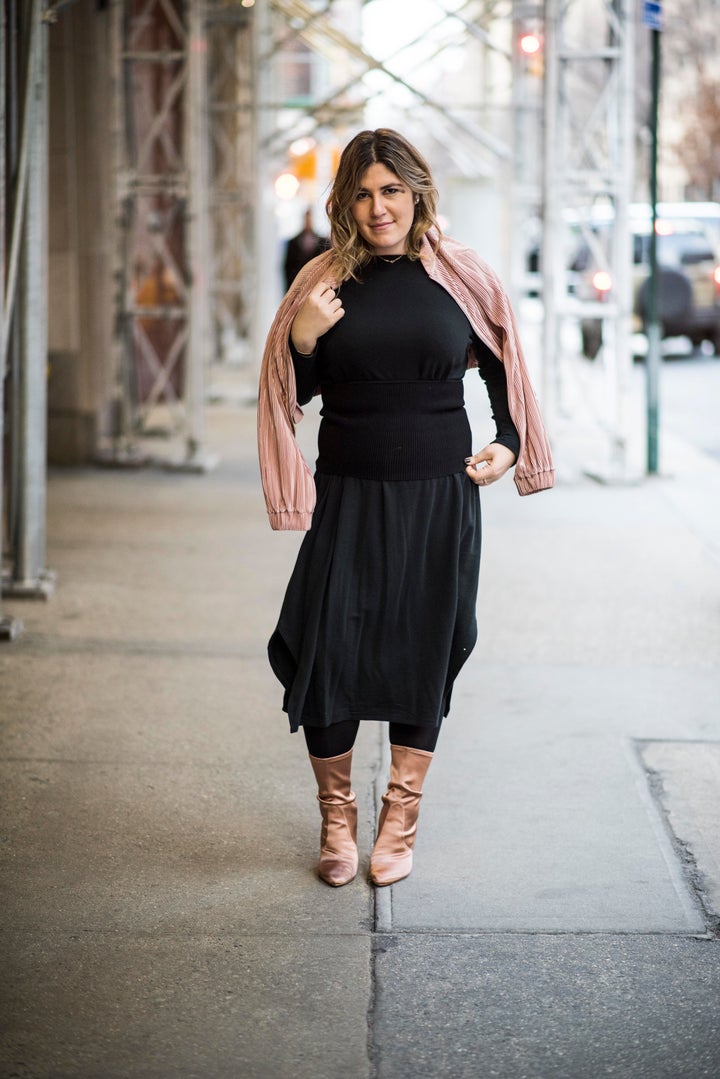 In all honesty, I did feel slightly defeated for having covered it up, but mostly I just uncomfortable: I also had on control top stockings under my J. Jill dress. It was a corset double whammy.
Four days in, I was feeling suffocated and annoyed. I decided right then and there that this article of clothing is better suited for me as a tube top only. And I'd call this one of many looks we should all leave to the Hadids and Kardashians of the world.