As Arizona Senate President Russell Pearce replaced three members on the state's Ethics Committee over an investigation of a fellow colleague's domestic abuse charges last week, his own campaign in the upcoming recall election spiraled deeper into allegations of fraud and ethic violations.
On the verge of blowing up into an irreparable scandal for Pearce, the self-proclaimed "Tea Party President" and first senate president to face a recall election in American history, a series of blatant efforts by his campaign supporters to fraudulently set up the sham candidacy of Olivia Cortes to undermine his main opponent's support has unraveled into a damaging comedy of errors.
After the Secretary of State's office deferred on an investigation into Cortes' campaign for fraud, long-time Mesa Republican Mary Lou Boettcher and attorney Tom Ryan filed a suit yesterday in the Superior Court of Maricopa County for a "verified statement of election contest." Boettcher, the co-founder of one of the oldest Mesa Republican women's clubs in 1962, contends:
Olivia Cortes is currently listed as a candidate for the office of Senator for LD 18. Upon information and belief, Contestant alleges Ms. Cortes is a registered Republican and a member of the "Tea Party." Ms. Cortes is a well-known supporter of recalled Senator Russell Pearce. Upon information and belief Ms. Cortes has voted for Russell Pearce. Upon information and belief, Ms. Cortes has no campaign committee, no volunteers for her campaign, and her campaign is being financed and operated entirely by those who wish to dilute the vote in favor of Recalled Senator, Russell Pearce.

Contestant contests the right of Contestee Cortes to be on the ballot and to run in the Recall Election currently set for November 8, 2011 because Contestee Cortes is a fraudulent and diversionary candidate within the meaning of Arizona law.
While Cortes refuses to appear in public, answer media calls or return emails, and claims on her website that she doesn't know Pearce or his opponent Jerry Lewis, the Mesa educator and Republican moderate, Cortes certainly knows the Tea Party. Last fall, she subscribed to the Tea Party Express TV tour, which featured Pearce at its rally in Phoenix on October 22, 2010. Here's her page: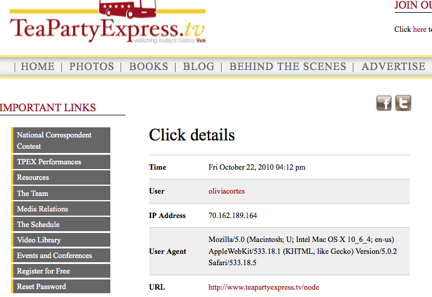 On her Tea Party Express profile, Cortes wrote: "Our country is being dismantle by corruption in Washington D.C. Politicians are drunken with power and greed."
Power and greed are right -- Mesa voters would ask Cortes to consider her dalliance with the Pearce campaign.
On Friday, a new campaign website for Cortes emerged and invoked Superman's comic book charge for "Truth, Justice and The American Way." But an accompanying statement emailed by Cortes, and widely circulated by Pearce supporters and websites, actually borrowed text off a private message from the Recall Pearce campaign Facebook site in a strange act of either plagiarism or mockery. Funny enough, Pearce was exposed for similar copy-and-paste habits on his website earlier this summer.
Here's Cortes' email message, as posted by a rightwing website: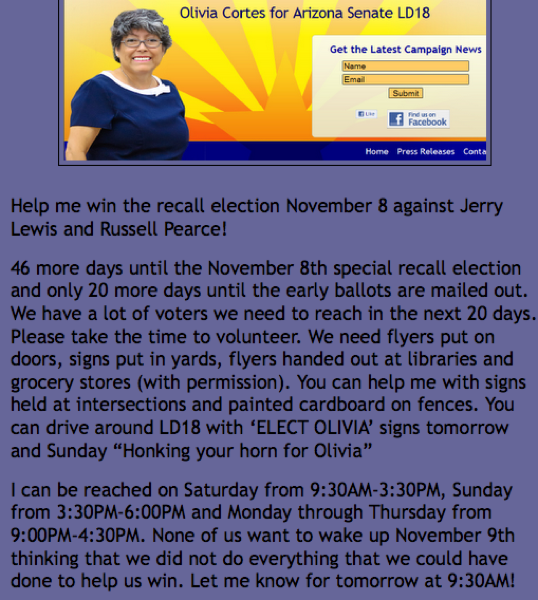 Here's the Facebook message from the Recall Pearce campaign:

The email address that sent the statement is no longer operating. Repeated emails sent to the campaign email address on the website were not answered. When I called the phone number listed for the Cortes campaign, a young woman told me she knew nothing about the campaign and wasn't the head of the household and then hung up the phone. The IP address for Cortes' website can be traced to the godaddy.com domain/web host, which coincidentally is the same domain/web host for Tea Party websites in Mesa and Scottsdale.
Talk about the gang that couldn't shoot straight. Unraveling the Pearce campaign's comedy of bungles, indefatigable Phoenix New Times reporter Stephen Lemons and independent videographer Dennis Gilman have methodically connected Pearce operators to most of Cortes' campaign endeavors:
* in apparent violation of Arizona Code of Judicial Conduct, Pearce's brother Lester Pearce, a Justice of the Peace, has been involved in the campaign
* Franklin Bruce Ross, the plaintiff on behalf of Pearce in the failed lawsuit to challenge the recall petitions, actively took part in soliciting petitions for Cortes
* East Valley Tea Party chair Greg Western and Pearce supporter turned in Cortes petitions
* After reading a motion at a local district Republican meeting in support of Pearce, former LD 19 district chair Pat Oldroyd admitted on camera that she had openly canvassed door-by-door to collect petitions for Cortes
* Dan Grimm, another LD 19 Republican supporter of Pearce, also appeared on camera and hilariously attempted to make "no comment" on Cortes as Lemons provided a copy of Grimm's signature as a petition collector
* A Pearce supporter openly told Arizona Republic reporter Gary Nelson that he was soliciting petition signatures for Cortes to help Pearce
* Phoenix Channel 12 TV reporter Brahm Resnik even paid a visit to the homes of Pearce relatives whose signatures were found as petition collectors for Cortes
Despite his public denials of involvement, Russell Pearce clearly needs to address and be held accountable for these ethical violations and his connection to his campaign supporters.
In the meantime, as a final insult to Arizona voters and their historical legacy, Olivia Cortes signs with the cynical reference to the beloved Cesar Chavez's "Si Se Puede" slogan for change continue to be posted around the Mesa district.
Calling all HuffPost superfans!
Sign up for membership to become a founding member and help shape HuffPost's next chapter