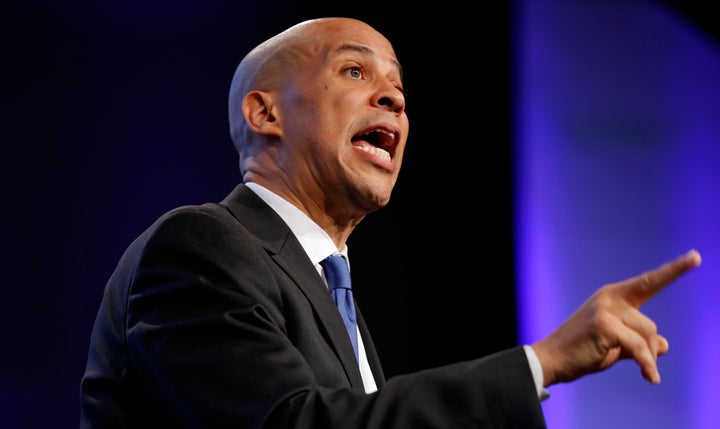 WASHINGTON ― Sen. Cory Booker (D-N.J.) pressed for long-overdue reforms to the nation's criminal justice system on Tuesday, urging Americans not to lose faith in the ongoing fight for civil rights despite fears that a bipartisan prison and sentencing reform bill may be on the cusp of defeat in Congress.
In an impassioned speech to a gathering of civil rights advocates and activists in Washington, D.C., Booker drew directly on his experiences in an inner-city community to address the dramatic disparities in how minorities and white Americans are treated by the U.S. criminal justice system, which he called a "crisis in our whole body politic." The senator tied his personal story as a young black man living in Newark to the devastating problem of gun violence, which claims thousands of lives across the country each year.
"I lived across the street from a drug treatment center, and sometimes I've sat with the men and women in those circles and I just see beauty. I see divinity. I see God," the senator added.
Booker lamented how young people are often targeted for nonviolent drug offenses and "arrested for things two out of the last three presidents have done," a reference to former Presidents Barack Obama and George W. Bush reportedly using drugs in their past. He then recalled attending Monday's memorial at the U.S. Capitol to former President George H.W. Bush, who died Friday, and seeing people in attendance "that you know have to have done the kind of things that kids do."
"For some folks, there are pathways to the presidency. And for some folks, the pathway is to... prison. And then when they come out, they are still imprisoned," he said, arguing that injustice has effectively been institutionalized for many minorities and financially needy Americans.
The remark was met with vocal agreement among some in the audience, who called out to Booker and urged him to "say it again." At other moments during the nearly 40-minute speech, attendees sat silently as he urged people not to lose hope in the fight for civil rights, which he noted has been a multigenerational struggle that has not yet ended.
Booker choked back tears as he recalled being comforted by the mother of a young man who had been fatally shot in New Jersey. The woman embraced a lost and troubled man "with darkness in my soul," he said, and urged him to "stay faithful" in America. It was a refrain he picked up and repeated several times in his speech, which made repeated references to civil rights heroes, such as Martin Luther King Jr., and bore a striking resemblance to stemwinders once delivered by Obama.
At one point, Booker urged attendees to love unconditionally, even people with whom they may not necessarily agree. "Gotta love Republicans," he remarked. As an example, he noted that he had worked with Sen. Lindsey Graham (R-S.C.) to push for criminal justice reform in Congress, despite being frustrated by Graham's vocal and pivotal role in the confirmation of Supreme Court Justice Brett Kavanaugh.
"I don't know if you all know this. I used to have a Questlove Afro, but I pulled it all out after that," Booker quipped, referring to the musician's signature look.
The bill Booker and Graham support is called The First Step Act. It aims to reduce recidivism and shorten some prison sentences. While it has broad bipartisan support, including an endorsement by President Donald Trump, it has been met by loud opposition from senators including Tom Cotton (R-Ark.), who warned his colleagues that the legislation would release violent felons onto the streets. 
Senate Majority Leader Mitch McConnell (R-Ky.) remains publicly lukewarm to the bill. More important, McConnell has not said whether he'll allow it to come to a vote on the Senate floor with just two weeks before Congress adjourns for the year. If the Senate doesn't take up the bill in the lame-duck Congress, its chances of passage next year may be substantially harder with Democrats in control of the House. Newly elected Democratic members in the House may add more liberal provisions that could bog down the bill in the Senate, for example. 
"This bill is but a step in the right direction in a mile-long journey. It is not a perfect bill, but dear God, after decades of mandatory minimums and three strikes laws, it's the first time it starts to move in the right direction," Booker said Tuesday, laying out the stakes. "Two weeks, that's all we've got left."
While he has not officially announced whether he'll be entering the 2020 presidential race, Booker is widely expected to throw his hat into the ring. He campaigned for Democrats in early primary states of Iowa and South Carolina, and he has begun building an early campaign organization.
Booker faces a crowded field of potential presidential aspirants, including Joe Biden. The former vice president, who has not ruled out a 2020 run, raised eyebrows this week by claiming that he is the "most qualified person in the country to be president." Booker didn't take it as a slight against him, however, telling HuffPost after Tuesday's event that Biden is "extraordinarily qualified" and that he didn't think he was simply "chest-bumping" about his credentials.
Booker concluded his speech Tuesday with a rising crescendo calling on Americans to fight for a future where "justice will roll down like water and righteousness like a mighty stream," borrowing from King.
"We have come this far by faith. The faith our ancestors never gave up," he added. "Stay faithful, and know that faith without works is dead. We have work to do. We have battles to fight. Our country still calls. The dream still demands. America is in the balance."
REAL LIFE. REAL NEWS. REAL VOICES.
Help us tell more of the stories that matter from voices that too often remain unheard.