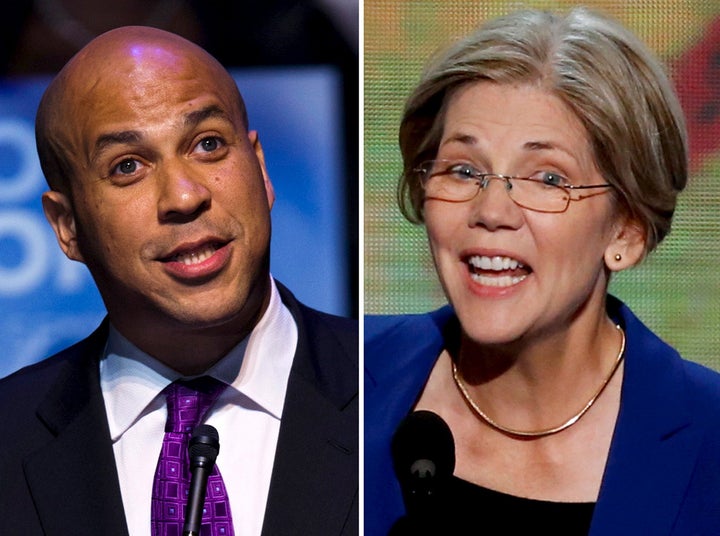 Two Democratic senators unveiled a bill on Tuesday that aims to drastically reform how the U.S. federal prison system treats women behind bars, a segment of the incarcerated population that is often overlooked despite its rapid growth.
Sens. Cory Booker (N.J.) and Elizabeth Warren (Mass.) introduced The Dignity for Incarcerated Women Act at a press conference Tuesday. The bill, which also had Sens. Kamala Harris (Calif.) and Dick Durbin (Ill.) as co-sponsors, would require federal prisons to provide free, quality sanitary napkins and tampons to female inmates, and would ban shackling them during pregnancy or placing pregnant women in solitary confinement.
At the heart of the bill are proposals that would make it easier for women to maintain strong family ties with their children while in prison. It requires that the Federal Bureau of Prisons consider the location of children when deciding where to place an inmate, and to create policies that make it easier for inmates to communicate with their families. These include longer and more frequent visiting hours, allowing physical interactions during visits, and not charging for phone calls.
"It is in the societal interest to support families when members of those families are incarcerated," Booker told HuffPost. "We do unnecessarily harsh things that are not necessary for public safety, but really punish women and punish their families as a whole."
Men make up the bulk of America's imprisoned population, but the number of women behind bars has soared over the past few decades to more than 200,000 as of 2014, and women are now the fastest growing segment. (Compared internationally, the U.S. incarcerates women at a higher rate than every country but Thailand).
The legislation would affect the nearly 12,695 women in federal prisons ― almost 60 percent of whom were convicted of drug offenses ― but not those in state prisons and local jails, where the majority of women are held.
The bill comes at a time of growing national concern about the need for criminal justice reform. While most of the discussion focuses on men, the popular Netflix show, "Orange Is The New Black," has highlighted the plight of women behind bars, and touched on many of the issues that the bill seeks to address: a lack of proper access to feminine hygiene products, the trauma histories of the inmates, and the difficulty of parenting from prison.
"We need to create a prison that, yes, is holding people accountable, and yes, is allowing people to pay their debt to society for mistakes they have made, but also is about the dignity of humanity."
While many prisons do provide a limited amount of feminine hygiene products, they are often of poor quality and not useful. That means women are in the uncomfortable situation of either having to ask correctional officers for more ― which can be demeaning and raise the risk of abuses ― or use limited funds to buy them at the commissary.
"Considering the fact that 72% were living in poverty prior to being incarcerated, that often isn't feasible," said Jesselyn McCurdy, senior legislative counsel at the ACLU.
In 2008, the Federal Bureau of Prisons announced it would no longer shackle pregnant women during labor. But women are still allowed to be shackled while pregnant, which the bill would prohibit.
The legislation was met with approval by prison reform advocates.
"This bill could mark a profound shift toward treating people within our prisons as whole and feeling humans with a desire to do better for themselves and their families," said Diana McHugh, director of communications for the New York-based Women's Prison Association. "We hope to see similarly well-informed policies at the city and state level, as well as a general shift toward alternatives to incarceration that promote public safety without prison."
Judith Resnik, a professor at Yale Law School, said that while the bill would provide an important step forward, sentencing reform is also needed. "Many women are over-incarcerated," she said.
Booker said women in prison are "in need of therapy, in need of healing, and in need of support," and called the criminal justice system profoundly unjust.
"We need to create a prison that, yes, is holding people accountable, and yes, is allowing people to pay their debt to society for mistakes they have made, but also is about the dignity of humanity," he said. "We've got to be a better society than this."
This article has been updated to reflect that Sens. Durbin and Harris signed on as sponsors late Monday prior to the introduction of the bill.
Popular in the Community