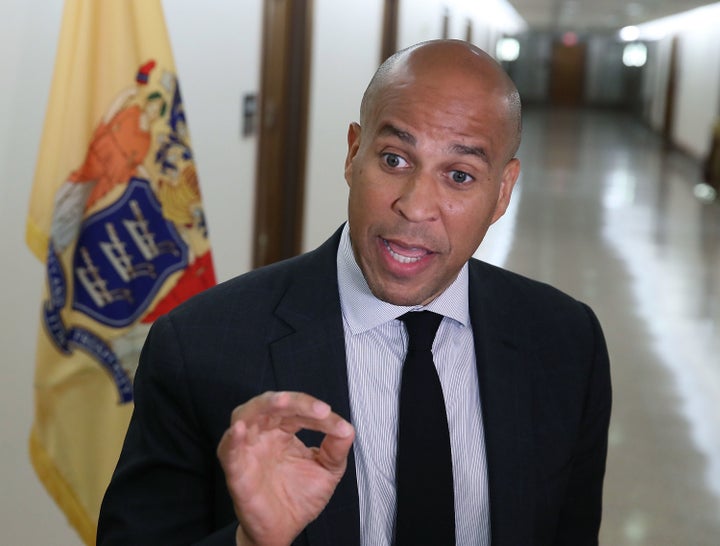 Sen. Cory Booker (D-N.J.) drew sharp criticism from Republicans this week after he cast the fight over Brett Kavanaugh, President Donald Trump's nominee to the Supreme Court, in some stark biblical terms. 
Appearing alongside a deacon and other religious leaders at a Capitol Hill news conference on Tuesday, Booker said that in a "moral moment," one is called to either fight against "evil" or be "complicit" in it. 
The potential 2020 presidential contender then suggested that the country indeed faces such a moment with the nomination of the D.C. appeals court judge, who he warned would roll back voting rights, gay rights, civil rights, reproductive rights and access to health care for millions of Americans if he is confirmed to a conservative majority on the high court.
Read the relevant section of Booker's comments at the news conference below:
There is so much at stake here; this has nothing to do with politics. This is to do about who we are as moral beings. And so I wanna call on everybody. I'm not here to tell folk just what they should know, I'm here to call on folk to understand that in a moral moment, there is no neutral. In a moral moment, there is no bystanders. You are either complicit in evil, you are either contributing to wrong, or you are fighting against it.

There's a saying from Abraham, the face in one of the Psalms, "yay though we walk through the valley of the shadow of death…" We are walking through the valley of the shadow of death. But that doesn't say, though I sit in the valley of the shadow of death. It doesn't say that I'm watching on the sidelines of the valley of the shadow of death. I'm walking through the valley of the shadow of death, I'm taking agency. I'm going to make it through this crisis.

And so I'm calling on everyone right now who understands what's at stake, who understands who Kavanaugh is, Maya Angelou says it, when someone shows you who they are, believe them the first time.

He has shown us who he is when he rules on a woman's right to control her own body. He has shown us who he is in his perceptions that corporations are more powerful and more important than people. He has shown us who he is on the abilty for workers to organize. He has shown us who he is on civil rights and voting rights. So the question isn't who he is, the question is who we are. In a moral moment, will we do nothing?
Booker drew criticism and mockery from Republicans, who urged him to tone down what they called "apocalyptic" rhetoric. 
"It's hard to take statements like that seriously," Senate Majority Whip John Cornyn (R-Texas) said in a floor speech on Wednesday. "That's completely unhinged and detached from any reality ... to some of our friends across the aisle who are engaged in this kind of superheated rhetoric, my advice is: get a grip!"
Don Stewart, a spokesman for Senate Majority Leader Mitch McConnell (R-Ky.), reacted to Booker's comments on Twitter.
"Sen. Booker says I'm evil," Stewart wrote. "I mean, I'm not the nicest guy in the world, but evil?"
Approached by a reporter in a Senate hallway on Wednesday, Booker said he was unable to comment because he was on his way to vote. He said he would return but never did.
Sen. Elizabeth Warren (D-Mass.), another potential 2020 presidential candidate who spoke after Booker at the Tuesday news conference, declined to answer questions about her colleague's comments and walked away.  
Calling all HuffPost superfans!
Sign up for membership to become a founding member and help shape HuffPost's next chapter