"One of the biggest wastes of taxpayer dollars in our society today can be found in a criminal justice system in serious need in reform," Booker writes in a report released Wednesday. "As mayor of Newark, I have watched as my police arrest, re-arrest, and then re-arrest again, sending the same person for another trip through a revolving door system that not only largely fails to rehabilitate, but too often makes reoffending commonplace and most definitely is not helping to make our communities safer."
"The stakes are high," he continued. "The issue of mass incarceration implicates the safety of our communities, billions of taxpayer dollars, and the health and cohesion of our families. Our next steps will determine whether our criminal justice system remains a vehicle for rigid punishment and waste, or becomes a springboard for rehabilitation, opportunity, and hope."
Booker is running for the New Jersey Senate seat vacated by the death of Sen. Frank Lautenberg (D-N.J.). He will face off against Republican Steve Lonegan, a conservative former mayor of Bogota, N.J, in the Oct. 16 special election.
Booker was scheduled to give a speech outlining his plans for criminal justice reform on Wednesday morning at the Metropolitan African Methodist Episcopal Zion Church in Jersey City, where Dr. Martin Luther King, Jr. spoke in 1968, just before his murder in Memphis. Wednesday also marks the 50th anniversary of the March on Washington, where King gave his famous "I Have A Dream" speech.
Step up the national conversation on decriminalizing marijuana.
Eliminate mandatory minimum sentences for low-level drug offenders.
Eliminate the sentencing disparity between crack cocaine and powder cocaine.
Increase federal funding for drug and community courts that divert low-level drug offenders from prison.
Work to end the use of private prisons.
Help inmates and their families maintain functional relationships, by making phone calls financially accessible, providing domestic abuse and counseling classes and working to incarcerate inmates in facilities as close to their families as possible.
Pass the Voter Empowerment Act of 2013 to restore federal voting rights to the formerly incarcerated.
Help formerly incarcerated individuals reenter society and find employment.
Increase grant funding for the Department of Justice's Community Oriented Policing Services, which is designed to assist law enforcement agencies in implementing community-based policing.
Booker's push comes as a bipartisan consensus appears to be emerging that the criminal justice system is in need of serious reform.
Newark also has a stop-and-frisk program. This month, Booker worked with the local American Civil Liberties Union to open Newark's stop-and-frisk data to the public, promising to release monthly incident reports detailing the race, gender and age of everyone stopped, along with data on whether force was used and arrests were made.
"Stop-and-frisk is an intrusive practice that should be used carefully and only when there is reasonable suspicion of a crime," Udi Ofer, executive director of the New Jersey ACLU, said at the time. "This data offers an important look at who is being stopped and frisked in our community and why."
UPDATE: 5:25 p.m. -- In a statement, Lonegan said Booker was simply attempting to shift the focus away from his record on crime.
"Violent crime continues to surge in Newark, as illustrated by three more fatal shootings between Monday night and Tuesday afternoon," Lonegan said. "Meanwhile, the mayor attempts to shift the focus away from his failed record with his news conference today. Since becoming mayor, violent crime is up, and that trend will continue with the Mayor's decision to make Newark the only city in New Jersey where illegal alien criminals will be given sanctuary status and kept from deportation. Mayor Booker's policy of classifying vandalism, shoplifting and other personal property crimes as 'minor' shows exactly why he has been unable to reduce crime."
Before You Go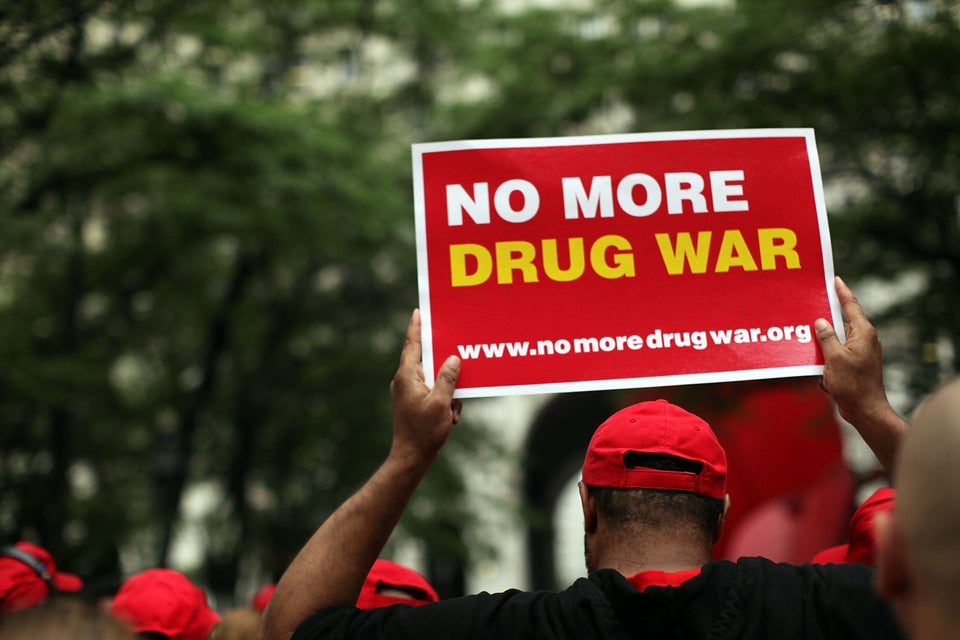 27 Reasons Why The U.S. Shouldn't Lead The War On Drugs
Popular in the Community