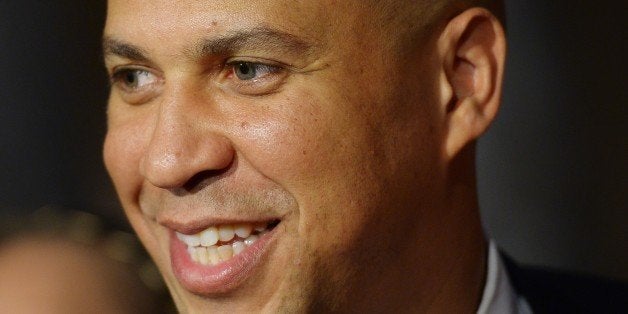 WASHINGTON -- Sen. Cory Booker (D-N.J.) plans to vote for the Employment Non-Discrimination Act, saying on Saturday that he would like it to be the first piece of legislation he cosponsors in the Senate.
Booker broke the news in a tweet on Saturday afternoon:
ENDA would make it illegal to discriminate against someone on the basis of sexual orientation or gender identity. It is already illegal to discriminate on the basis of race, color, sex, nationality, religion, age or disability.
Yet he was hesitant to commit to doing so before taking office, telling The Huffington Post on Tuesday that while he was "passionate" about making sure LGBT individuals receive equal treatment, he wanted to look over the legislation more closely when he was formally in the Senate.
ENDA is scheduled to come to the Senate floor Monday evening for a vote.
Sen. Jeff Merkley (D-Ore.) is the lead sponsor of ENDA, and the legislation has the cosponsorship of two Republicans -- Mark Kirk (Ill.) and Susan Collins (Maine). LGBT advocates, however, are hopeful that there are a few other Republicans who will support the legislation to get the 60 votes needed to clear the Senate.
Booker became well-known as mayor of Newark for using Twitter to correspond with constituents, often providing services like shoveling driveways when asked.
He told The Huffington Post he plans to still use Twitter as senator, even if he won't always be quite as close to home.
"I have a feeling that people are still going to reach out, and it's such a powerful platform to immediately engage with folks," he said. "So people ask me about a pothole in Somerset County, I hope I can say, 'Look, my team will call this person,' or we can call that person."
"Look, the great thing about social media is ... that direct connection with a larger amount of people than you could ever do in face-to-face meetings -- even though I'll still be doing face-to-face meetings, community meetings, going to neighborhoods," he added. "But I think it's a creative tool, and I hope to continue to bring creativity and using it to serve folks and connect with folks and try to empower folks, no matter what the problem or issue is."
UPDATE: 11/3 -- Booker has also signed on to an online petition with 17 other Democratic senators urging Congress to pass ENDA.
Calling all HuffPost superfans!
Sign up for membership to become a founding member and help shape HuffPost's next chapter
BEFORE YOU GO
PHOTO GALLERY
Cory Booker Gets Intense