 A leading Democratic mayor in New Jersey who is considering running for governor said Wednesday that Newark Mayor Cory Booker's (D) decision to wait to announce his own gubernatorial plans has "frozen" the Democratic Party -- and could help reelect Gov. Chris Christie (R).
Elizabeth, N.J. Mayor Chris Bollwage (D) told The Huffington Post Wednesday that Booker's decision -- which he has been mulling publicly for several weeks -- has put plans by Democratic county leaders on hold, keeping them from organizing behind candidates for the June primary. Booker is widely seen as the frontrunner for the Democratic nomination to challenge Christie, and would likely gain the support of county leaders statewide. Booker said earlier this week he would decide within two weeks whether to run for governor next year or the U.S. Senate in 2014.
"The entire Democratic Party has been put on hold with Cory Booker's decision, which is due in two weeks," Bollwage said. "If he is not running for governor I don't understand why he's waiting. If he is, he should tell people."
Bollwage continued that party leaders need to start organizing behind a gubernatorial candidate in order to take on Christie and prevent losses in the state legislature. Bollwage and state Senate President Steve Sweeney (D-West Deptford) have both confirmed they are looking at the race, while state Sen. Barbara Buono (D-Metuchen) announced this week that she is running for governor. A recent poll showed Christie with a 72 percent approval rating following Hurricane Sandy.
"Unless the Democratic Party is united, Governor Christie will win seats in different districts," Bollwage said. "That's a big danger to the Democratic Party by not getting together early. We run the risk of risk of losing the legislature."
Bollwage said he is considering entering the governor's race if Booker doesn't, but cautioned that his decision is contingent on his receiving backing from county leaders. Under New Jersey's election system, county parties can award the "county line" to primary candidates, giving them preferred ballot placement, along with campaign resources. Statewide candidates without the "line" could seek better ballot in counties they do not have support in, only if they recruit candidates for countywide office to join their ticket.
"The way politics is played in New Jersey at this stage is in backrooms," Bollwage said. "Running off the line is not an option for me."
Bollwage, who was first elected mayor of New Jersey's fourth largest city in 1992, said his home county, Union County, is supportive, but other county leaders have indicated they will remain silent on who they are backing until Booker makes a decision. Sweeney, an ally of South Jersey Democratic leader George Norcross, is likely to win support from South Jersey leaders if he runs. Bollwage said he would be interested in county-party backing in the North Jersey Democratic strongholds of Essex, Hudson and Bergen Counties. Sen. Buono is likely to have the backing of her home county of Middlesex.
Essex County Democratic Chairman Phil Thigpen told PolitickerNJ.com Thursday that he has not yet heard from Booker regarding his interest in running for governor. Newark, where Booker is mayor, is the county seat of Essex County. Booker has been keeping up a statewide appearance schedule, including raising money for a Passaic County assemblyman this week.
Bollwage said his desire to run for governor is motivated by what he sees as Christie's failures. While he said that Christie has done a good job with Hurricane Sandy recovery, he noted that the Republican has not done enough for rail development, job creation and social services in the state.
"Clearly New Jersey is hurting in a big way," Bollwage said. "There is no plan from this governor."
Before You Go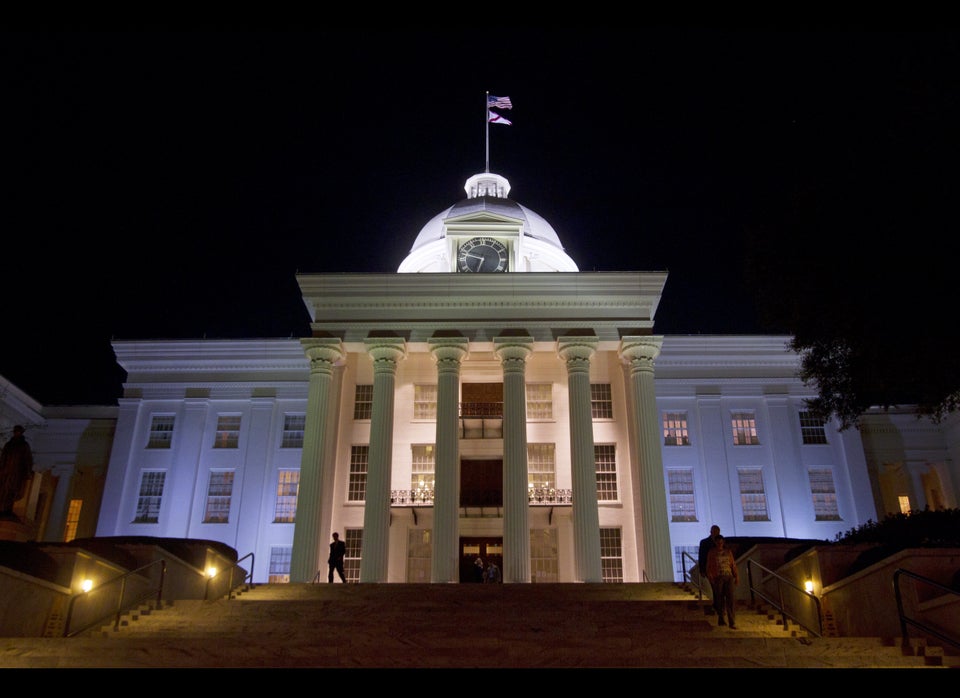 U.S. State Capitol Buildings
Popular in the Community