Sens. Cory Booker (D-N.J.) and Mazie Hirono (D-Hawaii) released formerly confidential emails from Supreme Court nominee Brett Kavanaugh about racial profiling and racial discrimination at the start of the third day of confirmation hearings on Thursday, around an hour after threatening to do so.
The dramatic move appeared to defy Republicans who had shielded the documents from public view, and it seemed to risk breaking Senate rules. Senate Judiciary Committee staffers for Republican and Democratic officials told The Washington Post, however, that the committee cleared the documents for public viewing before either senator posted them to their websites.
The precise timing is not yet clear.
A spokesman for Bill Burck, the Republican lawyer overseeing the approvals, also told the publication that the emails Booker released were cleared last night.
Booker responded to Burck's statement by saying he hadn't been informed of the release.
"They did not tell me when I read the documents last night, on the record, that," he said. "They were not cleared from committee confidential."
A spokesman for Booker said in a statement that the senator and unnamed Democratic colleagues "were able to shame the committee" into releasing the documents.
Yet a spokeswoman for Hirono told HuffPost the senator did not ask the committee to release the emails that she made public around 10:30 a.m. before she published them online. Hirono did not know they would be cleared for public release, the spokeswoman said.
Booker was the first to threaten to make the documents public, saying he would "knowingly violate" the rules and accept any punishment for his action, which he considered to be civil disobedience. Booker said the emails, taken from Kavanaugh's time in the Bush White House, do not pose a threat to national security.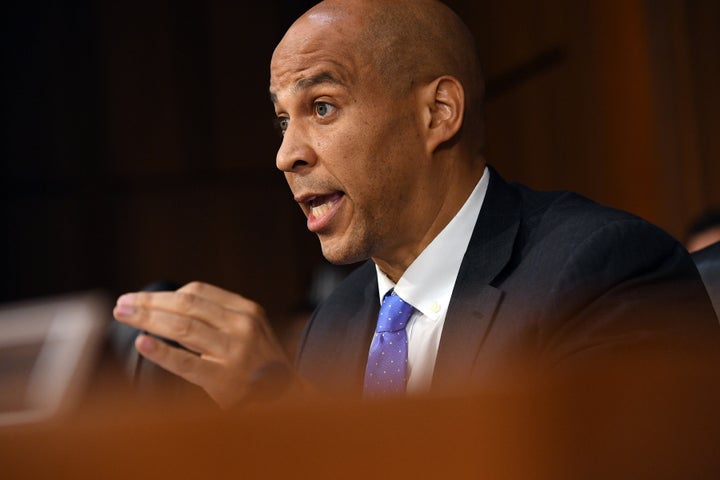 Sen. Mike Lee (R-Utah) said the emails Booker referenced had, in fact, just been deemed non-confidential, saying "the process worked." Lee offered to work with Democrats in the committee to make other confidential documents public, too.
When Sen. John Cornyn (R-Texas) reminded Booker that he could lose his seat for breaking Senate rules, prior to the documents' release, Booker responded: "Bring it."
At the hearing, Sen. Richard Blumenthal (D-Conn.) argued that all the committee confidential documents should be publicly released, saying, "We are literally trying to get at the truth here."
Booker's documents, released Thursday afternoon, reveal that while Kavanaugh "generally" supports "race-neutral" security measures, the nominee also believed there was an "interim" question on whether to use racial profiling before neutral security measures are deployed. The emails between White House staffers were sent from mid-2001 and early 2002.
Messages released by Hirono reference unspecified government programs. Kavanaugh said in June 2002 that any such programs "targeting" native Hawaiians "as a group" are "subject to strict scrutiny" and "of questionable validity under the Constitution." Hirono said in the hearing that her "colleagues from Alaska should be deeply troubled" by the nominee's views because they would also apply to native Alaskans. Republican Sen. Lisa Murkowski from Alaska is seen as a possible swing vote in the confirmation process.
Booker's colleagues Sens. Dick Durbin (D-Ill.) and Hirono also rallied around him, pledging their support in the event Booker faced "retribution," as Durbin put it. Hirono said she would "defy anyone."
"You want everything to be made public? All your emails? I don't think you do," Senate Judiciary Chairman Chuck Grassley (R-Iowa) responded at the hearing.
Sen. Dianne Feinstein (D-Calif.) jumped in to argue that the process of categorizing documents as committee confidential was far from transparent and perhaps unfair.
"There is no process for 'committee confidential,'" she said, adding that Democrats were not consulted in the decision to make certain documents private.
The release was in line with what progressive groups urged Democratic senators to do Wednesday: Go around Grassley and release the 141,000 pages of documents from Kavanaugh's record that are not permitted for public release or public discussion. Members of the committee can read and discuss the documents among themselves, but they cannot question Kavanaugh on their contents in the hearings.
This article has been updated to reflect that Burck and some members of the Senate Judiciary Committee say the documents were cleared for release before being made public.
Popular in the Community