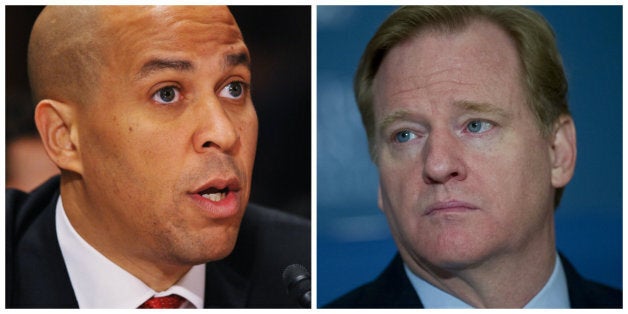 It also happens to be a nonprofit.
In response to the league's controversial handling of video footage showing NFL player Ray Rice physically assaulting his then-fiancée, Janay Palmer, Sen. Cory Booker (D-N.J.) introduced a bill on Tuesday that would remove the NFL's tax-exempt status and allocate those funds toward domestic abuse prevention programs instead, according to NJ.com.
"Stopping domestic violence is a national priority that requires long-term, meaningful investment," Booker said in a statement, Politico reported. "This common sense update to our tax laws would save more than $100 million over 10 years -- money that can instead be used to pay for vital support programs that have seen their funding slashed in recent years due to sequestration and gridlock."
Sen. Tom Coburn (R-Okla.) isn't satisfied with the status quo, either.
"Taxpayers are losing $10 million a year subsidizing these tax loopholes for professional sports leagues that generate billions of dollars annually in profits," Sen. Coburn told CNBC on Saturday. He sponsored 2013's "PRO Sports Act," which would repeal tax-exempt status for certain professional sports leagues. The bill is currently in the Finance Committee.
The league's classification as a nonprofit may spark some to question how, exactly, that can be, when NFL Commissioner Roger Goodell earned a reported $44.2 million in 2012, according to NJ.com.
According to the organization, the league falls under nonprofit status because its administrative office acts as a trade organization, handling responsibilities like overseeing game rules and employing referees -- not contributing to profitable efforts by the league's 32 teams, which pay taxes on tickets, jersey sales and television rights -- ABC News reported.
The Professional Golfers Association (PGA) and National Hockey League (NHL), two substantially less valuable leagues compared to the NFL, are also currently considered trade organizations, thus giving them tax-exemption status. The National Basketball Association (NBA), however, has always been a for-profit business, and Major League Baseball (MLB) gave up its tax-exempt status in 1997.
Calling all HuffPost superfans!
Sign up for membership to become a founding member and help shape HuffPost's next chapter