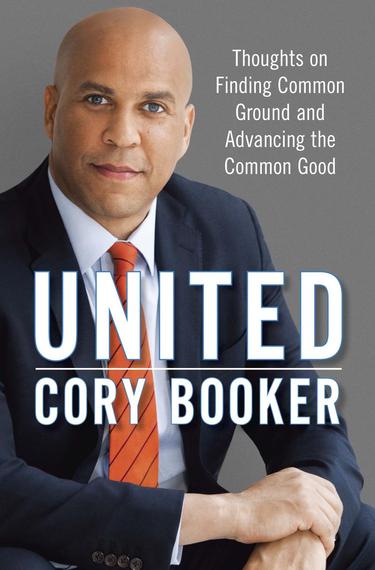 Then Newark Mayor Cory Booker was made for the social media, 24/7 cable news network times we live in. As mayor, he would direct city resources to snowbound residents via twitter. He became an honest to god action hero when he saved a woman from a burning building. Booker made being mayor look easy and rode his celebrity into a US Senate seat.
His new book "United: Thoughts on Finding Common Ground and Advancing the Common Good" shows he has grown as a politician. Now a US Senator, he is ready to admit that moving to the projects in Newark after Yale law school wasn't as easy as he made it appear at the time. In a scene that will make you laugh and cry at the same time, the former 6'3'' football player at Stanford confessed to hiding behind a 5'2" elderly African American lady when she was introducing him to the other residents of his new home in Brick Towers. A reader of this book will soon realize that the real superheroes are not Batman and Superman but people such as the president of the tenant association at the falling down Bridge Street Towers where he first lived when he moved to Newark, who fought racism, poverty, and corruption with dignity. What strength it must have taken Virginia Jones to keep fighting for these projects even after her only son was killed in the courtyard.
The then city councilman and mayor acknowledges making a few mistakes and having some regrets such as the death of a young boy in the first days of his mayoral administration that still haunt him. He concedes that there were times he wanted to give up and leave Newark. He thought to himself, "I am a Yale Law School graduate. I don't need this."
His perseverance has made him the 21st person in American history to go from mayor to US Senator, the fourth African American elected to the US Senate, and, as he likes to boast, "the first vegan US Senator." His political trajectory might not stop there. He is rumored to be on the short list for Vice President and the Supreme Court. During an interview before his appearance at the Free Library of Philadelphia, he put the rumors to rest. The senator said, "I have got the job of my dreams. I am really enjoying it. I fully intend to stay in it for my term or more."
The hot topic in the Jewish/pro Israel community was the omission of his long-time friend Rabbi Shmuley Boteach from the book. The two had a falling out when the Senator voted for the Iran Deal despite Boteach's vociferous objection. He explained, "The book is not about my relationships with lots of friends or even different communities, such as the Latino community which embraced me, that have been impactful. He certainly was impactful. It's not about that. It's a book about a specific path. I am not sure why he's reacting the way he is."
The Senator takes on his critics that say he abandoned Newark when he left for the US Senate. "I live in Newark, my family lives in Newark, I own a house in Newark," he said. "I or my staff is engaged with the leadership in Newark constantly. I deliver for the city of Newark from TIGER grants or infrastructure improvements to resources for the county college. I am very glad that I get to be the 21st US senator to go from mayor to the US Senate. Now I have that mayoral mentality in the senate. I am happy that I have an urban perspective especially in a state where every county is considered an urban county."
Booker hopes the people that read "United" are "moved, inspired, and learn from the wisdom of the people I learned from which I included in the book." He continued, "I want this book to be a significant contribution to the chorus of other Americans who are calling not just for a more civil society but calling for a society of love. Patriotism is a love of country. If you love your country, you should love your countrymen and women. It doesn't mean you always agree with them or even like them. It is understanding that we have interwoven destiny."
Calling all HuffPost superfans!
Sign up for membership to become a founding member and help shape HuffPost's next chapter