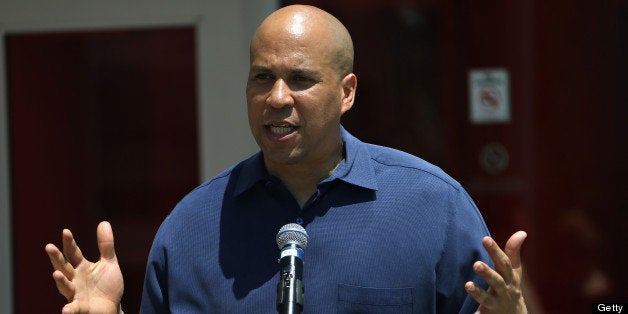 Democratic New Jersey U.S. Senate candidate Cory Booker said he supports expanding Social Security and Medicare hours following a press conference Thursday where his opponents challenged the popular Newark mayor on the issue.
The Progressive Change Campaign Committee held a morning rally in Trenton with Booker's opponents, Rep. Frank Pallone, Rep. Rush Holt and Assembly Speaker Sheila Oliver pressing Booker on the Social Security issue. Later Booker took to Twitter to say that he wants to expand, not cut Social Security and Medicare, and that he opposes raising the retirement age. A week ago Booker told NorthJersey.com that he would consider voting to raise the retirement age for those in their 20s or younger.
In response to a tweet from Adam Green, the PCCC's co-founder, Booker said that he believes that tying Social Security benefits to the Consumer Price Index or a change in the retirement age would constitute cuts to the program.
The four candidates are facing off in a Aug. 13 special Democratic primary following the June death of Sen. Frank Lautenberg (D).
Booker, who is leading in the polls by more than 30 points, has found himself pressed by his opponents on the Social Security issue in recent weeks; Oliver has made it a key issue in her campaign. During Thursday's press conference Green said that it was important for Booker to outline his views, noting the mayor's ties to Wall Street interests, PolitickerNJ.com reported. Booker has long been a recipient of campaign contributions from those in the financial services sector.
Green, a New Jersey native, told HuffPost that he is pleased that Booker has gone on record for an expansion and called on Booker to go further.
"This is huge. Progressive activism today directly led to this airtight promise by Cory Booker to never cut Social Security benefits, a direct rejection of his friends in the White House and on Wall Street. He deserves props for that," Green said. "Booker even opened the door to the most cutting-edge idea on the table: the proposal from Senators Tom Harkin and Mark Begich to expand Social Security benefits, which millions of seniors desperately need. I hope Booker firmly goes there next. It would serve New Jersey seniors well."
REAL LIFE. REAL NEWS. REAL VOICES.
Help us tell more of the stories that matter from voices that too often remain unheard.
BEFORE YOU GO
PHOTO GALLERY
Female Governors: Past And Present