WASHINGTON -- Sen. Cory Booker (D-N.J.) gave an open-ended response to questions about whether he is being vetted as a potential vice presidential nominee by the Hillary Clinton campaign in an interview with CNN on Sunday morning.
The freshman senator was asked by CNN's Brianna Keilar whether he was being vetted and responded by deferring to the Clinton camp. "I'm just referring questions about the vice presidency to the woman that's going to have to make this decision," he said. "You should talk to the Hillary Clinton campaign. What I do know is that on the Democratic side, there are many fabulous candidates -- people that could be really strong vice presidential candidates."
"That is not a no, sir," Keilar responded. "That is not a no."
"That is exactly what it is," Booker said with a smile. "It's telling you if you have a question like that, please direct it to the Clinton campaign."
Keilar went on, "I think I may have gotten the answer that I need from that, actually."
The New Jersey senator was not the only potential Clinton running mate appearing on Sunday morning news programs. Secretary of Labor Tom Perez and Sen. Sherrod Brown (D-Ohio) appeared on "Meet the Press" and ABC's "This Week," respectively. They both demurred on whether they were being vetted for the VP slot.
"I'm simply not going to speculate on that," Brown said. "I love the job I get to do."
"Meet The Press" host Chuck Todd noted that Perez was not directly answering questions about whether or not he was being vetted and so instead asked him about his foreign policy philosophy.
"[I]t's all about judgment," Perez answered. "And Donald Trump is such a volatile individual. And what I have seen working with Secretary Clinton is that she is a steady hand."
He further warned about the threat of attacks by groups like the so-called Islamic State, or ISIL. Besides causing loss of life, he said, such attacks destabilize democratic countries by empowering far-right political movements.
"[W]e're continuing to confront the threat of foreign terrorism, ISIL and others, we continue to see nations that are having, you know, dramatic challenges," Perez said. "And a lot of the same questions are being asked around the world. Whether it's in Europe, where you have so many people in the far right who are gaining traction, whether it's Le Pen in France or otherwise elsewhere, Austria most recently as well."
The Trump candidacy presents a similar challenge to American values, Perez argued. "And when I think about Donald Trump, the Trump train wreck is not simply a train wreck on trade or on the minimum wage or on immigration, it's a train wreck for American values. And the one of the many reasons, Chuck, that I am so excited to support Secretary Clinton is because she understands that when you attack Muslims, when you attack immigrants, you're attacking the core of American values."
Booker also attacked Trump as unfit to be president and a danger to the nation and the world.
"This is somebody that's a danger, not only to our country but his recklessness, his disregard, demeaning and degrading of other individuals, will put this planet in peril," Booker said. "This is a dangerous man. I have heard what's come out of his mouth. It's frankly frightening about what could happen if he was the commander in chief of this country and had his finger - had the codes to the nuclear weapons."
Before You Go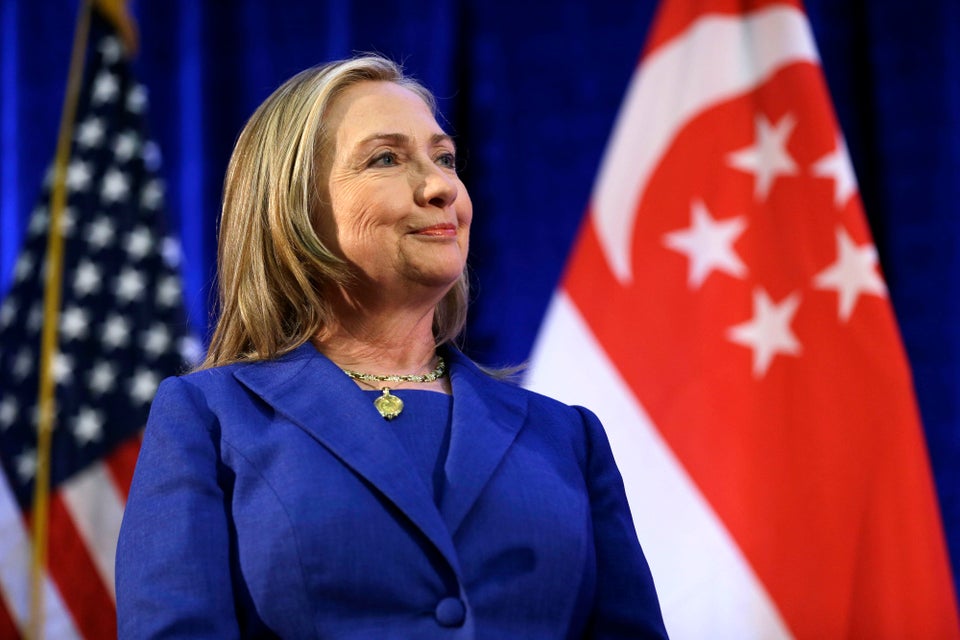 Hillary Clinton
Popular in the Community