MANCHESTER, N.H. ― It is early September, and Cory Booker is telling me he is done with stunts.
When the New Jersey senator and 2020 Democratic presidential candidate was a council member and then mayor of Newark, one of his major goals was to bring attention to the problems of his poor, majority-minority 277,000-person city ― a feat he often excelled at with his outsize charisma and his savvy use of social media. Booker once held a hunger strike in the courtyard of a housing project to protest gang violence. He started a feud with Conan O'Brien after the late night host joked about wanting to flee Newark. He was one of the first Democrats ever to complete the food stamp challenge.
But now, in a campaign-rented recreational vehicle departing the New Hampshire Democratic Party Convention and heading north toward the Maine border, Booker says he doesn't need to turn himself into a shiny object for the benefit of the media.
"When I became mayor of a city that everybody was trying to get away from, or when I was trying to beat a machine, getting attention was what I needed to do," Booker says. "I got very good at getting this small city ― maybe bigger than some cities that other people are mayors of ― my job was to get resources and attention."
But "when I became a senator, my first year, I wouldn't do interviews, I didn't talk in caucus," he continues. "I didn't need to draw attention to myself as a United States senator. What I wanted to do was to pass criminal justice reform, work across the aisle."
The Booker campaign is seemingly pursuing the same heads-down approach, doing everything you are supposed to do to win a presidential nomination: barnstorming through Iowa and New Hampshire; building up ground games to rival those of the leading candidates; generating big ― if not game-changing ― moments at debates; and releasing policy papers that earned plaudits from wonks. He's garnered more endorsements from state legislators than any other candidate has. The other campaigns are watching for his breakout moment.
Sure, the Booker team members are frustrated with his place in the polls. But they are, perhaps surprisingly, Zen about the future of the race and their man's place in it.
"We just have to keep raising money, and I will be the nominee," Booker says, confident enough that he openly muses about what kind of general election campaign he would run. (He wants to go to states you don't expect Democrats to campaign in during the general, like South Carolina and West Virginia.)
"Organize like hell and hope you get hot at the end," is how his campaign manager Addisu Demissie described the campaign's strategy in a conference call with reporters in the spring. Booker recently expressed it in emoji form: turtle emoji, greater-than sign, rabbit emoji.
Just two weeks later, that tone radically changed: The Booker campaign announced it needed to raise $1.7 million in 10 days to give him a hope to compete. Instead of quietly making this appeal to top donors, the campaign put their desperation on full blast. The team leaked a memo from Demissie to NBC News, then held a press conference call to discuss it.
"If we're not able to build the campaign organization, which means raise the money that we need to win the nomination, Cory's not going to continue running and consuming resources that are better used on focusing on beating Donald Trump," Demissie told the reporters on the call.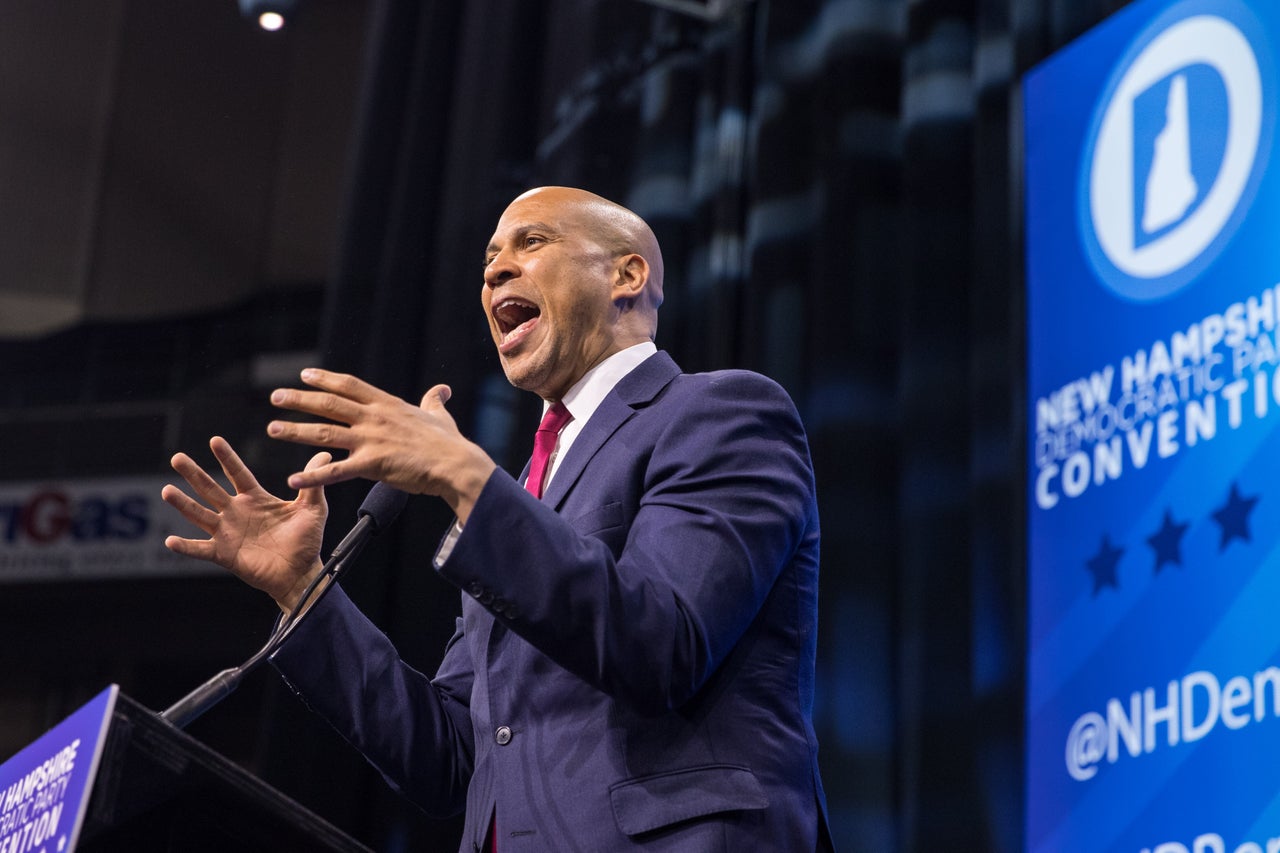 The alarmist tone of the note immediately generated skepticism among both reporters and the other campaigns, leading them to believe it was a carefully orchestrated political stunt to generate attention and dollars from a candidate that had no real intention of quitting. (Demissie's memo included a preemptive rebuttal of this argument, noting, "This isn't an end-of-quarter stunt or another one of those memos from a campaign trying to spin the press.")
In the end, Booker's campaign succeeded. It raised $1.7 million in the final 10 days, the most successful 10-day period of his campaign to date, and hit more than $6 million in the quarter overall. Booker also qualified for the next two presidential debates.
Stunt or not, the episode raised a larger question: Just how did Cory Booker find himself in this position in the first place?
Booker has been receiving presidential hype since before he even entered the Senate, when he dazzled the national press with heroic anecdotes from his term as mayor: He ran into a burning building to save a constituent and, guided by Twitter, went around shoveling the sidewalks and driveways of elderly residents after snowstorms. In 2012, the Obama campaign regularly deployed him as a surrogate. The Clinton team did the same in 2016, and strongly considered him for vice president, to the point where Clinton-Booker placards had been printed. In the summer of 2018, The New York Times identified him ― along with Vermont Sen. Bernie Sanders, former Vice President Joe Biden, California Sen. Kamala Harris and Massachusetts Sen. Elizabeth Warren ― as one of the five leading contenders for the Democratic nomination.
Suffice it to say, the first eight months of the Booker campaign have fallen short of those expectations. Voters in the early states, ticking off which candidates they're considering, routinely list Booker as the second or third choice, often behind Warren or Biden. But, if you look at the horse race numbers from those same polls, only between one out of every 100 and one out of every 20 voters considers him their top choice. Even in the areas where he theoretically should excel ― with black voters, with young people ― Booker polls, at best, in the high single digits.
Jim Demers, a former New Hampshire state legislator who is now a top Booker adviser ― his duties include driving the aforementioned RV ― said Booker's campaign at the moment resembles former President Barack Obama's at the same point in 2007. (Demers would know, since he was Obama's New Hampshire campaign chair.)
"The size of the field has made it very difficult to process the candidates beyond the two or three who had the highest name recognition right now," Demers said, dismissing candidates who have spiked in the polls before Labor Day. "The real voters start paying attention. This is movement time."
Demers is right: With just a few debates left, the number of chances to make a shock-and-awe impression to move the polls is dwindling, and the top three candidates ― Biden, Warren and Sanders ― have displayed vulnerabilities aplenty without another candidate rising to challenge them. If it's movement time, then time is running out for Booker to be more than everyone's second or third choice.
That morning in September, Booker strolls onto the stage at Southern New Hampshire University at 10 a.m. Biden spoke before him and failed to rouse the still-drowsy crowd. Booker begins with a version of his stump speech, which opens with the story of how his family, turned away from buying homes in a suburb of Newark because they were Black, was eventually able to purchase one with the help of white activists inspired by the civil rights movement. About three minutes into the speech, Booker's lines start generating audible cheers from the crowd.
Six minutes in, Booker delivers one of his favorite lines ― "We gotta beat Donald Trump. But beating Donald Trump is the floor. It is not the ceiling." ― and the applause and cheers are loud enough that he has to pause before continuing. By the 10-minute mark, Booker has the crowd echoing another one of his signature lines ― "We will rise" ― in a call-and-response pattern. He leaves to a standing ovation.
In a different race, one where there weren't more than a dozen candidates still running, the post-event headlines might have focused on Booker's strong performance.
But Booker isn't running in that race. He's running in the race where Warren got a standing ovation that lasted more than two minutes before she even said a word, and where her picture was splashed across the top of the New Hampshire Union Leader the next morning.
"In Iowa, this is what it takes. Bernie doesn't do it. Joe hasn't done it so far. Right now, they're winning on name recognition. But once the rubber hits the road, that's not going to cut it."
After his speech, a pair of cable news interviews and a gaggle with reporters who peppered him with questions about his low standing in the polls ― "We do not want to win the summer news cycle, we want to win the election," he says ― Booker is off to a volunteer thank-you event at a pub across the street from the arena. Outside, he greets a group of volunteers from People for the Ethical Treatment of Animals, one of whom is wearing a cow outfit and holding a sign declaring: "Climate change cow says: Go vegan or we all die."
"My vegan people!" he calls out, before taking a selfie with the group. (While Booker is a vegan, the PETA group members say they have been attending events with all the candidates to talk to voters about how a vegan diet can help the environment.)
Inside is a gathering of relatively rare creatures in Democratic politics: Booker loyalists. While Warren, Biden, Harris, Sanders and even the unorthodox entrepreneur Andrew Yang have their legions of devoted online followers, Booker does not. It's a puzzling development for a man who came to national attention, in no small part, because of his ability to grab attention on Twitter.
"I don't know anybody who doesn't like Cory Booker," said one Democratic operative, requesting anonymity to speak candidly about one of the party's brightest lights. "But he isn't anybody's first or second choice. There are only so many voters of so many persuasions, and his ability to draw those voters is limited when he doesn't have a core constituency of his own."
Booker's campaign, during its scramble to raise the self-imposed requirement of $1.7 million, seemed to acknowledge his difficulty building a uniquely loyal constituency. Many of its email pleas focused not on helping Booker win but simply on keeping him in the race. And many of the big names who endorsed keeping Booker in the race – former Georgia gubernatorial candidate Stacey Abrams, Iowa Auditor Rob Sand and D.C. Mayor Muriel Bowser – have not actually endorsed his candidacy.
"It would be a loss for not only our party but for our country if someone like him was shut out of this race because he couldn't raise enough money to compete," Demissie wrote in one email. Booker asked for donations even "if you haven't settled on a candidate but you think I bring an important perspective to this campaign."
Talking to the assembled Booker supporters, there is no uniform reason for their support: Some like his emphasis on combating gun violence, others his promise to unify the country, another says he could replicate Obama's path to victory in 2008. But they all have one thing in common: They have met Booker in person. The Booker campaign hopes a lot more voters can do the same.
During one trip to the Hawkeye State in early June, Booker stopped in Keokuk, Iowa, an 11,000-person city on the Mississippi River in the state's far southeastern corner, where he gathered 50 people at a coffee shop, and then hung around to take selfies, record videos for friends of attendees who couldn't make the event, listen to the whispered concerns of seniors and eventually leave with a piece of coffee cake he would give to a staffer. (The frosting wasn't vegan.) He then spent 40 minutes at a house in nearby Burlington, where a group of less than a dozen women discussed the closure of a Planned Parenthood in the city. "Each one of the people here is going to tell 20 people about what happened," said Tom Courtney, a former Iowa state senator who hosted the event.
"In Iowa, this is what it takes," Courtney continued. "Bernie doesn't do it. Joe hasn't done it so far. Right now, they're winning on name recognition. But once the rubber hits the road, that's not going to cut it."
Booker is betting a lot on Iowa. Even Demers acknowledged one of the two candidates from New England ― Sanders or Warren ― is more likely than not to win the New Hampshire primary. That leaves Iowa as Booker's only major chance to make an impact before African American voters ― a key part of his theoretical winning coalition ― begin voting in larger numbers in Nevada and then South Carolina.
Booker said he personally considers his team's Iowa operation ― he has 50 paid employees in the state ― to be as strong as any campaign's, save Warren's. Ditto with his team in New Hampshire, where he has 30 staffers on the ground.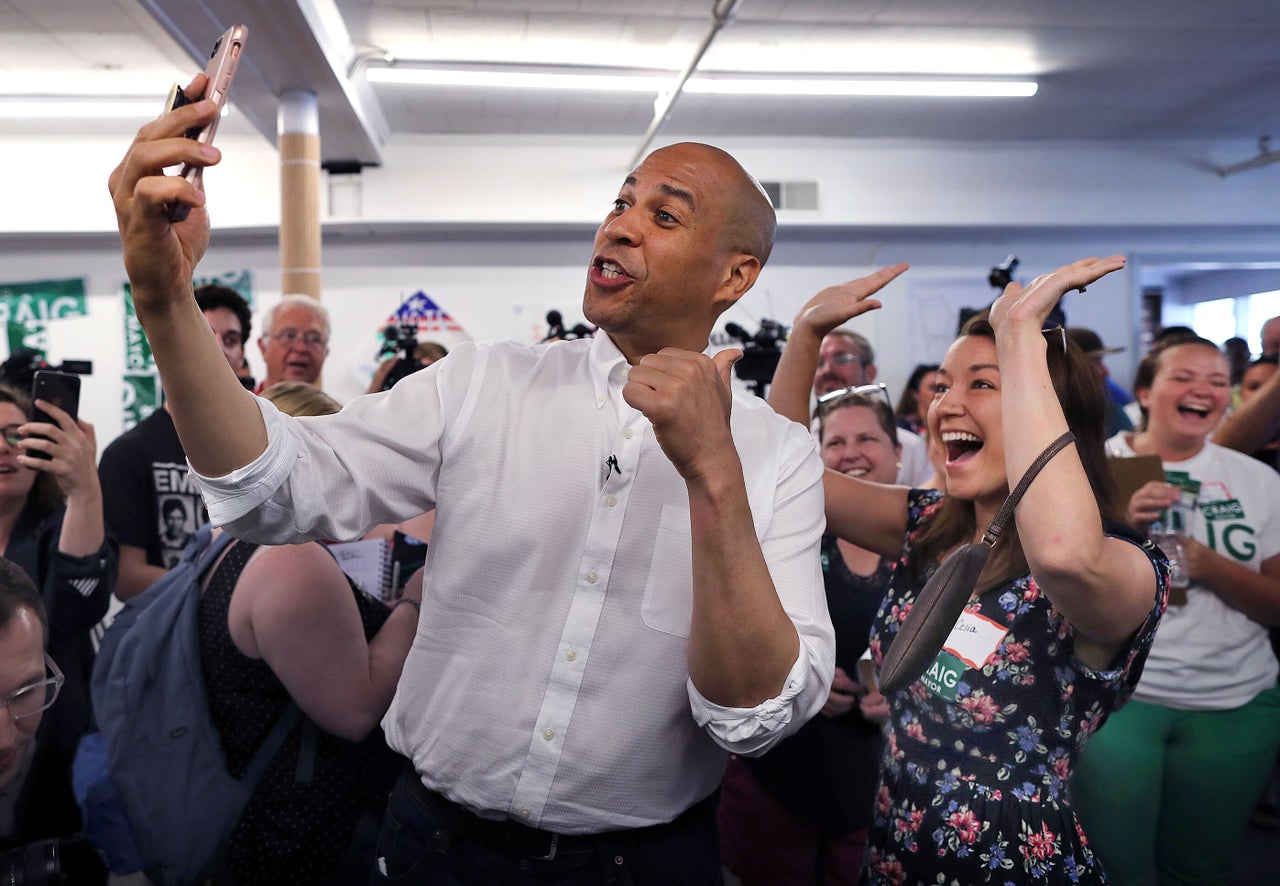 Back in Manchester, Booker makes his way through the crowd, feeling the love, grabbing people's phones to quickly snap a selfie. (Booker always takes the selfies himself. "You can always take the picture quicker than they can," he says. "Most people don't know the volume down button on iPhones is a picture taker.")
Booker delivers a quick speech to the gathered supporters. "We are building this campaign brick by brick by brick!" he exclaims. "We're going to make sure the next president of the United States is bald!"
Booker's next stop in Manchester is at Brookside Congregational, part of the liberal-leaning United Church of Christ, with a Black Lives Matter sign out front and a crowd of about 30 inside. Booker's here for a question-and-answer session sponsored by the Granite State Organizing Project, which is focused on criminal justice reform, affordable housing and immigration. The questions start coming, and they are coming from the left end of the political spectrum.
Throughout the campaign, Booker has announced his occasional "frustration" with the primary conversation. He first shared it onstage at an event with Al Sharpton's National Action Network and has repeated it several times since. I asked Booker to explain what he meant.
"I get people asking me about Greenland!" Booker said, referring to Trump's desire to purchase the North Atlantic island. "That same week, Title X funding was being cut. Nobody asked me about that."
"It frustrates me, as the guy who lives in the inner city, when people ask ― almost as a litmus test ― first, it was 'Is Donald Trump a racist?' Then, it was 'Is he a white supremacist?'" he continued. "That's not the issue. The issue is we have a problem with white supremacy in this country. And yeah, he's a problem. But the bigger problem is white supremacy in this country. And what's your plan for that?"
Booker's annoyance, at times, can seem a little convenient. He entered the race under fire from the left because of his support for charter schools, his past embrace of technology companies and his ties to his home state's powerful pharmaceutical industry. But it's the newer debates that seem to get under his skin. He bristles when he thinks progressives are getting ahead of the country, and complicating both campaigning and governance. Questions about whether prisoners should be allowed to vote annoy him, he has said, because the focus should be on getting people out of prison in the first place.
"I'm a guy that's really good at pulling people together for a common cause. That doesn't mean I don't stand my ground. I'm not a kumbaya guy."
The overall effect is that Booker is in a bit of a never-never land, ideologically. He's assembled a liberal voting record in the Senate, but declines to engage in either an out-and-out race to match Sanders on the left or the name-and-shame tactics Warren employs against Facebook and other modern-day malefactors of great wealth. But he also declines to engage in the hippie-punching many of the moderate candidates frequently deploy ― think Colorado Sen. Michael Bennet's criticisms of "Medicare for All," or Minnesota Sen. Amy Klobuchar's attacks on proposals to wipe away student debt.
At the church, the litmus test question is about defunding Immigration and Customs Enforcement. Booker doesn't directly engage, turning down the opportunity to provide a quick sound bite that would please activists and the media. Instead, he turns in a 15-minute answer that touches on the "deep hypocrisy" of some devout Americans, "the radical work of love," cruelty to animals, environmental racism and the water crisis in Flint, Michigan, and ultimately the fear Latinos living in Booker's inner-city neighborhood in Newark feel.
"All the issues we're talking about are deeply interrelated," Booker says. The crowd is nodding, listening intently.
But just a few minutes later, Booker has the once-somber crowd in stitches. He's recounting the story of his clash with O'Brien, noting he once banned the late night host from Newark Liberty International Airport, and their faux-feud ended with then-Secretary of State Hillary Clinton forcing them to negotiate a truce.
The abrupt switch from wonky and serious to gut-busting points to another critique of Booker's campaign frequently tossed around in D.C. circles: that he's "goofy." Booker has at times embraced this, giving interviews about his love of Star Trek and making a surprise appearance at Comic-Con. But some operatives think it undercuts Booker's more serious moments.
It, along with Booker's general love of hope-and-change-and-love-and-togetherness rhetoric, presents another challenge the Booker team is striving to overcome. Booker routinely tells audiences to watch "Street Fight," the Oscar-nominated documentary depicting his first rough-and-tumble campaign against then-Newark Mayor Sharpe James, to get a taste of how he would handle a campaign against Trump.
"I'm a guy that's really good at pulling people together for a common cause," Booker says. "That doesn't mean I don't stand my ground. I'm not a kumbaya guy."
But even as Booker tells voters to turn on Netflix and watch an 83-minute-long testament to his toughness, he can't help but sprinkle in a joke. He typically notes "Street Fight" lost the Academy Award for Best Documentary that year to "March of the Penguins."
"Penguins aren't even that cute," he tells audiences, in another line that usually wins laughs. "I'm cuter than a penguin."
Last Tuesday morning, the Booker campaign held a conference call to announce it had raised $6 million, with a third of that coming after their desperate ask for more cash. With that funding it was able to hire 40 more staffers, in the early states and at its headquarters in Newark.
Demissie insisted again that most voters were undecided. After the success of their big fundraising ask and in the service of "radical transparency" ― a radical transparency that did not extend to releasing the campaign's average donation size or cash-on-hand number ― he said they were setting a $3 million fundraising goal for the month of October.
"We've seen in the last 10 days that voters want Cory to be one of their choices," Demissie said. "If you tell people the truth, and you let them know what you need, they'll come to your aide, because they want Cory to be in this race until the end."
Whether they want him to win is an entirely different matter.