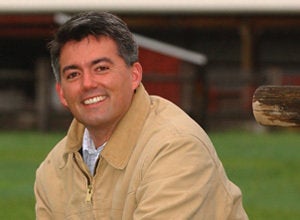 A set of upcoming political fundraisers has brought up once again a question often asked by good government groups: Just how tainted do donors have to be before politicians stop taking their money?
On Thursday, Dan Meyer, a lobbyist for BP -- the besieged oil company responsible for the biggest environmental disaster in U.S. history -- will co-host a luncheon at Hotel George in Washington D.C. for the benefit of Colorado GOP congressional candidate Cory Gardner. An official with the Dubernstein Group, Meyer serves on a BP account that has brought in $100,000 in lobbying fees during the first quarter of 2010. He's not the only Republican official hosting the $1,000-a-plate affair (Meyer formerly served as the chief of staff for Newt Gingrich as well as chief congressional liaison in the Bush White House). Rep. Marsha Blackburn (R-Tenn.) and Rep. Erik Paulsen (R-Minn.) are participating as well.
But at a time when BP is in the news for all the wrong reasons -- and when members of Congress are being asked to play an oversight role over the company's actions in the Gulf -- Meyer's presence on the host list seems a bit brazen for Gardner.
"When you see that members of Congress are supposed to have oversight over a particular interest and at the same time they are going to events hosted by lobbyists who represent those interest, how can there not be a conflict of interest?" asked Gabriela Schneider, communications director for the Sunlight Foundation, a open-government group which first reported on the Gardner fundraiser. "The fact of the matter is members are constantly having to raise money... The fundraising circuit is just a mater of life
And yet that fundraiser could very well take a backseat in terms of political riskiness to the one being held in honor of Rep. Cliff Stearns (R-Fla.), who is putting together a June 30 lunch fundraiser "With Special Guest, Congressman Joe Barton." Barton of course was a political toxin last week after he apologized to BP for the "shakedown" they endured at the hands of the Obama administration.
After offering an apology for the apology, however, Barton has earned his way back into the good graces of some in his party. Not only is Stearns fundraising with him, on Wednesday Barton's fellow Republicans in the House offered a vote of confidence, choosing to keep him on his perch as ranking member of the House Energy and Commerce Committee.
Popular in the Community