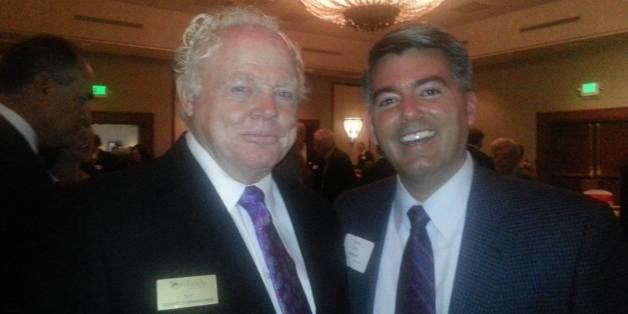 Given that Colorado has had its fair share of mass shootings, the fact that two high-profile Republicans there attended an event with a candidate for local office who has expressed doubts about whether the Sandy Hook elementary school shooting really happened might strike some voters as insensitive.
Rep. Cory Gardner (R-Colo.), who is running to unseat Sen. Mark Udall (D-Colo.), and former Rep. Bob Beauprez (R-Colo.), who is challenging Gov. John Hickenlooper (D), attended an Aug. 24 Republican Party steak fry at the home of Dr. Tom Ready, a candidate for Pueblo County Commissioner. Photos of the event were shared on Facebook.
In a Sept. 10 debate, Ready's Democratic opponent asked him why he had shared an article on Facebook claiming that the 2012 shooting in Newtown, Connecticut, that killed 26 people was actually a hoax arranged by the federal government to advance gun control policies.
"There is some question whether it really happened," Ready responded.
As the crowd booed, Ready explained his theory.
"Some people in the videos, thank you very much, if you recall, there was a picture of a man walking in whose daughter had died. He was smiling and joking. When he walked into the room he turned and all of a sudden had tears in his eyes. Why? I question that."
"I don't think [the Sandy Hook shootings have] been proven," he added. "And what's wrong with open discussion?"
Ready told the Pueblo Chieftain after the debate that he did not remember posting the link, but that "it would not be the first time I put something out there for discussion."
Ready's views seem to have been inspired by websites questioning whether the parents of the children slain at Sandy Hook demonstrated adequate amounts of grief in the wake of the shooting.
Neither Gardner's nor Beauprez's campaigns responded to requests for comment.
REAL LIFE. REAL NEWS. REAL VOICES.
Help us tell more of the stories that matter from voices that too often remain unheard.
BEFORE YOU GO
PHOTO GALLERY
Things Being Blamed For Sandy Hook