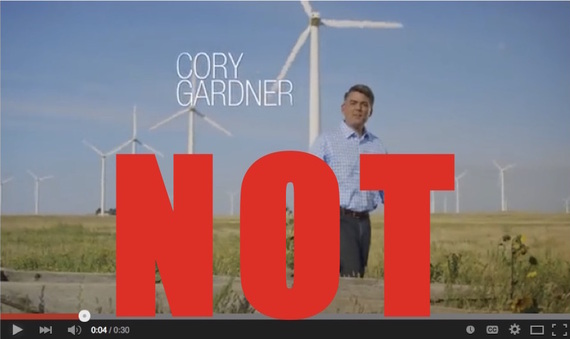 Do you remember the worst words your mom could say to you when you were a kid? I do. She'd look down at you and her eyes would be devoid of anger. In its place would be a kind of sad pity as she said, "I'm disappointed in you." Well, Sen. Cory Gardner, I'm disappointed in you.
I keep looking at this image from Sen. Cory Gardner's campaign ad of him in the middle of a wind farm claiming that he supports the next generation and suggesting that he'll support clean energy. And then I think about how he voted this week. This week the Senate is considering its very first order of business - S.1. And the first chance Sen. Gardner had to do the right thing, he failed.
The picture above shows a guy who looks like he supports wind energy. And, while he definitely wasn't the Running Clean candidate in his Senate contest, the picture seems to speak for itself. Why would you trot around a wind farm if you don't support wind?
Yet, twice in the past 24 hours Cory Gardner has voted against wind energy. Last night he voted against a nonbonding sense of the Senate resolution offered by Sen. Heidi Heitkamp, a conservative Democrat from the fossil fuel-heavy state of North Dakota. The Heitkamp amendment would have done nothing more than express the viewpoint that wind energy tax incentives should be extended. Today he voted against an amendment from Sen. Tom Udall to create a national clean energy standard, which would have given wind energy a huge boost without requiring taxpayers to pay a dime.
Gardner has tried to justify his anti-wind vote on the Heitkamp amendment. He argues that extending the wind tax incentive should be paid-for, should be part of a larger overhaul of the tax code and should include a plan to phase-out the incentive. While Gardner's concerns might be valid questions to address in the context of an actual bill that would have the force of law, they are a bit overblown on a simple sense of the Senate resolution. Don't you think a supporter of wind energy could set aside these details in order to vote on the "sense" that the incentives should be extended? Even Sen. Heitkamp, a supporter of plenty of fossil fuels, managed to do it. Why can't Gardner?
Even after these anti-wind votes, Gardner still likes to claim he's pro-wind. He must know that being pro-wind is good politics because the public supports clean energy. But his claims are nothing but wind. He just voted to undermine wind development, and he can't deny that.
I don't know how his mom feels, but I, for one, am disappointed.
Calling all HuffPost superfans!
Sign up for membership to become a founding member and help shape HuffPost's next chapter