Sexual abusers faced a reckoning on Monday in Pennsylvania ― whether they were celebrities shielded by their fame or priests protected by religious institutions. 
The same day disgraced actor Bill Cosby began his sentencing hearing in Norristown for sexual assault, people marched to the state capitol about 100 miles away in Harrisburg to support survivors of child sex abuse by Roman Catholic clergy. 
The rally drew the support of Pennsylvania Gov. Tom Wolf (D), a bipartisan group of legislators, and victims of former USA Gymnastics team doctor Larry Nassar. They all urged quick passage of reforms recommended in a grand jury investigation report in August that identified 301 "predator priests" and over 1,000 victims in six Pennsylvania Catholic dioceses over 70 years. 
Meanwhile, Cosby's sentencing hearing started in Montgomery County with emotional victim impact statements from Cosby's accuser, Andrea Constand, and her family.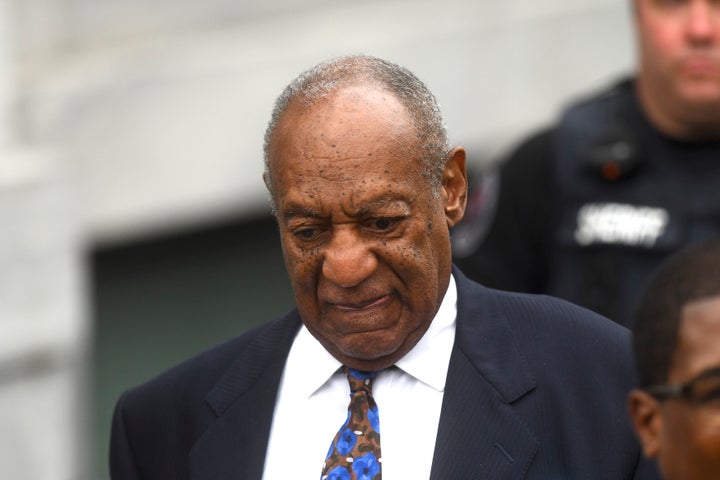 Prosecutors recommended that Cosby serve a sentence of five to 10 years in prison on Monday, The Associated Press reports. A judge is expected to deliver Cosby's sentence on Tuesday.
Advocates for survivors drew links on Monday between Cosby's predatory behavior and that of predator priests.
"There are clear similarities in predator behaviors and the grooming and selection process of those they choose to offend upon," Jennifer Storm, Pennsylvania's victims advocate, told HuffPost in an email. 
Predators use their status as mentors, celebrities, coaches or priests to gain victims' trust, Storm said. 
Marci Hamilton, a child sex abuse expert with the nonprofit Child USA, told HuffPost that the Cosby case helped reinforced her conviction that society prefers and protects "powerful adults at the expense of the vulnerable." 
Hamilton said the aspersions cast on the women making sexual abuse allegations against Supreme Court nominee Brett Kavanaugh have only contributed to her belief.
"It is a reminder that this society often attacks and ignores the first whistleblower," Hamilton wrote in an email. "If Times Up means anything it must mean that victims are heard and treated with respect."
"And powerful men uniting against a female victim need to think twice which side they choose," she added.
Watch a Facebook livestream of the rally below.
On Monday, survivors and their allies urged Pennsylvania lawmakers to adopt all four of the recommendations put forward by the grand jury investigation on abuse in the Catholic church. After sifting through hundreds of pages of church documents and hearing testimonies from dozens of witnesses, the jurors came to the conclusion that Catholic church officials in Pennsylvania worked hard to protect and cover up abuse by pedophile priests while brushing aside victims' concerns. 
The grand jury recommended removing the statute of limitations for victims of child sexual abuse. Currently, Pennsylvania state law requires victims to file criminal charges by the age of 50. Jurors also advised opening a two-year "civil window" for victims older than 30 to sue the dioceses.
Pennsylvania Catholic dioceses said Friday that they'd be willing to set up a victim's compensation fund, which would protect church records from the scrutiny of lawsuits, The Associated Press reports. The dioceses also fear that opening up a window for civil litigation of old cases could be financially crippling for Pennsylvania Catholic schools and charities.
On Monday, Pennsylvania's state House approved a bill that would fulfill these first two recommendations. The bill, which could get a final House vote on Tuesday, is expected to face resistance from Republican members of the state Senate, according to the AP.
The grand jurors also recommended tightening laws about mandatory reporting and making sure confidentiality agreements don't bar victims from taking their cases to the police. 
The last recommendation was tested in the Cosby case. In 2016, months after he was charged with criminal sexual assault, Cosby tried suing Constand for violating a decade-old confidential settlement by cooperating with police. A district judge later dismissed Cosby's claims.
At the rally, Pennsylvania Attorney General Josh Shapiro (D) stressed the importance of passing all four recommendations. 
"The time for institutions to protect their reputations over the victims is over," Shapiro said. "That is true for the Catholic Church, that is true for USA Gymnastics, that is true for Hollywood, that is true for cartels of political power in this country." 
Calling all HuffPost superfans!
Sign up for membership to become a founding member and help shape HuffPost's next chapter
BEFORE YOU GO
PHOTO GALLERY
Pope Francis' Best Quotes