An invitation to Cosme is always accepted.
Cue Leiti Hsu, Heritage Radio Network's Word of Mouth host, who over lunch at another New York City hotspot, gave me one such invite.
"You should come," she teased over a few appetizers. "The RSVP list is crazy."
Street food favorites from Mexican chef Enrique Olvera, who received three stars from The New York Times' Pete Wells just the week earlier, would be served for invite-only guests.
Hours after our meal, an email with details: be there at 11 p.m. and invite a chef friend if you'd like.
Joseph Johnson, who most affectionately refer to as chef JJ, from Harlem's The Cecil and its neighboring Minton's, accepted my own invitation to come along.
Familiar faces filled the room the night of the party. Sipping mezcal pairings -- I found myself standing next to David Waltuck (Élan) and Jason Hua (The Dutch).
Then getting a moment to chat with Enrique about his New York Times review; "Coming from Mexico to New York, we never dreamed of this," he told me between glasses of horchata, every now and then looking down at his phone to change the music playing in the background.
"Have you tried the food?" JJ prodded at the bar. We worked our way through the restaurant for a plate of savory duck carnitas, corn esquites and potato and chorizo tacos. There were few people we bumped into along the way that we didn't know of: Francis Derby (The Cannibal/Resto), David Pasternack (Esca) and Andrew Carmellini (Locanda Verde).
Back at the bar George Mendes (Aldea) chatted with John Winterman (Batard), and Anita Lo (Annisa) sipped on a spicy michelada with friends.
Before the night was over, a special thank you came from the party's hosts Leiti and Enrique, and lifestyle concierge app Sosh.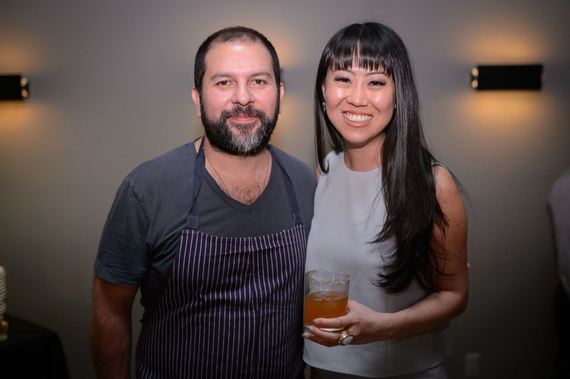 (Photos courtesy Clay Williams and Filip Wolak)