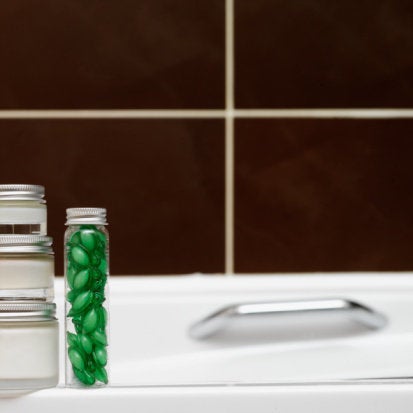 There is something about the new cosmetic "option" for thicker eyelashes that bothers me, though I'm not sure what it is. Perhaps it's the resistance I still feel after leaving behind those false lashes I wore while modeling with Wilhelmina in the 70s. Or maybe wearing my current hat as a psychologist, it doesn't fit with my belief that women can find true beauty within. Yet, my patients in their twenties and thirties insist, "Hey, it's great. Why not have beautiful lashes without having to apply mascara?" Older women claim, "My lashes have thinned and it helps me get back to what I used to have naturally." Undeniably, the reviews on these products -- including Latisse, Lilash, Revitalash and Marini Lash to name a few -- are largely positive. Except for a few complaints about mild irritation, allergic reactions and occasional permanent eye color change, most report they are satisfied by the thicker and darker lashes they see as long as they keep using the product.
Some women don't realize that Latisse (the first of lash thickeners to be FDA approved) was a drug originally intended for glaucoma. An unexpected side effect was that it was found to increase the growth of eyelashes. It was then approved to treat hypotrichosis (a technical term for medical hair loss) and over time has been prescribed to treat what marketers call "inadequate eyelashes." Much the way Retin-A cream and Botox (produced by the same company that created Latisse) once served to treat medical symptoms, Latisse now routinely serves cosmetic purposes. Miracle drug? Or another slippery slope for women to slide down?
I have no trouble with the idea that there are products and procedures that enhance a woman's natural beauty. In fact, I accept the fact that women are probably hardwired to pay attention to how we look and that we need to take care of our appearance in ways that feel appropriate for our age. Take Victoria's Secret, for example, and the many bras they now offer for women of all sizes, shapes and ages. Are there any reasons why a woman who doesn't mind a little push or tug, shouldn't enjoy sexy underwear options that were unavailable to previous generations? Spanx doesn't bother me either. Women say the squeezing and constriction are worth the shaping it provides. In fact, compared to the ungainly padded bras and girdles of yesteryear, these seem more appealing to today's women who are interested in making efforts toward looking great at any age.
Where I have trouble, is when women ask my thoughts about unalterable cosmetic procedures: breast implants, liposuction, brow and facelifts. I am concerned when patients talk about the constant surgical work they have done to upkeep their various body parts -- for example, adding "hand rejuvenation" to their list so that their aging hands match up with their youthful faces. I ask them to think carefully and thoughtfully about their expectations -- the whys, the costs and general long-term consequences. And it's perhaps here where my issue with "longer lashes movement" comes into play. In my mind, using a prescription medicine to enhance a woman's appearance lies somewhere closer to plastic surgery than Spanx or padded bras. And yet, its casual use is taking off at a rapid rate with women of all ages.
So, maybe the better question is, where do products like Latisse lead us? Have we created a disease we now call "inadequate eyelashes" that requires a new product, that mascara cannot take care of? Have we just found another way for women to feel they fall short as they yearn for some permanent and radical solution to reach ideal beauty? And what about the potential physical and psychological consequence of repeated usage of lash thickener? When we try any new beauty fad, are we relying on the due diligence of the cosmetic industry or the FDA? We need only recall that steroids (also once used for medical purposes) were found to enhance athletic ability and then ultimately were discovered to be dangerous, both for the long-term health of the athlete and of the sports world in general. It led to a deep mistrust in who was using and who had true talent, resulting in drug testing in all of sports.
Then there's the use of stimulants, originally prescribed for children suffering Attention Deficit Hyperactivity Disorder, now being used as the new "brain power" drug. Ritalin and Adderall, two popular ADHD medications, have been reported to enhance a student's ability to concentrate regardless of any diagnosis. A recent 60 Minutes report by Katie Couric described the routine use of these drugs by students on college campuses. A school counselor on the program said she believed that close to 80 percent of the seniors in fraternities and sororities were popping these pills to raise test scores and achieve higher grades.
And let us not forget the Viagra and Cialis craze. Look where that's led our husbands, lovers, fathers and brothers. Once used for symptoms of Erectile Dysfunction resulting from prostate cancer or an enlarged prostate, they are now packed as part of the overnight bag to ensure a fun evening. Men -- especially midlifers -- tell me that the promotion of these products in the media has provoked unexpected feelings of inadequacy.
Lastly, we need only look at the exponential rise in the use of cosmetic procedures to witness one of the most slippery of slopes men and women are finding themselves on. Plastic surgery, Botox, injectables, fillers, laser treatments -- the list is long -- are regularly used to alter looks, defy aging, enhance and improve. And not just by the rich and famous (although, according to the New York Times, it's the famous who are now just beginning to see the negative consequences of surgical procedures as they find that their plastic bodies and frozen faces are a turn-off to casting agents). Enhancements made surgically are permanent and permanently problematic.
So back to those eyelashes. I suppose I do realize what bothers me. First, it's the long-term safety factor. We, our daughters, and all those young women who are being offered these new products, are like variables in an experiment that has not yet shown proven success over time. As a psychologist, the biggest issue for me is that yet another feature, characteristic or human natural quality will come under question: what is real and what isn't? Our mothers' generation used to ask, "does she or doesn't she?" Our generation of girls now asks "has she or hasn't she?" Even boys-who-would-be-ballplayers now ask, "does he or doesn't he?" What questions will our sons and daughters ask in the future? Will they wonder if anything about a man or a woman is real? Will we trust women to be who they appear to be? Can men really have the bodies they do without drugs? Last for four hours on their own? Does that Harvard degree mean the same thing if it was achieved while taking the SATs on Adderall?
Wouldn't it be reassuring if women could at least love their lashes as they are? What do you think?
Copyright 2010 Vivian Diller Ph.D., author of Face It: What Women Really Feel as Their Looks Change
Author Bio
Vivian Diller, Ph.D., is a psychologist in private practice in New York City. Dr. Diller was a professional dancer before she became a professional model, represented by Wilhelmina, appearing in Glamour, Seventeen, national print ads, and TV commercials. After completing her Ph.D. in clinical psychology, she went on to do postdoctoral training in psychoanalysis at NYU. She has written articles on beauty, aging, eating disorders, models, and dancers, and served as a consultant to a major cosmetic company interested in promoting age-related beauty products. Her book, FACE IT: What Women Really Feel As Their Looks Change (2010), written with Jill Muir-Sukenick, Ph.D. and edited by Michele Willens, is a psychological guide to help women deal with the emotions brought on by their changing appearances. "Today" co-host Hoda Kotb called it "a smart book for smart women."