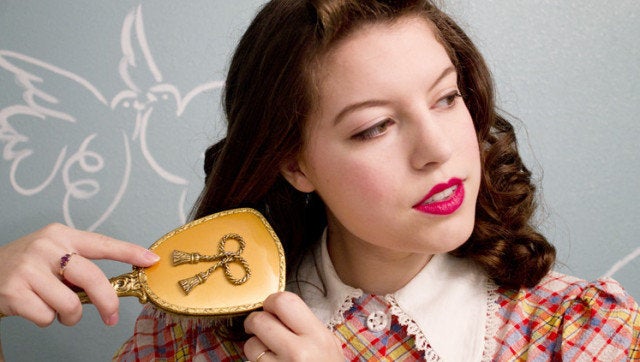 How many innovative and important women from the late 19th and early 20th century remain in the shadows of history?
In the field of cosmetics, we know the name Helena Rubinstein (1870-1965) but few know how she started with a single cream and built an international company; Elizabeth Arden is also a familiar name but few know Arden's story. Though Rubinstein and Arden seem like they must have been business pioneers, they were not the first American woman to build and run a beauty empire.
In a new book ,Dispensing Beauty in New York and Beyond: The Triumphs and Tragedies of Harriet Hubbard Ayer published by the History Press, Annette Blaugrund tells the fascinating story of a little-known Chicago socialite who overcame many obstacles on her way to be the first American woman to build a successful cosmetics empire. The story of Ayer's life is filled with many challenges, but she finds ways to overcome all -- building not just one career, that of cosmetics mogul, but eventually re-inventing herself to become an influential journalist, writing and eventually editing the women's pages of Joseph Pulitzer's New York World.
Author Annette Blaugrund is an art historian and has worked as a curator and museum director at several prominent New York City museums, including the National Academy Museum and School of Fine Arts (1997-2007), the New-York Historical Society (1989-1995), and the Brooklyn Museum. She has written six books about American art and contributed to many journals.
Found Subject Because of a Painting
Fittingly, she found Harriet Hubbard Ayer because of a painting. The Parrish Art Museum in Southampton, N.Y., has a collection of work by portrait artist William Merritt Chase (1849-1916), and among his subjects was Harriet Hubbard Ayer.
"The painting of Harriet fully caught my interest," says Dr. Blaugrund. "I began creating a file of information about her. She fascinated me."
Blaugrund was eventually able to devote full-time to the book, which features exhaustive research on Ayer as well as background information on life in Chicago, New York, and Europe during Harriet's day.
Harriet's story is of a woman who married well when she wed Herbert Hubbard and whose life largely involved entertaining and traveling Europe where she could shop extensively. She became mother to two daughters, but while the children were still young, Harriet realized that Hubbard was a drunk and often found companionship with other women instead of coming home.
Divorce at that time was almost unheard of, so Harriet's first step out of her misery was in 1882 when she moved with her daughters from Chicago to New York. She found employment with a home furnishings shop where she had been a well-regarded customer. Eventually, she made buying trips to Europe for the company, which permitted her to reconnect with a Frenchman, Monsieur Mirault, who ran a pharmacy in Paris specializing in perfumes and creams. His grandfather's formula was well-known in France for having been the product that was supposed to have helped French socialite Juliette Récamier (1777-1849) maintain her beauty.
Harriet was intent on coming up with a product that consumers would want, and she pursued Mirault until he finally agreed to sell her the formula. But purchase of the formula was only the first step. She needed to find American suppliers of the ingredients and develop a version of the cream that could be manufactured in the U.S. She accomplished those goals by 1886 and started the Harriet Hubbard Ayer Company. As a proprietor, Harriet proved to be a skilled promoter of her products, the main one of which was Récamier Cream.
But life for Harriet was not destined to be easy. She started divorce proceedings against her husband, and she also encountered a ne'er-do-well, James Seymour. Seymour hired her to procure furnishing for his yacht, but after she had begun her cosmetics empire, Seymour orchestrated the theft of Harriet's business. When she fought back through the legal system, Seymour contrived to separate her from her daughters who were in school in Europe. Eventually Seymour arranged to have Harriet committed to an insane asylum.
Blaugrund tells of how Harriet eventually gets out of the insane asylum, but her business was lost. It had been run into the ground and was sold at a receiver's sale. (The Harriet Hubbard Ayer Company was a success under the new owners, who sold it to Lever Brothers in 1947 for $5.5 million.)
After recovering from being institutionalized, Harriet became a writer and editor for Joseph Pulitzer's New York World. Her articles and advice columns usually preached common sense regarding diet, exercise, and skin care. Among the societal changes she pushed for was that of more practical clothing for women, a concept that was unacceptable at that time. Her campaign became known as the "Rainy Daisies," as it came from a group of women who called themselves the Rainy Day Club. They advocated for lighter-weight clothing, less constricting corsets, and shorter, less cumbersome skirts. Harriet and others realized that wearing skirts that dragged in the "filth of elevated railway stations and from the mud and dirt of the city streets" was inadvisable.
Harriet wrote: "For twelve year of my business life have sat for hours each rainy day with damp, often soaking skirts about my ankles, and have suffered in health in consequence. Thousands of other women have done the same in this city alone."
Harriet Hubbard Ayer was not active in the suffrage movement, but in word and deed, she set an example of what needed to be done so that women might eventually be able to live independent lives.
The book is impeccably researched, and the intriguing tale is well told. Dispensing Beauty in New York and Beyond: The Triumphs and Tragedies of Harriet Hubbard Ayer is both a fascinating read and a valuable addition to our knowledge about women business owners.
Popular in the Community