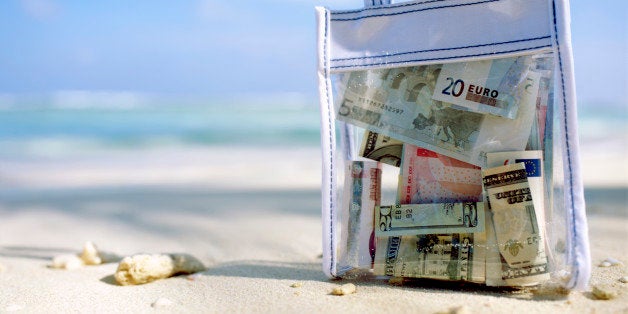 So this is paradise. Palm trees sway in the trade winds that take the edge off the late-summer sun. Nearby, tanned bodies glisten on the sand.
Cabbie Lam Lu sits at the entrance of the parking garage at the Ala Moana Center shopping mall, overworked and stressed out as he awaits a fare. Lu is parked outside Foodland. Inside the supermarket, an advertisement shows two smiling girls eating hamburgers. Maybe they shouldn't be so happy. The store's pack of hamburger buns goes for $5.59, almost $3 more than it costs at a similar market in Washington, D.C. Do the kids want to wash it down with some milk? That's another $3.69 per quart, which is nearly double the $1.88 it costs in the nation's capital.
Yes, we know it is pricey here. Cars run on the most expensive gas in the nation, at $4.35 a gallon on a recent day. Our shopping centers and our homes use electricity that's twice as expensive per kilowatt hour as the next costliest state, Alaska. We have to earn more per hour than Californians and New Yorkers to afford a two-bedroom home. Hawaii actually has the ninth highest median income in the nation, at $59,605. That sounds great to many people on the mainland, but when the cost of living is factored in, Hawaii slides down to the 21st highest median income. And we pay more for goods and services than residents of any other state.
And, as we all know, the list goes on. It is why we work so hard, skimp so much. All of which is why Lu looks so glum. He doesn't surf. He doesn't hang out at the beach. To make ends meet, he drives his cab 12 hours per day, seven days a week. For every $100 he makes in fares, $15 of it goes for gas. "No time for paradise," he said.
There are those who say don't worry. Be happy. Lucky you live Hawaii. But others note there are real impacts. Even for a middle-class that manages to scrape by, the cost of paradise often catches up to us late in life.
Bruce Bottorff, spokesman for the Hawaii chapter of the AARP, says that high prices have made it hard for most people to save for the day when they need help to live. "Most adult families have mortgages and rent, transportation, food and beverage costs, health care. And when you have all these costs, it makes it difficult to set aside an additional sum of money for an eventuality down the road. People take care of their immediate needs," he said.
As a result, the AARP's annual survey of Hawaii residents over 50 years old last year found that three in four said they did not want to rely on families and friends to take care of them in their old age, but more than half said they had no real plan for how they'd afford elderly care when they need it. (They acknowledged that they probably would have to rely on their families and friends.)
No wonder Tony Lenzer and his family have been feeling plenty of pressure. Lenzer, 83, said he had to put his wife, Joan, in a care home this year because she suffers from a variety of health problems, including dementia. Their children had taken turns helping Tony take care of his wife at home. But they couldn't anymore. "We couldn't keep her safe. She's too frail," he said.
They were among the (relatively) lucky ones because they bought long-term care health insurance that covers most of the nearly $9,500-a-month cost, Lenzer explained.
If they hadn't, she would not have been able to afford the care home, Lenzer said. "I think it would be a very difficult situation. We would have to rely on family members, possibly friends, possibly neighbors to help out with the care. And even then we wouldn't have been available for her 24/7."
Old, with dementia, and needing your neighbor to bathe you.
DISCUSSION: You can write to Civil Beat with ideas or questions about the cost of living in paradise at news@civilbeat.com.
Calling all HuffPost superfans!
Sign up for membership to become a founding member and help shape HuffPost's next chapter
BEFORE YOU GO
PHOTO GALLERY
Hawaii In Photos