 AMSTERDAM, Jan 27 (Reuters) - Twice the size of the Titanic and three times the length of a soccer pitch, the cruise ship Costa Concordia conjures up superlatives even as a wreck.
Fitted out with sumptuous spas, enormous ballrooms and a Formula 1 race car simulator for its 3,000 passengers, it cruised around the Mediterranean with the equivalent of a small town on board.
Now half-submerged off the coast of Tuscany like an office block that has keeled over, the Costa Concordia could cost the insurance industry up to $1 billion, making this the biggest-ever shipping loss for insurers.
And for the salvagers - maritime scavengers who are preparing to bid for the business of either making it shipshape again, or dismembering it for scrap, or even sending it to the bottom - the Costa Concordia poses one of the most daunting recovery tasks ever tackled.
At 290 metres long and 36 metres wide, the ship has a gross tonnage - describing the volume and size of the vessel - of 114,500 tonnes, and an estimated actual weight ranging from 25,000 to 45,000 tonnes.
But half-submerged and tipped on its side, it is now much heavier because it is full of water and furnishings, from soggy mattresses, carpets and clothes to water-logged chairs and sofas. And it is perched perilously close to a sea cliff on rocks that in the worst-case scenario could crumble or collapse under the enormous weight.
All of which means that the owners of the crippled cruise ship will have to weigh up whether it makes more sense financially to refloat it or to chop it into pieces which can be sold for scrap, or simply sink it off the coast, given the technical difficulties involved.
"This has not happened with other passenger ships," said Mike Lacey of the International Salvage Union, the sector's trade association. "There have been large bulk carriers or large tankers that were stranded but not a type such as this one."
Guesstimates for the cost of salvaging the ship are in the region of $50 million or more. On top of that cost, if the exterior can be rescued, the ship's owners will need to refit the Costa Concordia from scratch because its interiors are no longer usable.

When a big ship runs into trouble, one of the first things the salvagers do is remove the fuel, so that it does not leak and cause an environmental disaster, before they can even start work on moving the vessel.
The Costa Concordia carries 2,300 tonnes of diesel oil, stored in 17 tanks, some of which are the size of a house.
The salvager typically cuts two or three holes in each tank, and makes a valve for each one, using a circular-shaped saw, said Hans van Rooij, a consultant at Dutch firm Global Marine Solutions, and a former director of SMIT Salvage.
One hole is used to remove the oil, another to let air or water in so that a vacuum does not form. A third hole can be used to pass in steam and warm up the oil: submerged in the cold water, the oil thickens and has to be heated so it can be pumped out easily.
SMIT is currently preparing to remove the cruise ship's oil, a process which will take about a month.
With 30 or so years of experience in the industry, Van Rooij has worked on several disasters, including the lifting of the Herald of Free Enterprise, the British car ferry which capsized in 1987 near the Belgian coast, killing 193 people.
The ferry capsized because its doors had not been closed properly. It lay in a similar position to that of the Costa Concordia now, and was salvaged using piles to pull it upright.
SMIT - part of Dutch group Royal Boskalis Westminster , the world's largest dredger - has a 170-year history of piloting, towing, and salvaging ships.
Thanks partly to its history as a maritime power in the seventeenth century and its strategic position on the coast, the Netherlands boasts some of the world's leading companies in maritime services.
SMIT is one of the world's leading salvage firms, while Dutch heavy lifting firm Mammoet also has salvage operations.
Together, SMIT and Mammoet successfully lifted the Russian nuclear submarine Kursk from the bottom of the Barents Sea, where it sank with 118 men in 2000 to a depth of 108 metres.
Both companies are expected to bid for the salvaging operation of the Costa Concordia.

Even before the oil is pumped out, salvagers must have a clear idea of the underwater landscape. The big unknown in this case is whether the rocks where the Costa Concordia is precariously balanced are strong enough to take the additional burden or strain of equipment needed to right it.
Salvagers need to know whether the ship can be righted, and to do that, they need be able to set up pontoons or platforms, cables and gigantic anchors which are strong enough to support such a ship as it is pulled upright again.
"The weight is a problem. You need external forces, which could be as much as 10,000 tonnes. Then you have the problem of anchoring these forces," Van Rooij said.
But salvagers say they do not know whether the rocks on this stretch of craggy coastline - the rocks which cost at least 16 lives when the ship turned to perform a salute to the island of Giglio and was brutally gored - are strong enough to support the ship as it is pulled off its side.
For example, salvagers typically need room to set two pontoons in place and to use both of those to slowly pull the ship upright.
To get a better understanding of the rocks, seismic experts and divers, as well as submarine equipment, may need to survey the rock bed where Costa Concordia is lying.
"You want to know the shape of the sea bed. What kind of soil is it - sand or rock? If you want to anchor something, you need to know how strong it is," Van Rooij said.
Salvagers need to know where the ship is damaged, how stable it is in the position where it is lying, how it was built and what was on board.

Costa Concordia was carrying more than 4,000 passengers and crew when it ran aground - and a lot more besides.
The ship was a 13-deck pleasure palace kitted out with vast restaurants, a three-storey high theatre, and an enormous spa.
"The Samsara Spa itself is one of the great draws of the Costa Concordia," according to its publicity material.
"Asian-inspired and specialising in thalassotherapy - treatments that use seawater, marine mud, and other oceanic elements - it spans over 20,000 square feet. Tried-and-true therapies abound as well, from massages and facials to soaks and saunas."
Elsewhere on board, passengers could jog along the top deck running track, splash around in the pools, play on the water slides and even indulge in the thrill of some fantasy motor racing thanks to a Formula 1 simulator.
Public spaces were named after European cities - Berlin, Stockholm, Paris and others - and brightly decorated, while each deck was named after a European country with the Netherlands at the bottom and Austria at the top.
The European Union served as the central motif for fashioning the Costa Concordia's interior, the ship's designer said.
"On this ship, the idea was for each public room to take a style that was evocative of every country in Europe, in the European Union," veteran Miami architect Joe Farcus told Reuters in an interview.
As one guest commented on a travel website: "the cabins were beautiful, but the decorations of the boat elsewhere (some restaurants, deck 9) were a little bit too much plingpling".
With all those fittings, blingbling or otherwise, the ship is full of extra weight, making the task of salvaging trickier.
"There were more than 4,000 people on board, all carrying luggage and adding weight. If you want to salvage you need to take this into account," Van Rooij said.
He estimated the ship's weight at 45,000 tonnes, excluding luggage, food, and water.
"The accommodation will absorb a lot of water, which also adds weight. Every mattress soaks up water, the carpets do too."
For divers searching the wreck for the last remaining bodies this is difficult work, with chairs and tables, curtains and deck loungers all bobbing around within the dark confines of the stricken ship.
"In the ship everything is floating - curtains, waste. The orientation is also different. Doors have fallen open, chairs are everywhere, it's chaos and everything is dark," Van Rooij said.
"A diver has a light on his helmet but he has to work very carefully and make sure there is a route back, that nothing falls and blocks the path."

Pier Luigi Foschi, the head of the ship's owner Costa Cruises, said last week that removing the ship from its resting place would be "one of the most difficult things in the world".
Salvaging is difficult because of its size - this is the biggest liner ever wrecked - and its position on a cliff under water. If the ship slides off, it could sink 60 metres.
One expert that Reuters spoke to said the ship could possibly be refloated using giant balloons.
"We're here to look at how it can be raised," a salvage expert from Titan Salvage told Reuters, speaking anonymously.
"It could definitely be done, with balloons, cables. There are various techniques."
But others said that would be impossible because the vessel's interior is divided into hundreds of cabins, so there would not be enough room to inflate several very large balloons.
"If you have big spaces in a ship you could do it. But this is a cruise ship with many compartments, halls and cabins. It doesn't work," Van Rooij said.
It would also be difficult to find an anchor point to lift the ship because the sea bed slopes to a depth of 60 metres on one side, he said.
"First, you have to see if the ship is strong enough to be pulled. Secondly, you have to anchor the equipment with which you will pull, for instance poles in a sea bed," he said.
A cruise ship's hull is strongly built but most of the decks are made of lightweight steel or aluminium.
"The Costa Concordia has been damaged and is lying slanted in such a way that will be very difficult to refloat. A container ship is much more strongly built, unlike a cruise ship, of which the top is less strong," said Peter Tromp, manager at Dutch wreck removal company Euro Demolition.
It would also be difficult to prevent the ship from being dragged instead of turned when pulling it. The ship needs a pivotal point which is able to withstand strong force.
Van Rooij said that if one anchor can hold 200 to 300 tonnes, a 45,000-tonne ship would require at least 150 anchors for support, making it impractical to work around it .

The alternative, and one that Euro Demolition thinks is the more likely option, is a carve-up.
Euro Demolition is currently cutting up the 109-metre cargo ship TK Bremen which ran aground off the northwestern Brittany coast last month in heavy storms.
"We work with big shears to cut it into pieces. It is also possible to saw the ship," said Tromp of Euro Demolition.
To saw a ship into pieces, a big chain with sharp, hardened cutting edges is moved like a saw over the metal. But even this could prove difficult in the case of the Costa Concordia because the ship is close to the coast.
"Normally you saw between two floating pontoons but here there is only room for one because there is land on the other side," Tromp said.
While the ship's steel could be sold as scrap, all the interior fittings - the computers, chairs, carpets - are ruined and cannot be reused, so they will have to be removed and disposed of properly - and that will cost money.
"A container ship is made entirely of steel but a cruise ship is a giant amusement park with televisions and other things. It's all in salt water and you have to throw it away. Dumping waste costs money," Tromp said.
Van Rooij said removing the ship and its contents would cost dozens of millions of euros but he could not give an estimate.
The salvaging of the Tricolor, a ship which was carrying nearly 3,000 cars when it sank in the English Channel in December 2002, cost $50 million, Van Rooij said, and was finished in the second half of 2004.
But clearing the Costa Concordia from the site could take up to two years, depending on whether it was refloated or cut up.
"The Tricolor took two seasons, including a winter. Here it will be milder but there is still a winter in the Mediterranean Sea. It can take up to two years," Van Rooij said, because in the winter, bad weather or rough seas can hamper work.
If cutting the ship into pieces is too difficult, there is always a third, but very unlikely, option: dumping the ship on the bottom of the sea.
"I don't think the Italian authorities will allow this," said Lacey of the International Salvage Union.
For now, as it awaits it fate, the ship may turn out to be a tourist attraction.

Related
Before You Go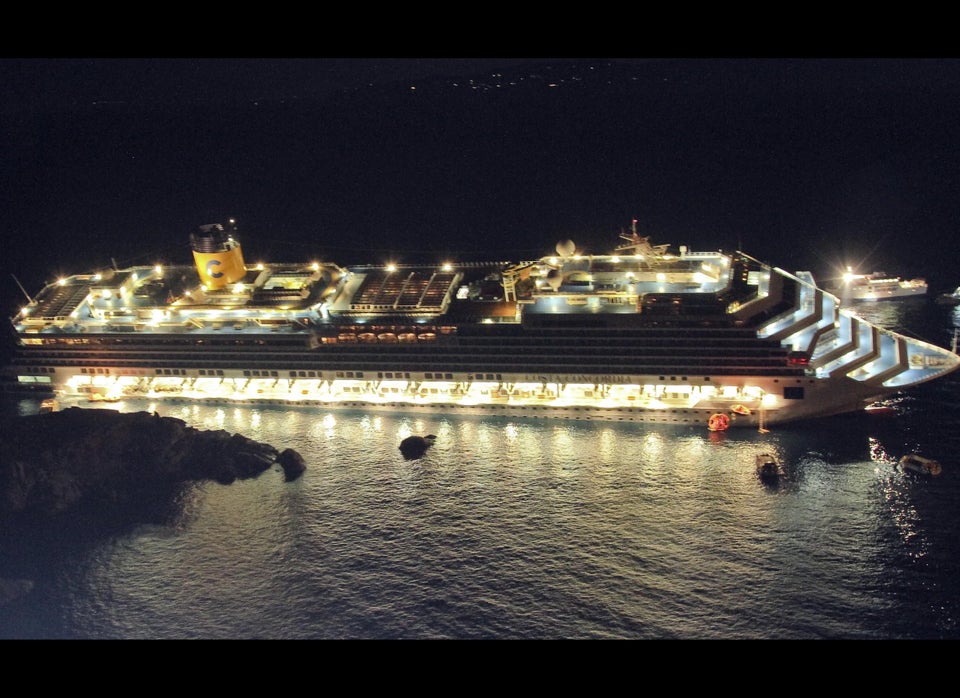 Costa Concordia 1/14
Popular in the Community