Honduras is more than twice the size of Costa Rica, has double the protected area and is easier to get to from the United States.
The only real difference, says James Adams, the head naturalist at The Lodge at Pico Bonito, is "Costa Rica is more savvy at marketing. Their Tourism Board has ten times the budget."
Oh, yeah, and that little thing about the United Nations declaring San Pedro Sula, the city most tourists fly into, as the world's most dangerous.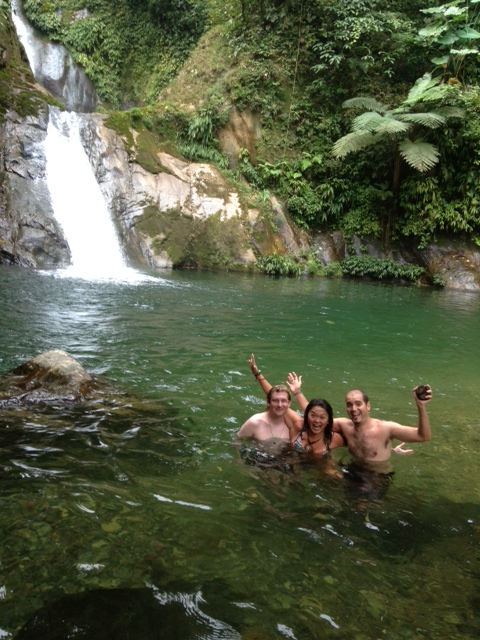 But as I always like to say, what's a vacation without a little adventure?
Which is why I recently visited the Lodge at Pico Bonito. It's smack dab in the middle of the Honduras jungle, borders mountains the locals call "Name of God Mountains" and has the exact same monkeys, birds and jaguars as its high rolling neighbor.
In fact, Elmer, our guide who does a fabulous howler monkey imitation, used a Costa Rica flora and fauna book to point out the many animals we passed on our hikes and canoe trips through mangroves.
"There's just no money for tourism," laments Adams, who moved to Honduras from New Jersey 13 years ago because of the tremendous wildlife. "The Minister of Tourism used to be a dentist.
"We probably find at least 12 new species here every year," he says. "Honduras is rich with wildlife. It's an eco-tourist's heaven. We have four species of toucans and more than 20 species of hummingbirds. And it's only a two and a half-hour flight from Houston and Miami."
Which is why he returns to the States several times a year to promote his adopted country. He speaks to Audubon and other bird-watching groups every chance he gets. He instigated the building of Pico Bonito's butterfly farm (it breeds more than 40 species of tropical butterflies including the blue morpho), its Serpentarium and Iguana House. When I was there, he was excited about the red-eyed tree frogs that have come to mate in the frog pond he and his crew of bilingual guides recently dug. And he says he usually feels safer in Honduras than in the U.S.
The Lodge at Pico Bonito also has miles of private trails winding through 100-foot canyons to waterfalls and natural swimming holes, a trio of four-story observation decks overlooking the jungle canopy and lots of adventures from white water rafting to safaris through the mangroves.
As for those State Department warnings? All I can say is "hogwash." I have never felt more safe, met kinder, gentler people or had a more peaceful trip. In fact, I'd pit the Lodge at Pico Bonito against any five-star property in northern climes. Bordering the national park of the same name, it's nearly two miles from a main road and the only "threats" are getting so wrapped up in watching keel-billed toucan nests or so enthralled by the pendulum swing of a motmot tail that you accidentally run into a tree.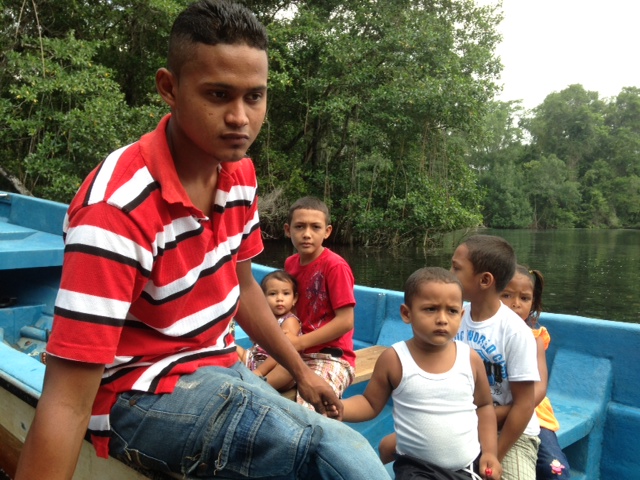 The Lodge at Pico Bonito was chosen by National Geographic as one of the world's top ecolodges, belongs to Small Luxury Hotels of the World and, well, let's just say that Sports Illustrated didn't film one of their swimsuit issues there for nothing.
So yeah, I ate a termite (it takes just like black pepper) and stood just feet from a couple deadly vipers (they were behind glass in the Serpentarium), but I never once felt threatened or in any kind of danger.

Many times I had to pinch myself. Is this a dream or am I really in the middle of this rainforest, being serenaded by birds and red-eyed tree frogs, while eating coffee and chili tenderloin medallions? Can it be true that pan-roasted rack of lamb with ratatoullie and sautéed haricot vert is on a menu served only steps from ocelots and agoutis and troops of howler monkeys?
Although the food alone is worth the trip to this secluded lodge within swimming and snorkeling distance of Honduras' Caribbean coast, the biggest draw, the reason its 22 cabins are consistently booked, are the blue cotingas, basilisk lizards (they run on water and locals call them Jesus lizards), howler monkeys, crocodiles, green herons and fields of purple water lilies. In other words, Mother Nature herself.
The Lodge at Pico Bonito has 22 cabins, all around 400-square feet with private decks, hammocks, ceiling fans, free Wi-Fi and native wood and vaulted ceilings.
For more info, contact The Lodge at Pico Bonito, AP710, La Ceiba, CP31101, Honduras, Central America, 888.28.0221, www.picobonito.com.

Support HuffPost
A No-B.S. Guide To Life
Related
Popular in the Community