Costa Rica is about the size of West Virginia, yet it has some of the most varied landscapes and wildlife on earth. From the Jesus Christ lizard with its ability to run on water, to the howler monkeys hanging about in trees, to the technicolor toucans, quetzals and caracara birds, to the bizarre two-toed sloth sleeping comfortably in the crooks of trees, to the eyelash viper, a bright yellow poisonous snake hiding mainly in the banana fields, Costa Rica is a wondrous sight for any photographers eyes.
We saw all these wonderful creatures and many more on our trip to Costa Rica over the new year. We didn't anticipate spending New Years Eve fondling bats, but that's just what we did -- it's not as gruesome as it sounds. Costa Rica has identified at least 110 different bat species, probably a greater variety of bats for its size than any other nation in the world. One species, the fruit-eating bat, is found only in the mountains of Costa Rica and small areas of Panama and Colombia. Since we were staying at an eco-tourism resort for the first part of the trip, one of the activities was banding fruit bats and sending them off into the rain forest at midnight to feed and provide data. Garbed with thick gloves, I bravely volunteered to send one tiny fierce looking fruit bat with sharp claws on its way, hopefully, to save the bat population.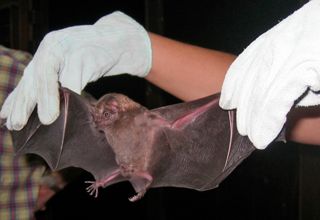 A highlight of the trip was a visit to the organic farm of Don Juan Bautista, an enthusiastic, friendly retired school principal who had a dream of running an organic farm. After he retired, his dream came true when he was able to buy a piece of land. Together with his wife and son, they tilled the soil, planted many crops and created a beautiful organic farm using only sustainable agriculture techniques. We had a chance to harvest some of the produce and were invited to stay for lunch. Senora Bautista used the vegetables that we harvested to prepare our lunch of salad, rice and beans, various chicken and beef dish and mashed yucca. Everything was delicious. The chicken and beef were the only items served that were not from the farm.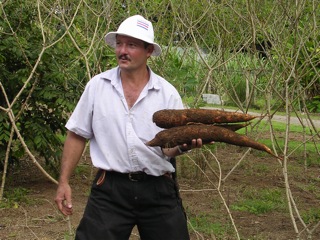 Many of the hotels we stayed in were designed to blend into the the landscape. The round huts with traditional thatched roofs of palm leaves and branches, were made with local materials. To attract local birds, long trough-like feeders are located beside the open air breakfast area and are stocked with bananas, papaya and watermelon to attract blue/gray and scarlet tanagers, clay colored robins, brightly colored toucans and parakeets.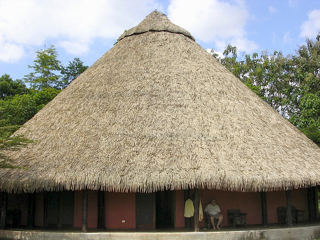 One of our more interesting rooms in the rainforest was a room with a see-through shower. Not only were the views spectacular, but the entire bathroom was constructed with one way glass. It was a very strange feeling indeed to be showering and seeing people walk by your window.
Walking through the rainforest reminded me of the movie "Jurassic Park." The trees and vegetation were huge, lush and prehistoric looking. Six-foot-tall leafed philodendrons, gigantic palm trees and strangler fig trees populated the rainforest; the bright red passion flowers added a wonderful contrast.
The psychedelic colors of the wildlife in Costa Rica were so dazzling that it was easy to become almost blase about spotting a mere sloth or shiny red frog. We saw animals and birds from every color of the spectrum. We saw three-foot-long luminous orange iguanas with spiky spines along their backs, bright blue morpho butterflies with their wings edged in black, a white-faced capuchin monkey and the rarely sighted albino howler monkey.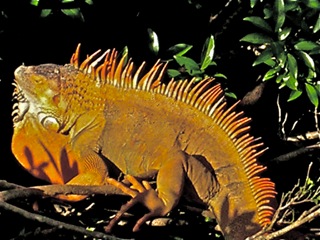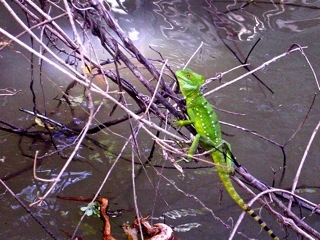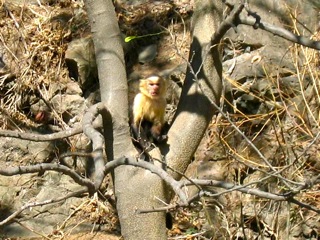 We also learned the Costa Rican catch phrase pura vida, meaning pure life, but really its a way of life. Costa Ricans say pura vida to mean "hello," "things are great" or whatever else you like. It's one of the many charming things about this small country that is full of mystifying contrasts and some of the most beautiful and extraordinary scenery I've seen.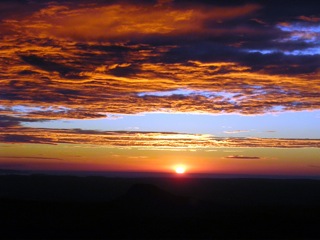 It was a wonderful and exciting trip filled with activities and fabulous sights. A trip to Costa Rica is a reasonably priced vacation. For more information about this Overseas Adventure Travel trip click on http://www.oattravel.com/rac or call 1-800-873-5628.