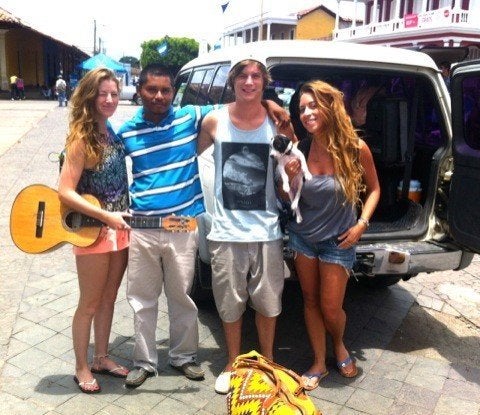 I really knew it was something when the nuns came out. White robes with black coronets and eyeglasses, wishing people blessings and making the sign of the cross as they passed on the street corner. The church bells rang in alarm, over and over. Somewhere a band played.
We grabbed our things and kept walking into central San Juan del Sur.
That morning had started out like most others for me in Nicaragua, waking up way too early as my new puppy, Panda, cried to go out, and it was no use trying to go back to sleep. Coffee with a splash of Baileys, and I sat down at my desk to hammer out some writing. As the sun came up over the green hills, I heard senorita down the hill humming while she hung laundry and the sweet smoke of cooking fires rise to my balcony. And then the earth moved.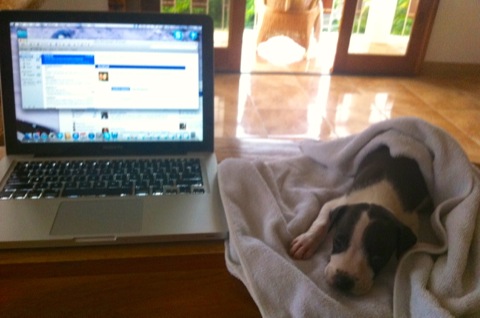 My desk wobbled. Whoooaaa did I imagine that, or did I pour a little too much Baileys this morning? It happened again, stronger. It wasn't just my desk but my whole apartment was swaying back and forth, like the galley of a ship. The thought occurred to me that I was in the middle of an earthquake. I expected my house to break apart like a piñata at any point. I didn't know what to do. The water cooler shifted and almost fell. Then it was over. I was holding unto my seat with clenches hands.
I grabbed Panda and rushed outside and then realized I forgot to collect my roommate, Meghan, who was still sleeping. But she was right behind me. Every dog in San Juan del Sur was barking.
The locals spilled out of their bungalows and shacks. "El tremblor de tierra grande," my neighbor said as he corralled his roosters back to his dirt yard, "a big earthquake." Another tremor waved the sidewalk.
"What the heck was that?" Meghan asked, "I thought I was dreaming of riding a mechanical bull!" I looked down and she was wearing cowboy boots. "Don't laugh! I just threw on the first thing!"
When it seemed to be over we collected ourselves and went back in the house. I looked online at the most reliable news outlet I could find: Facebook. My friend Kelly Zak, who owns Kelly's Surf Shop in Tamarindo, posted that a 7.6-magnitude earthquake had just rocked northern Costa Rica about 80 miles from us. But now we had a bigger problem, the tsunami.
A tsunami warning had been issued up and down Central America. That meant that a tsunami was "imminent" and the coastal areas should "prepare for major flooding." San Juan del Sur is a beach town right in an open bay so even a 20-foot rise in the ocean would wipe out most of the town.
We were contemplating what to do and then the church bells tolled their warnings. From my vantage point on the hill, I saw the gates of the school open and all of the kids started running home, a flash of blue uniforms and white socks. Everyone came out of their homes and stood in the streets looking towards the church. I saw Dennis Lopez, the shark fisherman and toughest guy in our barrio, in the street looking concerned.
"Grab your stuff, Meghan. Let's at least walk into town and check it out," I said.
It's amazing what you pack when you have three minutes to fit your whole life in a bag. I grabbed my laptop, my passport, five t-shirts, flip flops, a swim suit, my external hard drive (no way I was leaving that behind with all the freaky stuff on there) and my puppy. What was I forgetting? Underwear? Optional. We walked out and locked the door behind us. I might never be back here, I thought.
Sleepy-eyed travellers walked around with their backpacks in tow, unsure of what to do or where to go. Some wanted to go to Managua and try to get flights out. Others were going to higher elevation outside of town at the Naked Tiger or Pelican Eyes Hotel. The locals laughed at us for being too worried. But they worried too, they just had nowhere else to go.
I grabbed a taxi driver that I knew and haggled for a good price to Managua. I paid $20 extra to go in an SUV, not for the comfort but because it wasn't marked as a taxi. If things really got crazy with another earthquake or a tsunami then taxis carrying tourists would be easy targets for bandidos.
Meghan was trying to call our young British friends Adam and Grace to make sure they were OK.
"The phones aren't working. All of the lines are busy," she said.
"The phones are down in the whole town?" I asked the taxi driver.
"In the whole country," he said.
I ran into the ATM machine and took out as much as I could. If the electricity went out or the roads shut down then the ATMs would quickly run out of money. I hid the money in my shoe.
We rolled up to Adam and Grace's hostel and banged on the front door. They were shocked at the news but glad that we'd come for them. They packed up their backpacks and ran out. Adam carried his guitar. People hold on tight to what they love, I guess.
I wanted to buy some waters and bread for breakfast. It could be a long drive if the roads were jammed up with those retreating to higher ground or the cities. Most stores were closed and boarded up -- not a good sign -- but I found a little market in the front room of someone's home. Their television was on a news program showing damage in Managua.
"Is it safe there?" I asked.
"No, no. Managua is on a fault line," the proprietor said. She was right. I'd read about the earthquake of 1972 that left leveled the city to rubble and displaced almost a million people. I paid for my things and walked to the taxi.
"Let's try Granada. It's inland enough and won't be hard to get to. The roads to Managua will be crazy and it won't be safe there if there are more earthquakes." I said. I didn't want to go through that feeling again.
So we departed: four friends, a puppy, a laptop and a guitar. On the road out of town the police set up a barricade and were letting people out -- but no one could get in unless they had official business in SJDS or lived there. They were worried about looters coming into the city. A military convoy passed us heading into town.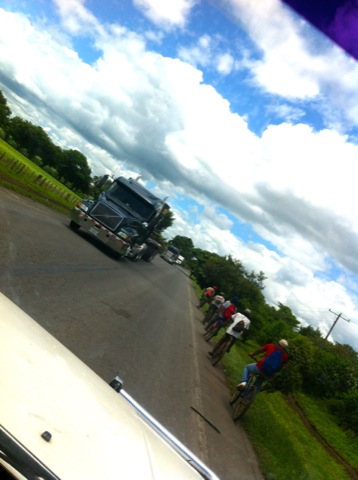 Soon we were on tranquil roads to Granada, men swinging machetes in the fields and kids on bicycles like nothing had ever happened. When we reached the quaint city we found refuge at the Colonial Hotel, run by an old friend of mine, Julian, who I hadn't seen in some time.
"This morning the chandelier shook, and the swimming pool spilled over when the earthquake hit," he said, "but we will be safe now. Welcome. You have the whole place to yourselves."
We tried to sneak the puppy in unnoticed but there was no need. Julian didn't say anything.
By the time we got to the room Panda was dead asleep. We got online and answered emails and messages to concerned friends, but soon after the tsunami warning was cancelled. There was nothing to do the rest of the day but drink Toña beers in the shadows of pastel churches and gardened courtyards and talk about how lucky we were. Tomorrow we can return to San Juan del Sur, I thought, and somehow it will feel even more like home.