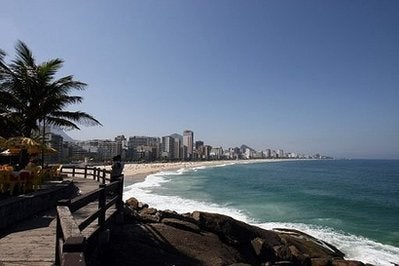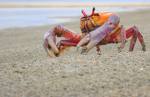 There is eco-travel to protect the environment -- plants, birds, fish, mammals, waterways, land and air -- and then there is eco-travel to protect an endangered indigenous species called Homo sapiens. This blog is more about the latter than the former, because when we talk about eco-systems too often we forget that humans are part of the system, even if they are the last to join the community of life forms on Earth.
I had heard that if I wanted to experience "authentic" Costa Rica, I should go to Punta Islita, a beach town about two thirds of the way down the Nicoya Peninsula, 140 miles south of the Liberia airport, gateway to the Pacific Coast's Guanacaste Province.
I heard this from fairly reliable sources. One was Carlos Benavides, the country's youthful and ambitious Minister of Tourism. The other was Ronald Zürcher, arguably Costa Rica's most successful new breed of Costa Rican architects, and best known for his eco-appropriate hotel designs. I'd seen two of his projects -- at Peninsula Papagayo near Liberia and at the newly opened JW Marriott Resort & Spa in Hacienda Pinilla just south of Tamarindo -- and was duly impressed. (I'll blog about both those locations in the next weeks.)
I took into account that Zürcher had a vested interest in my checking out Punta Islita; he designed the Hotel Punta Islita.
Vested or not, they were both right. My Tica travel mate Veronica and I began to understand just what they meant as we approached the hotel. Several miles from it, we thought we had inadvertently driven onto the set of a reality show -- "Survivor Costa Rica" meets "The Twilight Zone" -- when we turned the corner of a very bumpy, funky dirt road and came to an abrupt halt short of a shallow but rising rivulet some 20 feet wide that crossed the road. These are the obstacles one faces driving in this part of the country in rainy season (this was late May). If I had been driving a good old oversized gas-guzzling SUV, fording the creek would have been a breeze. But in the small Jimmy I'd rented from Mapache, a company I'd never heard of, and with a damsel at my side, I backed the sucker up a few hundred feet, revved 'er up and gunned 'er til we hit land on the other side.
Phew -- and bless you, Mapache!
Now we were driving up and down hills on increasingly narrow and treacherous roads, the signs toward the hotel becoming less and less convincing. Swarms of multi-colored critters called Halloween land crabs (Gecarcinus quadratus) scurried through the rainforest and across the roads; more than once, I had to screech the brakes to avoid turning them into soft shell crabs. We joked that there should be signs: "Crab crossing." Now I was sure we'd entered the Twilight Zone... "Next stop: a colony of carnivorous crabs who devour tourists."
Much to our relief, the hotel was around the next bend, an oasis of upscale civilization in the midst of remote rainforest.

The Hotel Punta Islita transcended, and made sense of, the arduous journey. A cluster of rooms, suites and villas surround an open-air restaurant beside a pool with wet bar, a state-of-the-art fitness center and serene spa, all set in a natural green amphitheater overlooking a small perfectly shaped bay adorned with a white sand necklace. A mango-lined path leads down the hill to the beach. The buildings have Zürcher's signature touches: soft colors that almost camouflage them, the use of indigenous materials, and design patterns inspired by and reflecting Nature.
These, along with the hotel's adherence to the basics of sustainability (strict recycling, conscientious waste water management, light bulbs and shower heads that assure low-energy usage, etc.), are all good stuff. But these guys earn my green A-plus for their program of protection and promotion of indigenous human resources.
Hotel Punta Islita, near nine small beachfront communities with a total population of about 1,300, opened in 1994 in an economically depressed area formerly over-exploited by unsustainable cattle ranching and wood extraction.
"When I was growing up here, the surrounding forest had been stripped, access to education was limited, and professional opportunities were non-existent," said Alonso Bermúdez, the 35-year-old general manager who showed us around the property. Raised in the neighboring Coyote community, he worked his way up from desk clerk and is one of many human success stories here.
Under the visionary Eduardo Villafranca, the CEO of the hotel and its sister, El Silencio Lodge, in the Arenal Volcano area, almost 50 cents of every dollar guests spend at Hotel Punta Islita stays in the local communities as salaries, contributions, taxes, social benefits, and local purchases. The hotel supports free education, professional training, scholarships and student loans, and English as a Second Language classes. Other initiatives include an employee credit union and the Islita Day Care Center. Over 85 percent of Hotel Punta Islita's staff is local men and women who now work as managers, sous-chefs, bartenders, spa therapists, tour guides, landscapers, and maintenance and security professionals.
This locally oriented policy has jumpstarted an entrepreneurial cycle that has resulted in more than 20 local micro-businesses including transport services, restaurants, a seafood processing plant, a motorbike repair shop, and a growing chain of providers of goods and services.
Alonso drove us to the small village just a couple of hundred yards from the gates of the hotel. It was like stepping back in time, an almost embarrassing shift in paradigm from First World pampering to Third World simplicity. The village center -- like all Costa Rican towns -- consists of the requisite church, soccer field, grocery store and bar. Beyond that, there was not much more. But in this village's case, Zürcher has helped design the church, so it was quite beautiful.

When it's not Sunday or a match isn't being played, the energy focuses around the Islita Open-Air Contemporary Art Museum, the most visible manifestation of the hotel's Responsible Tourism Model. It showcases works that are the result of collaboration between visiting established artists and emerging local talent. Brilliant murals and intriguing sculptures grace the walls and open spaces, produced by more than 60 village Ticos involved in community art groups. Their original pieces are proudly displayed and sold right there, or through the hotel.
Villafranca's philosophy of the responsible interrelationship of travel providers and the local communities draws a little from Daniel Goleman ("Emotional Intelligence," "Social Intelligence") and a little from the Buddha. Villafranca put it this way:
When it comes to our planet, we are all stakeholders. Understanding our role in this process is enriching. It fosters a caring attitude that permeates every aspect of daily life. And we are thus better suited to alleviate poverty, reverse environmental degradation, and celebrate the cultural differences that color the fabric of human experience.
I would call this the Tao of eco-tourism.
To save the planet as well as the people who walk it, these prophetic words should be inscribed in every hotel room that calls itself eco-anything, right next to the rates and check-out times. Neither crabs nor people want to be run over in the rush of the tourism industry to go green.
Pro-active green travelers in Costa Rica can check out the links to these groups:
http://www.worldheritagealliance.org
http://www.natureandculture.org/htm/tropicaldry.htm
REAL LIFE. REAL NEWS. REAL VOICES.
Help us tell more of the stories that matter from voices that too often remain unheard.