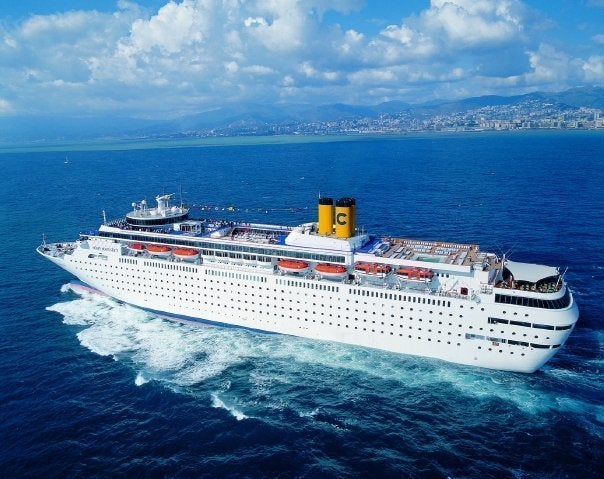 The Costa Romantica is a popular floating resort. The waters are crowded with sea-worthy vessels, so to make planning easier, we've done all the prep work for a cruise vacation. As part of a Huffington Post Travel series on cruise ships, here is a tip sheet offering all the key information one could ever need to know about the Costa Romantica.
To The Mediterranean
sails the Eastern and Western Mediterranean. Voyages range from seven to 11 nights. The ports of departure are Genoa, Rome, Naples and Venice in Italy, with port stops at Barcelona, Mykonos, Katakolon, Santorini, Izmir, Lanzarote, Madeira (Funchal), Tenerife, Corfu and Dubrovnik.
Bedecked With Art
The Costa Romantica is a luxury cruise liner with an eclectic European flair. It offers elegant and sophisticated finishes, including fine woods, marble and original paintings and sculptures. Accommodating 1,356 passengers, the Costa Romantica abounds with activities for couples as well as families with young children and teens.
Special Features
The Costa Romantica abounds with amenities, including: two pools, four hot tubs, three restaurants, seven bars and a wellness center that has a gym, treatment rooms, sauna and Turkish bath. The ship also has an outdoor jogging track, a theater on two levels, casino, two card rooms, disco, shopping mall and the Squok Club, which provides entertainment for young children and teens.
Accommodations
The Costa Romantica offers a range of cabins, from standard inside and outside staterooms to more luxurious suites. "Panorama suites" are tiered rooms with a bedroom level above a sitting-room level, boasting floor-to-ceiling windows that provide direct views of the sea. Each cabin is paneled in cherrywood and decorated with a photo tapestry. Cabins come equipped with hair dryers, telephones, private safes and mini bars.
Cost
Prices vary, depending on the length of the cruise and the type of cabin. The price for a seven-day cruise on the Costa Romantica can range from $429 to $2,500 per person.
Excursion
The Costa Romantic offers many
. One notable excursion is Santorini. One of the most scenic of all the Greek Islands, Santorini boasts dramatic attractions, including pitch-black beaches, whitewashed clifftop houses, churches overlooking the sea and a spectacular volcanic crater.
Dining Options
The Costa Romantica offers several dining options, from casual lunching by the pool to a formal seated dinner. Authentic Italian cuisine is served in the Botticelli restaurant. Il Giardino is a buffet restaurant with an outdoor seating area called La Terrazza. It offers salads, various ethnic hot dishes of the day, desserts, sandwiches, breads and cheeses. A buffet-style breakfast is served each day from 7 to 9:15 a.m. Choices range from hot dishes to fresh fruit, pastries, breads and eggs. Dinner is served in two seatings, at 7 and 9:15 p.m. Room service is offered 24 hours a day.
Maiden Voyage
The Costa Romantica was designed and built for Costa Crociere, an independently owned Italian-based cruise ship operator, and first launched in 1993. The Costa Romantica has since been acquired by Carnival Corp.
In The News
in February 2009, while the Costa Romantica was near Punta del Este, Uruguay, causing a general temporary blackout.
A look inside the Costa Romantica and what the ship has to offer its passengers.
What's your favorite cruise memory?