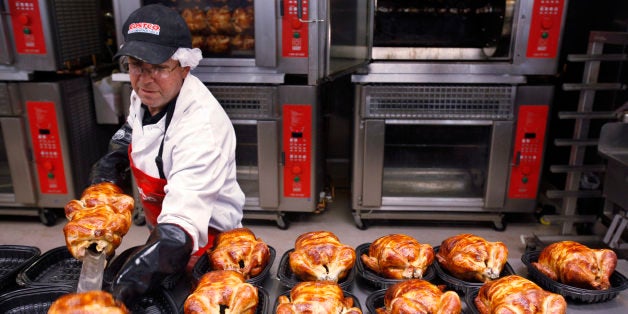 Costco is keeping its chicken cheap.
The wholesale retailer said last week that, despite rising prices on chicken resulting from shortages linked to a massive outbreak of bird flu, the cost of its popular rotisserie chicken would remain at $4.99.
"When others were raising their chicken prices from $4.99 to $5.99, we were willing to eat, if you will, $30 to $40 million a year in gross margin by keeping it at $4.99," Richard Galanti, Costco's chief financial officer, said during an earnings call last Thursday, according to the Seattle Times. "That's what we do for a living."
The chicken shortage has, however, forced Costco to spend more on eggs.
"It's all about shelled eggs," Jeff Lyons, Costco's senior vice president of fresh foods, told The Huffington Post by phone on Monday. "We just had a huge increase in our cost of eggs because of the shortage."
That means the cost of preparing bakery items has gone up.
Still, Lyons said Costco has no plans to raise prices on its cakes and pastries.
"It's not in our DNA," he said. "But it is the pain point right now. It's a challenge."
The avian flu ravaging the poultry population is the worst outbreak in U.S. history. Ten percent of birds -- including about 47 million turkeys, chickens and laying hens -- have been affected.

Popular in the Community