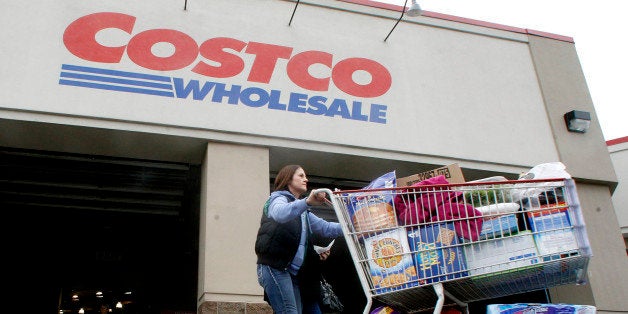 In case you needed another reason to love Costco, here's something to consider: The bulk retailer ranks better than the world's most profitable tech companies when it comes to how satisfied workers are with benefits and pay.
A survey released Friday from the jobs site Glassdoor ranks Costco second to Google when it comes to companies with the best compensation and benefits for workers. That puts it ahead of Facebook, Monsanto, Verizon and Microsoft, other major companies that made it onto Glassdoor's list of the top 25 companies.
The ranking was based on an online anonymous survey that asked employees to rate how satisfied they were with their pay and benefits on a scale of 1 to 5. Costco and Google both received a score of 4.4 out of 5. Google ranked higher than Costco by fractions of a point. (Scroll down to see the full survey results.)
It's not news that Costco treats its employees well, especially when compared to other retailers. Costco CEO and President Craig Jelinek has come out in support of raising the minimum wage to $10.10 an hour and said in 2013 that the company pays a "starting hourly wage of $11.50 in all states where we do business."
About 88 percent of Costco workers reportedly have company-sponsored health insurance, according to Bloomberg Businessweek.
"I just think people need to make a living wage with health benefits," Jelinek has said. "It also puts more money back into the economy and creates a healthier country. It's really that simple."
According to Glassdoor, on average, a cashier at Costco makes $15.20 an hour. In contrast, a cashier at Sam's Club, a Walmart-owned version of Costco, makes $9.37 an hour on average. At Target, that figure is $8.18 an hour.
Costco declined to comment on the Glassdoor survey results.

Related
Popular in the Community