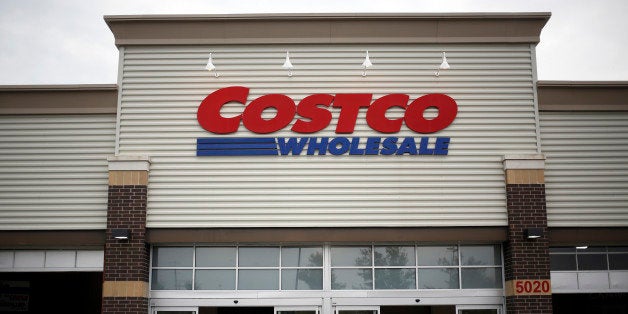 When I was five years old, I found myself living on a ranch, riding a Donkey named Spike because I was too small for a horse. Eventually, I showed Southdown sheep with 4-H. I even won the San Bernardino County 4-H'er of the Year award.
Point being, I was lucky enough to grow up surrounded by beautiful animal friends who always soothed me.
Cows, sheep, horses, chickens, pigs, cats, dogs... they were my childhood friends. My refuge. And they really did give me strength.
Nowadays, I suppose I'm known as a sort of right-winger and I'm not supposed to be all that big on things like animal rights. But I am in fact big on animal rights. Very big.
But I am not big on theatrics or stunts. I am big on education, building bridges and big on generally looking after our animal friends. As such, I have aligned myself with the Humane Society of the United States (HSUS) for some time now. Yesterday, they issued a report that initially made me a bit skeptical regarding Costco and hens -- so I quizzed Paul Shapiro, VP of Farm Animal Protection at HSUS about their expose of Costco, and here is how it went:
CJ: Hi Paul -- thank you for talking with me. I saw the release come out earlier about this and I wondered: Did Costco have an opportunity to see this or was it an ambush?
PS: We've been trying hard to work with Costco for many months, and really even years. Very hard. But the company refused to have a substantive conversation about its egg supply, despite the fact that eight years ago it publicly indicated its intent to sell only cage-free eggs. Nearly a decade later, the company has no timeline for fulfilling that announcement. This was hardly a surprise for the company
CJ: So for the record, you have indeed tried to work with Costco?
PS: We notified Costco about this problem long before today. But it's not too late. The company can address the issue by moving to a cage-free egg policy similar to what companies like Burger King and Unilever are doing: going 100 percent cage-free with public timelines.
CJ: I've always viewed HSUS as bridge builders and for a moment there today I was wondering if you were going all Ingrid Newkirk on us...
PS: I hope Ingrid had a good birthday this week! You can see how HSUS typically works with companies cooperatively to achieve meaningful animal welfare reforms at this Fortune article.
CJ: What has the response been from Costco thus far? Have they reached out? It's a pretty damning clip.
PS: Costco's public response so far has been silence, but the company's customer service reps have been misleading callers by falsely telling them that Costco already prohibits cage eggs in its supply. If that were true, we'd be praising them.
CJ: What, in the view of HSUS, should Costco do in response to this and what do you plan to do if they continue to sit on their hands?
PS: Costco should fulfill its 2007 pledge and stop selling eggs from birds locked in cages.
CJ: Anything else to add on this general issue?
PS: We're disappointed that Costco still allows its egg suppliers to keep birds in filthy, cramped cages for their whole lives. Nearly a decade has passed since Costco indicated it wanted to end such abuse in its supply chain, and these birds continue languishing, every minute of every day, in conditions so filthy it would make most people's stomachs churn.
Popular in the Community