Ask any American family with young children what their number one household expense is, and you'll hear the same answer almost every time: child care. Each family finds their own way to meet this challenge. Some parents are pushed out of the workforce. Others work jobs they wouldn't take otherwise or hold down multiple jobs in order to meet their families' needs.
"Part of the issue is [child care] costs are rising, incomes are not rising. Part of the issue is we've just changed the way we work, and our needs have changed," Natalie Mayslich, a senior executive at Care.com, told HuffPost.
The pandemic wrought changes both to the workplace, with more people working remotely, and to the availability of child care. Many day care centers that closed during the COVID-19 pandemic have not yet reopened, Mayslich explained, and long waitlists are common in many parts of the country.
For many families, the available options are unsustainable. Affordable child care, as defined by the Department of Health and Human Services, should cost no more than 7% of a family's income. Yet, according to Care.com's 2023 Cost of Care report, families are spending an average of 27% of their income on child care. The report also found that the average weekly cost of a day care center ($284) has risen 53% over the past 10 years. The cost of nannies went up 56% over the past decade as well.
The U.S. spends only 0.3% of its gross domestic product on child care services, placing it in the bottom five of 37 Organization for Economic Cooperation and Development countries when it comes to early education and care.
Advocates say that solutions will need to involve both the public and the private sectors.
"It's going to have to be a combination of the two. I don't see a world where the government would be able to solely answer this," Britt Riley, founder and CEO of The Haven Collection, a child care provider that provides flexible hours, workspace and fitness facilities for parents, told HuffPost.
In order to show you how real families are navigating this child care challenge, HuffPost is profiling parents around the country. If you'd like to be featured in an installment, email us at parents@huffpost.com.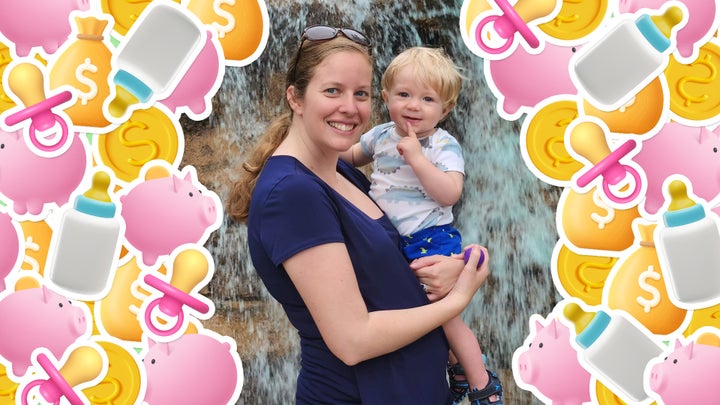 Location: Greater Boston area
Child's age: 14 months, with a second child due in February.
Monthly take-home pay: Lodato's take-home pay is about $5,000. Her husband's is approximately $2,000.
Monthly child care costs: $1,800 per month for three days a week in day care, which is 26% of the family's take-home pay.
Child care plan: Lodato's son is in day care on Mondays, Wednesdays and Fridays. On Tuesdays, he is cared for by his paternal grandparents. On Thursdays, Lodato explained, "I work half a day and so, in the morning, my husband and I kind of tag team watching my son/working while he naps, and then I have the afternoons off."
In September, Lodato's husband will need to increase his days at the office, from three days to four. Their plan is to put their son in day care on Thursdays as well while they both work full days.
The child care center is a standalone facility. Lodato said she began looking for child care about three months before the family would need it. She and her husband staggered their Family Medical Leave Act time, so a parent was at home with the baby for the first 22 weeks of his life. Under Massachusetts law, Lodato and her husband received pay for this leave. The amount of pay that a person receives is calculated using their own average weekly wage and the state average weekly wage. (For 2023, weekly payments are capped at $1,129.82.)
Lodato describes the child care center: "I was really fortunate. The couple of places that I was looking at had openings for me. I got lucky. I really like this particular place. They — I know a lot of places don't do this — they'll send updates throughout the day with what he's eating. They try to send a picture every day. So I still feel kind of in the loop and know what's going on with him."
Work arrangement: Lodato works from home as a manager for a real estate company. Her husband works for a telecommunications company.
"My husband and I both work full time, although our goal is that we can afford for my husband to be a stay-at-home dad. It's not working out quite right yet. We're still hoping for that.
"It's been in our plan since we were dating that he would become a stay-at-home dad, regardless of how many kids we had. Shortly after our son was born, I took a higher-paying job within my company with the hopes that he would be able to then quit his job — we're right there on the cusp.
"I'm pretty optimistic. Last time I did the calculation, I was including the cost of child care. But if we can reduce the cost of child care by sending [our son] fewer days or not sending him at all, then we should be able to afford to.
"I like the idea, even if my husband was a stay-at-home dad, that we would still send our kids to day care once or twice a week or at least find some program that my husband can take the kids to so that we can still get the socialization, get out of the house and not do the same thing day after day after day.
"My company is very flexible. They have the mindset of, if you get your work done, they don't really care what hours you put in as long as you're still putting in your 40 hours. So that's how I'm able to do the half day Thursdays right now. I just work a little bit in the evening once my son goes to sleep. If I have to take time off for a doctor's appointment and I don't want to use sick time, I can just make up those hours in the evening.
"My husband's [company] is very rigid, where he has to be there from nine to five with an hour lunch break. Right now he has to be in the office three days a week. If I have to travel for work, which I don't have to do often, that means my husband has to do the pickup and drop-off for day care. We're only allowed to leave our son at the [day care] facility for 9½ hours. Because my husband has to physically be at the office for nine hours, there's not enough time. So he has to either work from home that day, change his schedule for the week or just use [paid time off] in order to do the pickup and drop-off."
What would help their family: "Subsidized day care would be extremely helpful. Having family that lived closer — right now all of our family lives north of the city and we're south of the city. The only reason we're south of the city is because of my husband's job. So [that's] another reason that we want him to be able to quit, but with the housing market right now, it's not really feasible, either. If we lived closer to family, at least while my husband's parents are still younger, they could watch him maybe two days a week [instead of one] or when he's sick to help out. Things like that. That would also be really helpful."
Banking on Child Care is a HuffPost series that details what parents spend on child care in the U.S. If you'd like to be featured, email us at parents@huffpost.com.
Support HuffPost
A No-B.S. Guide To Life
Popular in the Community