I remember the first time I caught a glimpse of Downton Abbey. My mom was watching Sunday night Masterpiece on PBS, as is her wont, and, in passing, the show looked like any other British period piece, with the added bonus of delightful Maggie Smith zingers.
"Nothing to see here... moving along," I thought. Oh, how wrong I was. Instead, Mom was ahead of the trend and left her daughter to catch up along with the rest of America when "Downton" took the nation by storm later that season.
So it was only fitting that when "Costumes of Downton Abbey"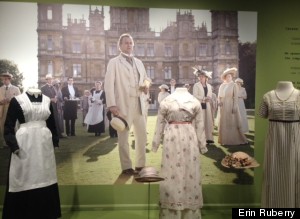 opened at Winterthur Museum in Delaware, I took my mom to the show for Mother's Day. The exhibition, on display until January 4, gives fans (and non-fans who enjoy American or British history and magnificent clothing) an in-person look at the drama's most daring and divine designs.
The burgundy gown worn by Lady Mary on the snowy night Matthew proposed. Lady Edith's ill-fated wedding dress. Lady Sybil's shocking harem pants.
Can you immediately picture those outfits? Do you watch Downton Abbey and drool over the fabulous frocks? Was your couples costume this Halloween Anna and Mr. Bates?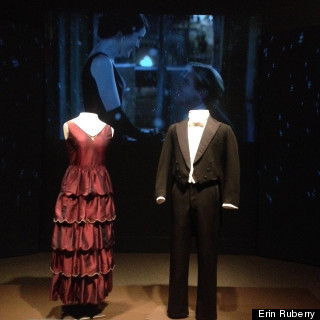 Then this is for you.
Approximately 35 outfits from the British import are on display at the mansion-turned-museum, along with backstory on the designs and details (you can get close enough to see the frayed ends on one gown; another vintage piece ripped during wearing and had to be carefully mended with matching fabric).
Lest you think the lords and ladies upstairs get all of the attention, the first costumes visitors see upon entering the gallery belong to below-stairs residents: Mrs. Hughes' heavily-textured black dress, Anna's apron and simple work dress and Thomas' livery. (Oh, Thomas...)
The fictional story of Downton Abbey and the costumes worn by the actors who play the Grantham family and staff are juxtaposed with the actual history of Winterthur (pronounced "winter-tour"), home to the wealthy du Pont family in the late 18th-early 19th centuries.
At its height, Winterthur was an American Downton Abbey (which itself is actually Highclere Castle), with a bevy of servants prepared for anything from weekend hunting parties to daily afternoon tea.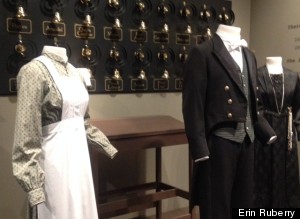 If that doesn't sound so different from what you've seen on shows like Downton Abbey and "Upstairs, Downstairs," and movies like "Gosford Park," there's a reason: wealthy Americans often tried to imitate the British aristocracy, and vice versa. "The British liked American films, jazz and heiresses. Americans liked British accents, gin and tailoring," one placard in the museum reads.
One advancement the Americans made before the British was an early acceptance of technological advancements: Winterthur got electricity in 1891, while we all remember the Dowager Countess' aversion to all things electric and her classic zinger, "I couldn't have electricity in the house, I wouldn't sleep a wink. All those vapors floating about."
(Speaking of the Dowager Countess, the exhibition's gift shop includes tote bags and t-shirts with perhaps her most famous quip, "What is a weekend?" Bring your credit card.)
Tickets to "Costumes of Downton Abbey" are distributed on a timed schedule. There are also 60 acres of gardens to explore, as well as other exhibitions within the museum and tours of the 175-room house.
Oh, and Mom? You were right. Downton Abbey is amazing. I should never have doubted you.