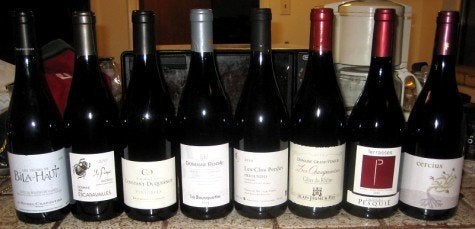 Are you looking for a versatile wine you can enjoy with all kinds of casual food -- grilled meats, pastas, pizza? Would you like to find a "house wine" for under $20 that still makes a meal feel special? France's gigantic eastern appellation -- the Rhône -- may be a better value than you might think.
The Rhone's greatest appellations -- Hermitage and Cote Rôtie in the north, and Châteauneuf-du-Pape in the south -- command top dollar these days. Mid-level wines from these regions go for $50 to $80, and top cuvees easily fetch $100 to $200 or more.
Other appellations in the Rhône -- like Gigondas and Vacqueyras -- have also been "discovered," and prices there are climbing. In the vast parts of the Rhône that aren't located in one of these top appellations, however, there are huge amounts of good wine made, and values to be found.
The boundaries of the catch-all Rhône appellation Côtes du Rhône (meaning hills or slopes of the Rhône, which is the name of the river that runs through this region) stretch 125 miles from Vienne down to Avignon, comprising over 200,000 planted acres. North of Montélimar the dominant grape is Syrah. In the south, Grenache is the primary grape, but blends there usually include other varieties as well, especially Syrah and Mourvèdre. The vast majority of wines labeled as Côtes du Rhône come from the southern part of the appellation, and 95 percent of what's produced is red wine, which is where this area excels, in my opinion.

Northern and Southern Rhone (map courtesy Wikimedia Commons)
Thanks to the Grenache, there's usually ripe cherry and/or berry fruit showing on the palate. Thanks to the terroir -- the climate, soils and locations where the grapes for these wines are grown -- they also tend to show the same sort of "garrigue" or Provençal herb characteristics that are prized in the Rhone's top southern appellations -- Châteauneuf-du-Pape, Gigondas and Vacqueyras. These herbal aromas and flavors include lavender, rosemary, bay leaf and licorice. There's also often a pepper and/or tar component, owing to the Syrah and Mourvèdre in the blend.
Couple these appetizing flavor characteristics with the mouthwatering acidities and minerality typical of wines of this region and you have a killer drink with just about any food combination, for not a lot of money.
A much smaller area, containing about 7,400 acres of vineyards, is entitled to a higher level designation: Côtes du Rhône Villages. It is comprised of 94 specified communes and has slightly stricter requirements as to yields and alcohol levels than plain old Côtes du Rhône. Grenache must make up at least 50 percent of the blend for these wines, together with at least 20 percent Syrah and/or Mourvèdre, along with up to 20 percent of other authorized varieties. Wines labeled Côtes du Rhône Villages will typically be priced about 25 percent more than Côtes du Rhône.
A higher level yet in the Côtes du Rhône hierarchy are the 18 village appellations that are permitted to use their village name on the label. This amounts to a total of 16,000 planted acres. The top villages among the 18 to look for when you're shopping are Cairanne, Sablet and Vinsobres. I find the quality pretty variable in named village Côtes du Rhône, but these will, nonetheless, usually be priced at about 50% more than regular Côtes du Rhône.
Some of the best Côtes du Rhône wines are made by producers who make highly regarded wines from the top appellations, names like Auguste Clape, J.L. Chave, and Pierre Usseglio. Others are blended from selected lots by negoçiant merchants, like Chapoutier and Guigal.
The last few vintages have been particularly strong for Côtes du Rhône wines. 2009 was a relatively ripe year; 2010 was cooler, and many very balanced versions were made. So far I'm really enjoying the 2011s I've tried, which are just starting to hit the market (where there are still many '09s and '10s available for purchase).
The 2011 vintage was weaker in the south of the region, which is leading some producers to "declassify" their wines from prime appellations, like Châteauneuf-du-Pape and Gigondas, down to the Côtes du Rhône level. This should lead to some very good wines and values for short term drinking.
In the full version of this report on my blog, I list 40 wines with tasting notes and average retail prices from the three types of Côtes du Rhône appellations cited above, as well as one delicious wine that's made in the appellation but not permitted to use the name Côtes du Rhône on its label because its blend includes Merlot and Cabernet Sauvignon, not among the authorized grapes for Côtes du Rhône. That is the Domaine Pierre Usseglio Panorama Vin de France, which can usually be found for between $15 and $20. The 2011 version is particularly appealing.
The best values, between $15 and $20, on my list are the 2010 Michel Gassier Cercius Vieilles Vignes (92+ points), 2010 and 2011 Mas de Boislauzon Côtes du Rhône Villages (91+ and 92 points, respectively), 2010 Perrin & Fils Côtes du Rhône Villages Vinsobres Les Cornuds (91 points), 2011 Domaine Lafond Côtes du Rhône Roc-Epine (91 points) and 2011 Domaine Olivier Hillaire Côtes du Rhône Vieilles Vignes (91 points).
My very top rated wines for this appellation, at 93 points each, are a little pricier: 2011 Domaine Pierre Usseglio & Fils Côtes du Rhône (averaging $24) and 2009 Domaine Auguste Clape Côtes du Rhône (Syrah based, $36).
Other producer names to look for are Domaine Gramenon, Domaine Grand Veneur, J.L. Chave, Les Vignerons d'Estézargues (a co-op), and Saint-Cosme.
Popular in the Community