Like it or not, fall is just around the corner. Luckily autumn is perhaps the best season to get creative in floral design. The fall design palette is all about contrast and texture; and a funky, arty element which is trending right now is cotinus.
This non-conventional design element will add an eccentric touch to any arrangement, which will leave even experienced flower pros asking, "What is that?"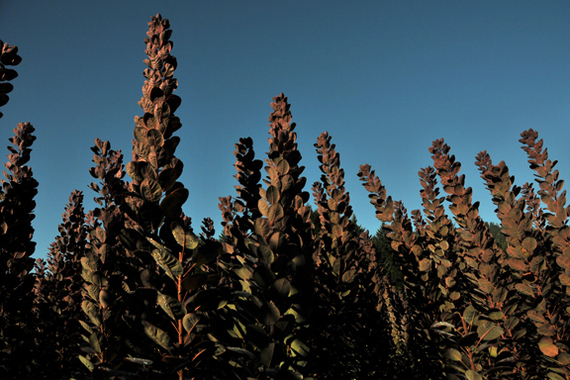 Cotinus, pronounced co-tine-us, is a bush that grows across the United States, however, in northern California it has been bred for using in floral design. It is a dark branch, offering leaves which are maroon on the top and dark greenish on the bottom. There are highlights of purple, burgundy and scarlet running through the leaves giving this subdued design element some serious visual interest, and just a little bit of flash.
Cotinus' common name is "smoke bush" or "smoke tree," which is derived from the wispy clusters of flowers that appear as puffs of smoke around the plant. The branches are harvested before the plant flowers, so don't expect any puffs of smoke in your bouquet. This crop loves the sun. It grows in tall rows, and stretches high into the late summer sky. The branches will shoot up to 10 feet tall in a single season.
Gardeners have used cotinus extensively over the years; it is a great boarder and can even act as a living fence in your garden. The tree has been bred to grow in different shape and sizes; however the tall, straight variety is freakishly hip.

In the design studio cotinus is very versatile, it can act as a dark back ground element against white or yellow lilies, or stand out as a tall, eye catching focal reaching far out of a vase. Pair it with some zantedeschia for a gorgeous study in texture.
Some growers offer "custom cuts" and can send you bunches that are 60 inches long...yes, that is five feet long.
Look for cotinus cropping up all over the place this fall.
Photo Credit: Bill Prescott