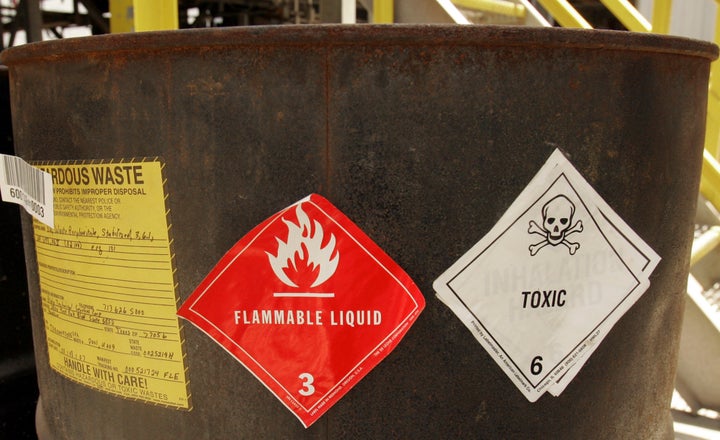 Cotter Corp. has received approval from Colorado Department of Public Health and Environment to dump 90,000 gallons of radioactive sludge and waste products from its defunct Canon City uranium mill, into an impoundment pond that officials know is leaking, The Denver Post reports.
Department of Public Health officials say that despite the leak, groundwater contamination will not worsen near Canon City because there are underground barriers in place that would confine the leak near the impoundment, according to The Denver Post. Cotter Corp. disputes that there are any leaks at all in the impoundments.
This approval by the Colorado Department of Public Health and Environment for Cotter Corp. dumping comes amidst Cotter's refusal to clean up toxic uranium waste that has already contaminated a creek that flows into a Denver metro-area drinking-water reservoir discovered in 2010.
Fox 31 reported in 2010 that groundwater near Ralston Creek, which flows into Denver Water's Ralston Reservoir, contained uranium levels 1,000 times higher than human health standards.
Denver Water use their treatment systems to remove the uranium contamination from the creek and reservoir before it reaches Denver homes, The Denver Post goes on to report.
Environmental groups have been battling with Cotter to clean up their site, Colorado Citizens Against ToxicWaste (CCAT) filed a lawsuit against the company in 2010 to force Cotter to establish a cleanup plan. Cotter along with the Colorado Department of Public Health and Environment asked the court to dismiss CCAT's case, but in earlier this month District Court Judge Robert Hyatt rejected that motion, The Colorado Independent reports.
Sharyn Cunningham, a chair of CCAT and whose own well water was contaminated by the Cotter Mill made this statement to The Colorado Independent:
Instead of telling us that we don't have an interest in the radioactive contamination of our water and air, the department ought to be working with the public to protect our environment and health. It is regrettable that CDPHE has taken Cotter's side to keep Colorado citizens out of the decision process.
Related
Popular in the Community