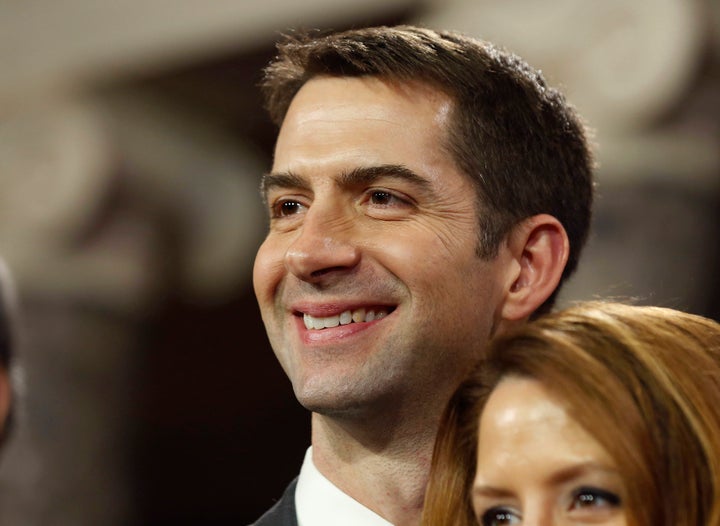 According to Cotton, Schumer had help from Sen. Dianne Feinstein (D-Calif.), former U.S. Attorney Preet Bharara and Ford's friend Monica McLean ― and he was plotting as far back as July.
"Hugh, I believe the Schumer political operation was behind this from the very beginning," Cotton told Hewitt, who egged him on.
The senator likened the scene on Capitol Hill last week ― where crowds were protesting Kavanaugh ― to his military service in the Middle East, claiming that Americans were "revolted by the crazed mob" Schumer "whipped up" in defense of Ford.
Ford, a California professor who knew Kavanaugh as a teen, sent a confidential letter to Feinstein over the summer expressing her concern that the judge who allegedly assaulted her would be considered for a Supreme Court seat.
The letter leaked. Republicans seized on that fact, blaming Democrats, although it is not clear who did the leaking. Some on the left criticized Feinstein for keeping the letter quiet for so long, given that Ford's claims were only made public after Kavanaugh's initial confirmation hearings were complete.
Cotton went on to claim that McLean once worked for Bharara, who in turn once worked for Schumer, drawing a line between Ford and the Senate Minority Leader.
"I strongly suspect that Chuck Schumer's political operation knew about Ms. Ford's allegations as far back as July and manipulated the process all along to include taking advantage of Ms. Ford's confidences," Cotton said.
Bharara dismissed the senator's conspiracy theory shortly afterward, saying over Twitter that McLean never worked for him and he couldn't even "pick her out of a lineup." (Bharara did formerly serve as Schumer's chief counsel.)
Ford gave an interview to The Washington Post using her real name in mid-September. Senate Judiciary Chairman Chuck Grassley (R-Iowa) subsequently invited her to testify before his committee.
Other women, including Deborah Ramirez and Julie Swetnick, also came forward to share stories about Kavanaugh's alleged sexual misconduct. Cotton did not mention them on the radio program.
Cotton's conspiracy theory includes echos of comments made by other Republicans, who have largely suggested they believe Ford was attacked but not that Kavanaugh was her attacker.
Late last month, Grassley tweeted that he felt as if Schumer were conducting "the judiciary orchestra," and he was merely playing "2nd trombone." Senate Majority Leader Mitch McConnell has demanded an investigation into the leak of Ford's letter. And as recently as Tuesday morning, President Donald Trump claimed without a scrap of evidence that the protesters on Capitol Hill were paid actors.
Popular in the Community