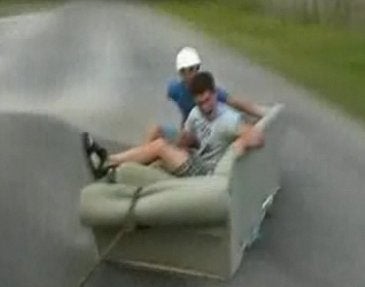 Usually, the most dangerous part of couch surfing is asking your host if you can sack out in his living room a few more days.
In Québec, however, they've turned couch surfing into a bloodsport.
An unidentified 22-year-old man died when the group of friends tied a couch atop a sled to a van, sped down the road and then collided with an oncoming car, The Gazette reported.
The driver of the van lost control and the couch slid into the oncoming lane, according to CBC. The two other people along for the couch-surfing session were not injured.
Quebec cops said that the 21-year-old driver of the van faces charges of fleeing the scene of the crime and dangerous driving.
"Couch surfing" is informally known as the practice of staying at a friend or acquaintance's home rather than a hotel, to save money while you travel. However, there are other examples of this more literal form of couch surfing on the highway or even riding one on waves.
Calling all HuffPost superfans!
Sign up for membership to become a founding member and help shape HuffPost's next chapter